Graduates turn to teaching in search of stable jobs
Share - WeChat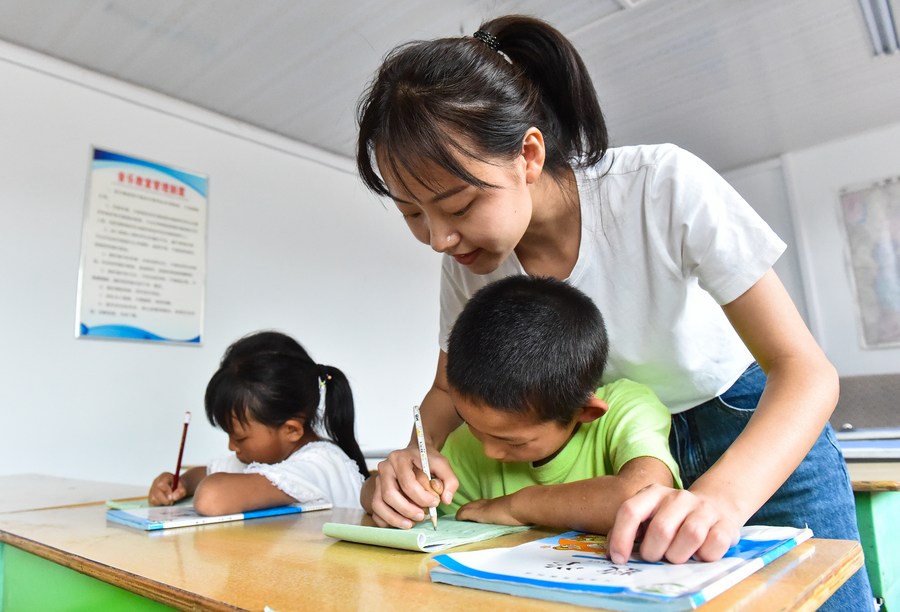 China has witnessed a 66-fold increase in the number of applicants for teaching credentials tests over the past decade, and experts say the popularity has mainly been driven by more graduates chasing stable jobs.
According to the latest figures from the Ministry of Education, the number of applicants for teaching exams each year has grown from 172,000 to 11.44 million in the past decade.
Experts said the sharp increase corresponds with the increase in teachers' salaries and status within society, and it is expected to bring about an overall improvement in quality teaching. However, another big reason for the enthusiasm for teaching posts is that the challenging and complicated employment situation is driving graduates toward stable jobs such as working as teachers and government officials.
Chu Zhaohui, a senior researcher at the National Institute of Education Sciences, said the popularity of teaching posts is closely associated with people's changing perception of the economic situation, job stability and security, which are major concerns for graduates.
Lan Wenhao, 23, a postgraduate student at Peking University, has signed up for the test scheduled for the end of this month.
As he expects to graduate next year, Lan has already started looking for teaching positions at secondary schools in Beijing and closer to his home in Henan province.
"My father is a primary school teacher and I think teaching is a noble and meaningful profession that can impact generations of young students," he said.
While finding teaching jobs in first-tier cities can be very competitive, even for graduates from well-known universities like PKU, landing a post at a school in second or lower-tier cities is not as hard, he said.
Both Lan and his parents do not have high expectations for salary, so he has not considered going after high-paying jobs that come with long working hours. "Being a teacher can offer me a decent living and I can also try to find a balance between work and life."
While passing the teaching credentials test is the first step to becoming a teacher in China, landing a post at schools in big cities can be very competitive.
According to Shenzhen Evening News, the city hired 817 teachers in May, yet there were 23,601 applicants. In August, more than 30,000 people applied for over 1,000 teaching posts in the city, and the enrollment rate was 3.4 percent.
Wang Man, 22, who graduated from Huaiyin Normal University in Huaian, Jiangsu province, in June, teaches history at a middle school in Nanjing. She took the credentials test twice to obtain a high score to increase her chance in getting a teaching post.
Due to the COVID-19 situation in the country, many college graduates just want a stable job, so teaching suddenly became a very popular profession, and many students from well-known universities have joined the competition, she said.
Graduates from famous universities can be role models for students, she said. However, some of them know little about teaching, so the academic background should not be the most important criterion in hiring teachers, she added.
Wang has wanted to become a history teacher since she was in middle school after being inspired by her own history teacher, she said.
Xiong Bingqi, director of the 21st Century Education Research Institute, said many students who take the tests will not necessarily become teachers in the end, as they may have just wanted to have more career options. Teaching posts in rural areas are still not in high demand and there are more female applicants than male ones, both reflecting that there is a long way for teaching to become an envious profession.