Policies keep students rested
Share - WeChat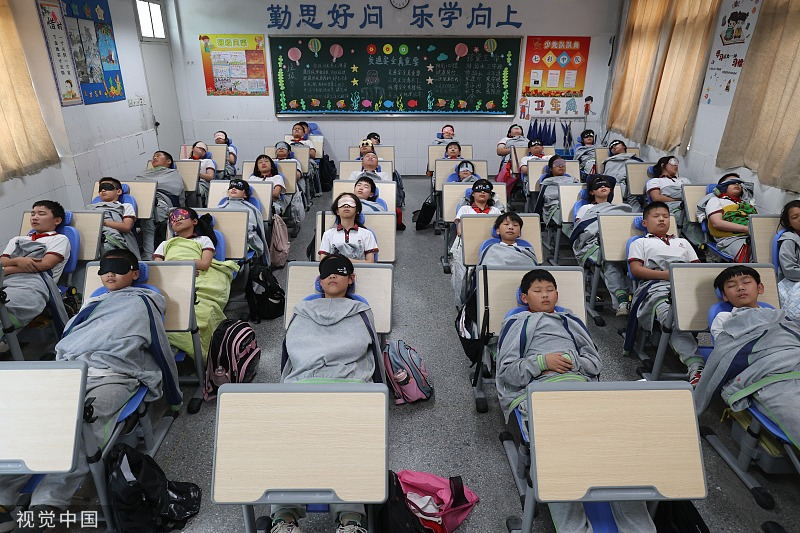 One of the most exciting times for 7-year-old Zhang Ruoyun during weekdays is at midday, when she waits for classroom chairs to turn into loungers for her to take a nap.
At around 12:30 pm, her teachers instruct Ruoyun to adjust her desk, pull back her chair into a reclining lounger, and pull out a small quilt she brought from her home to enjoy an hour's nap at her lunch break.
"It has been great. I do not have to take a noon nap by resting my head on the desk," she said.
A second grader at Chunguang Primary School in Handan, Hebei province, Ruoyun said she finds the whole process of adjusting her chair and desk a delight.
Wang Huixiao, Ruoyun's mother, said her daughter's school started to introduce the "lying-down napping project "last year and parents and students have welcomed the initiative.
Ruoyun had developed the habit of taking a comfortable nap in kindergarten, so after she started first grade, she had a difficult time adjusting to napping on her desk, Wang said.
"My daughter told me that she felt numbness in her arms and legs afterwards. I think it was bad for spinal development and affected the quality of her sleep," she said.
Her teacher also said that Ruoyun used to doze off during classes in the afternoon, and sometimes she also fell asleep while doing homework at night, Wang said.
She started to pick her daughter up at noon so she could get some quality rest at home during the break. However, given that both Wang and her husband work, picking up Ruoyun twice every day was a challenge for the family.
Zhu Fangfang, the mother of a third-grade student at the school, said her son also liked the new sleep initiative a lot.
"We do not have time to pick him up at noon, so he had to eat lunch at the school and sleep on his desk," Zhu said. "It is very hard to expect little boys to sleep well in such an uncomfortable position."
After the school introduced the new initiative, her son brought his favorite pillow to school. Naptime with his classmates has become one of his favorite times of day, she added.
Hao Yufang, the vice-principal, said the school bought the adjustable chairs and tables online. The costs were covered by local education authorities.
Aside from students waking up with neck and arm stiffness under the old system, she said that since students had trouble falling asleep, they would sometimes chat with each other, interrupting naptime and keeping many from resting adequately.
Now, being able to lie down to nap, students have enjoyed better quality of sleep and are more energetic in the afternoon, she said.
A teacher at the school posted videos of students adjusting the tables and chairs on the short-video site Douyin, which led to online praise for the school's sleep initiative.
"Hope all schools will use this kind of chairs and tables so students get a nice nap," said one commenter.