Far-sighted counselor overcomes challenges
Share - WeChat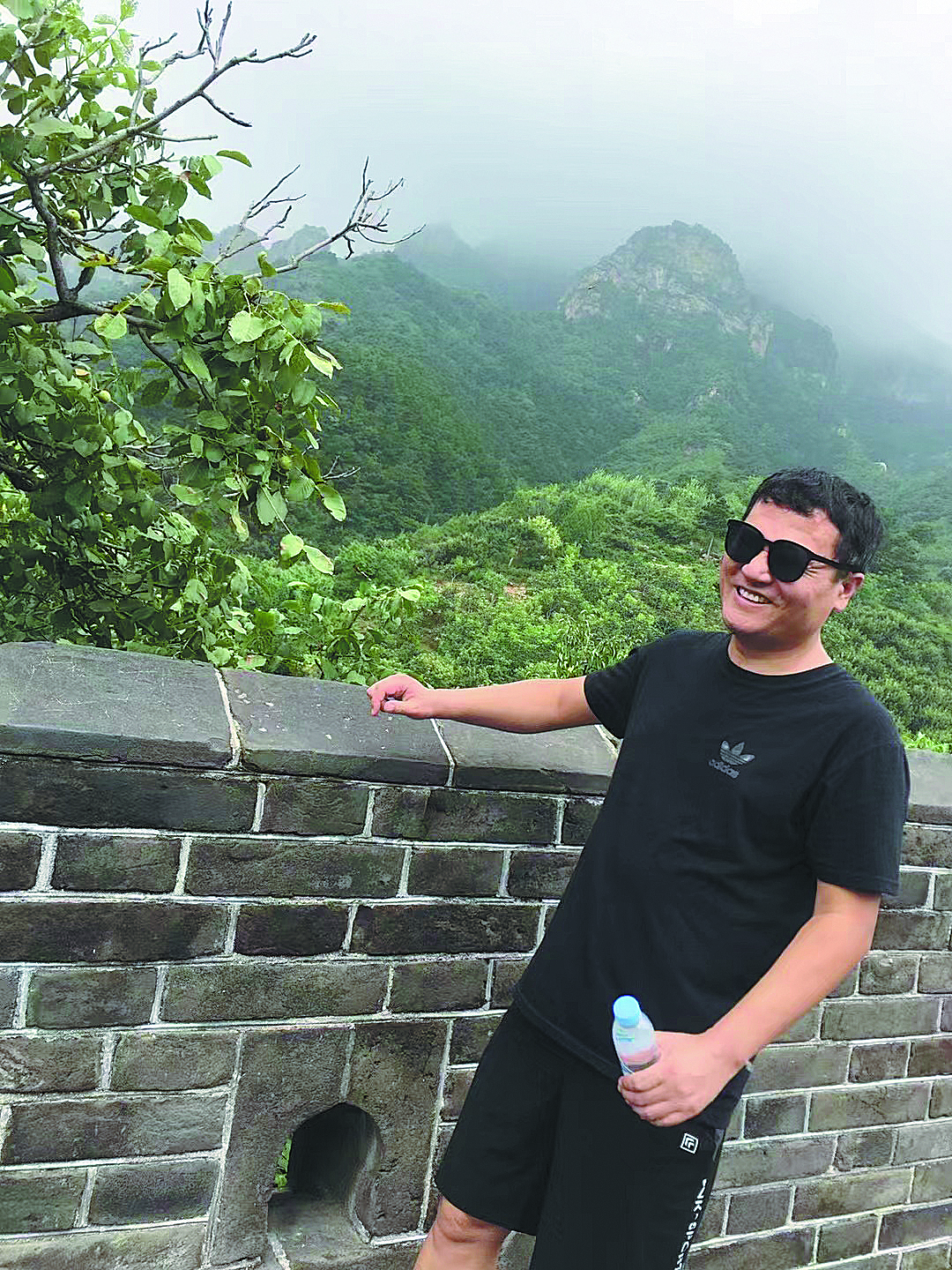 Impaired vision is no barrier for those determined to help others
It was 12:03 am. The telephone rang, and Li Yongsheng picked it up. "Hey, I am your friend and we can talk about everything. What's the matter? Let's face it together."
From the other end of the line there came a young woman's voice, amid the cacophony of a blustery wind and loud traffic. Li realized that the person on the other side might be exposed to the elements on a high position, like a bridge; After a few sentences, Li learned that the woman was indeed standing on a bridge and wanted to jump off.
He talked and talked, trying to bring some semblance of control. Half an hour later, as the woman became more engaged with his words, he got a chance to ask her to move and "find a place with less traffic and wind" so that they two could talk more clearly. The woman went along with the suggestion and walked to a bus station 200 meters away. One hour later she dismissed thoughts of suicide and went home.
Li is head of the Tianjin branch of Hope 24, a 24-hour hotline aimed at crisis intervention and psychological counselling, especially at preventing suicide. His job is to answer calls from people who feel their options have run out. He must decide, as best as he can, how grave the problem is, and make a quick plan to intervene. It was in 2015 that Li first became interested in the job and he stays on the help line with his colleagues.
Li usually starts at 6:00 pm everyday. He works in a 10-square-meter office. Over the past seven years, he has received more than 1,000 calls. Many of the callers are desperate but he believes he has saved more than 90 percent from taking their lives.
"Our job is suicide intervention and our goal is to save those who attempt to end their lives," he said. "Most of them are in desperate situations, having lost the trust of family members, relatives, and friends. We are the last resort and we must help."
The calls of people ready to take their own lives are of course the ones that must be dealt with urgently. But there are also calls about more common everyday scenarios. Some people are unhappy with their boss at work, some with their teachers, and some, even, with their dogs. For these people having someone to talk to about their problems, some to lend a sympathetic ear, means a great deal. Sometimes all it takes is a friendly voice on the other end of the line.
Li, too, has had his challenges. He is visually impaired. He damaged his eyes at the age of 10, which, unfortunately due to inadequate medical attention, resulted in him losing much of his eyesight.
"I don't quite remember the scene any more, actually," Li said. "All I can remember is my uncle who said that my whole life, since then, is ruined. I could never agree. Why is my life ruined? I cannot ruin my whole life only because of my blindness."
Li spent hours listening to the radio where he heard about psychological consultation and derived an interest in the sector, because he realized that the job does not depend on eyesight. It requires linguistic ability, something Li was rather good at. Actually, many visually impaired people are good at verbal communication as the loss of one sense can heighten the others.
Yet upon graduation from high school, he had no choice but to take the major of Traditional Chinese Medicine (TCM) in the School of Special Education, Beijing Union University.
With the goal of psychological consultation still on the horizon, Li got a bachelor's degree in psychology in a university in Fujian, then got the national psychological consultation certificate. In 2008, Li opened his own psychological consultation studio and started serving the public.
Li seldom tells his "clients" of his condition. Psychological counseling requires the practitioner to avoid exposing his/her own conditions. When Li first ran his studio, he mainly communicated with people via typing, and sometimes he would make mistakes because he could not see properly.
He would apologize if the person he helped pointed these mistakes out, but generally it is hard for them to accept a person with reduced vision. Then Li would explain how he typed via screen-reading software, and the "patient" would in turn be interested in his stories. But Li would carefully avoid comparing their misfortune.
"I don't think it is necessary to share my misery with them", he said. "It is my job to remind people of the better side of life, not to compare our unfortunate sides."
Ni Wenping, secretary general of Hope 24, said that psychological counselling is a highly professional job and they have full systemic arrangements. For example, when a case is found to be highly risky as involving possible suicide, they will hold the line until the problem is solved. "Li and other hotline recipients' jobs are more like doctors who help by finding the problem of the caller and solving it," she said. "Li has done it very well because of his professionalism."
Instead of sharing his own situation, Li adopts a "role-play" in the job. "If the caller is a student, I often speak in a way like a parent or teacher; if it is a white-collar or blue-collar worker, my role is more like a colleague.
"Our job as suicide intervention divides suicide attempts into four categories and 26 levels," he said. "We usually decide whether a case is 'highly emergent' or 'medium' by the way they speak. Are they speaking in haste? Do they use or shout in a high pitch? Can they still stay calm?"
That's why Li insists being treated as a professional counselor, not one with a "condition". He serves the society with his professional skills, and standards are never lowered.
Still, Li recognizes the difficulties for visually impaired people to take up the profession. When Li got a level-3 certificate in 2008, more than 300 visually impaired got it in Beijing alone. When he upgraded that into a level-2 one, more than 100 visually impaired did the same in Beijing. However, very few made it to the profession, mostly for lack of support and social understanding, as many people simply don't believe such a person could type, let alone do psychological counseling.
"Only when most of the visually impaired no longer carry that as their tag, will we be hopeful," Li said.
Zhang Hanwen contributed to this story.
Most Popular