Blue bonanza beckons for Gulf
Share - WeChat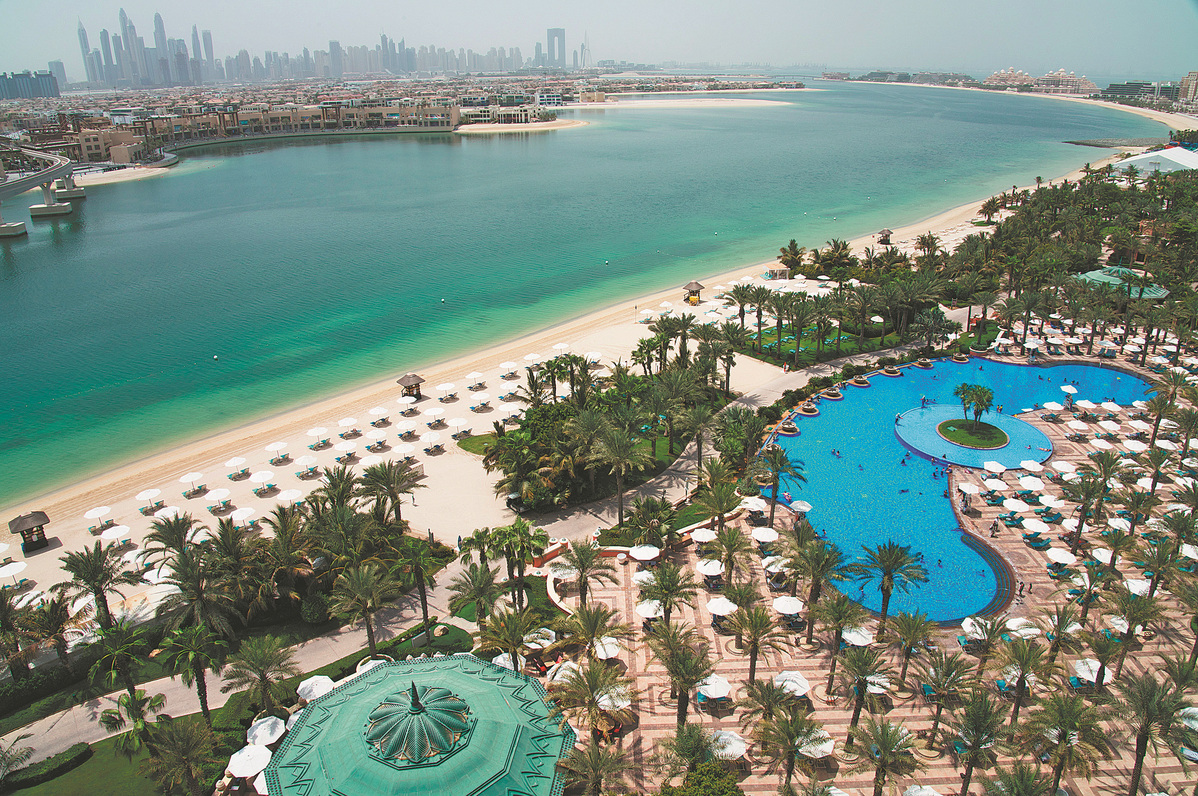 Despite desert environs, Middle East countries are set for an ocean-led economic boom, experts say
The world's largest floating city, the biggest blue ammonia plant and millions of mangroves: these blue-economy undertakings are emerging in the Middle East.
The vast desert areas of the Gulf Cooperation Council, or GCC, one of the world's most water-stressed regions, are poised to reap the benefits of the blue economy, experts say.
The blue economy contains interconnected sectors linked to available technologies and traditional methods of production that have great potential to achieve growth and support economic development and diversification, they said.
The World Bank defines the blue economy as the sustainable use of ocean resources for economic growth, improved livelihoods and jobs, and ocean ecosystem health. The use of the blue economy originated at the United Nations Conference on Sustainable Development, Rio+20, in 2012.
Globally, the UN estimates that the ocean economy has an annual turnover of between $3 and $6 trillion, covering employment, ecosystem services provided by the ocean and cultural services.
It is also estimated that fisheries and aquaculture contribute $100 billion annually and about 260 million jobs to the world economy.
"If we look at the size of the blue economy we find that it contains many interconnected sectors and has great potential to achieve growth and support economic development," said Anis Khayati, an economics professor at the University of Bahrain.
A benefit of developing the blue economy is that it does not require innovations that are difficult to achieve and does not include knowledge that may be scarce, he said.
"Stimulating most sectors of the blue economy is simply linked to some of the available technologies and perhaps sometimes to traditional methods of production, which can push the growth process and achieve sustainable development."
These areas include producing renewable energies, extracting mineral wealth in deep waters, offshore oil and gas production, ship and port activities, shipbuilding and repairing.
In addition, there is fishing, including combating illegal fishing, aquaculture, coastal and marine tourism, and action against ocean nutrient pollution, particularly related to agriculture and wastewater management.
In recent years the Gulf Cooperation Countries, the United Arab Emirates, Bahrain, Saudi Arabia, Oman, Qatar and Kuwait, have been trying to diversify their economies by introducing ambitious green projects, from mega tree-planting targets to establishing large solar plants and building futuristic cities.
In terms of blue projects, Saudi Arabia plans to build a new floating city called Oxagon, with aims for what is said will be the world's largest floating structure, in the southwestern area of Neom, Saudi's futuristic new megacity.
It is said that half of Oxagon will float on the Red Sea, which has an average depth of 500 meters.
Saudi Arabia also has its Red Sea project, an ambitious regenerative tourism plan, the Coral Bloom development, and Amaala, a luxury tourism destination being developed along the northwestern Red Sea coastline, the aim being for it to be fully operational by 2027.
The UAE last year announced plans to plant 100 million mangroves by 2030 and has been building its maritime strength through partnerships with regional neighbors. The Emirates has 12 commercial trading ports, other than oil ports, the UAE government says. It has 310 berths, with a cargo tonnage of 80 million.
In August, Qatar announced that QatarEnergy will build the world's largest blue ammonia plant, which is expected to be completed by 2026, at a cost of about $1 billion, with aims to produce 1.2 million tons a year.
A report by Abu Dhabi's English-language daily The National described blue ammonia as "a lowcarbon method of producing the chemical compound, using steam methane reformation." Hydrogen, it said, is first derived as a byproduct of carbon dioxide that has been captured and stored. It is then combined with nitrogen to produce ammonia.
Blue ammonia is a useful fuel for powering industrial heating, heavy road transport and shipping, the report said.
In July, Mariam bint Mohammed Almheiri, the UAE minister of climate change and environment, underscored the need for a just transition to clean sources of energy and said that oil and gas "will still be part of the energy mix for some time".