Oysters help clear the waters in Hong Kong
Share - WeChat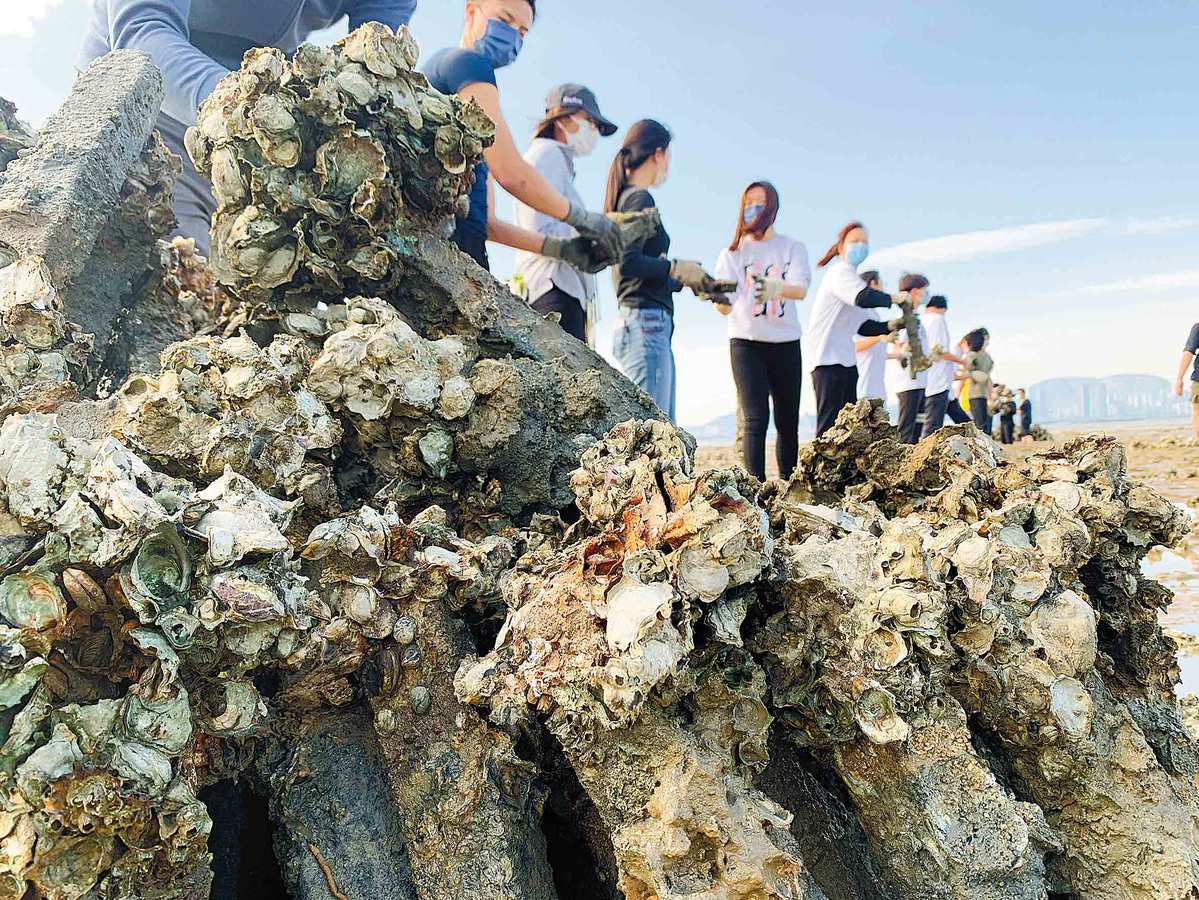 Recycling campaign and artificial reefs result in series of benefits
Few Hong Kong residents are aware that numerous oyster reefs are turning murky waters crystal clear at a seawall under the newly reclaimed third runway at the city's airport.
An "underwater zoo" of marine life has formed in waters around these reefs. Baby oysters and fish eggs can be found, while crabs, starfish and mussels burrow in the reefs, surrounded by shoals of fish.
These reefs are not natural, but are artificially formed.
In June 2021, on instructions from the Airport Authority of Hong Kong, a team of divers placed reefs comprising 500 kilograms of discarded oyster shells seeded with 300 live oysters under a 600-square-meter area of the northern third runway seawall.
It was the first oyster restoration project launched on artificial seawalls in the city to improve water quality and biodiversity close to Hong Kong International Airport.
Successful implementation of the project is largely due to The Nature Conservancy, or TNC, a global nongovernmental environmental organization working on conservation in more than 70 countries and regions.
The project spread word about oysters' ability to restore ecology in Hong Kong — bringing an "oyster reef restoration model "to the city. The recycled shells used by the airport authority were provided by TNC.
Anniqa Law Chung-kiu, conservation project manager for TNC Hong Kong, said that although the city has a 700-year history of oyster farming, many residents knew little about the benefits of oysters and oyster reefs when the project was launched.
The project was a new idea for Law, who worked in marine conservation for seven years before TNC launched its oyster reef restoration project in Hong Kong in 2016.
The reefs positioned near the airport work by allowing dense clusters of live oysters to grow around the shells of dead oysters.
One of the city's favorite seafoods, oysters are also natural filterers, with just one oyster capable of filtering 200 liters of water per day. Marine experts even refer to oysters as "ecosystem engineers".
Oyster shells can be recycled for use as natural materials, and are a perfect surface for reefs to grow on.
The oyster reefs also filter water, creating a healthier environment for marine life. These reefs — habitats for species such as seagrass, horseshoe crabs and shore birds — help increase biodiversity. In addition, they enhance coastal defenses against storms, and stabilize shorelines.
However, oyster reefs are now some of the most endangered habitats on Earth, as the oyster population has fallen significantly due to overexploitation, coastal reclamation, pollution and the decline in farming, among other factors.
Law said, "Eighty-five percent of oyster reefs globally have disappeared over the past 150 years."
Many countries have taken action to save these reefs.
In the United States, two educators founded the Billion Oyster Project in 2014, a nonprofit organization based in New York City aimed at restoring a billion oysters to New York Harbor by 2035. To date, some 75 million have been restored.
In addition, TNC has launched oyster restoration projects in more than 150 countries, including Australia and New Zealand. It began efforts to restore the oyster population in Hong Kong in 2016.
This work was not easy. When Law and her team started the project, they could not find any data about the city's oyster reefs, related studies at local universities and research institutes, or news about previous oyster restoration activities in Hong Kong.
However, the situation quickly improved with help from the local community. In the next few years, residents from all walks of life, the government, university research institutes and volunteers offered their help.