OECD warns of famine and unrest
Share - WeChat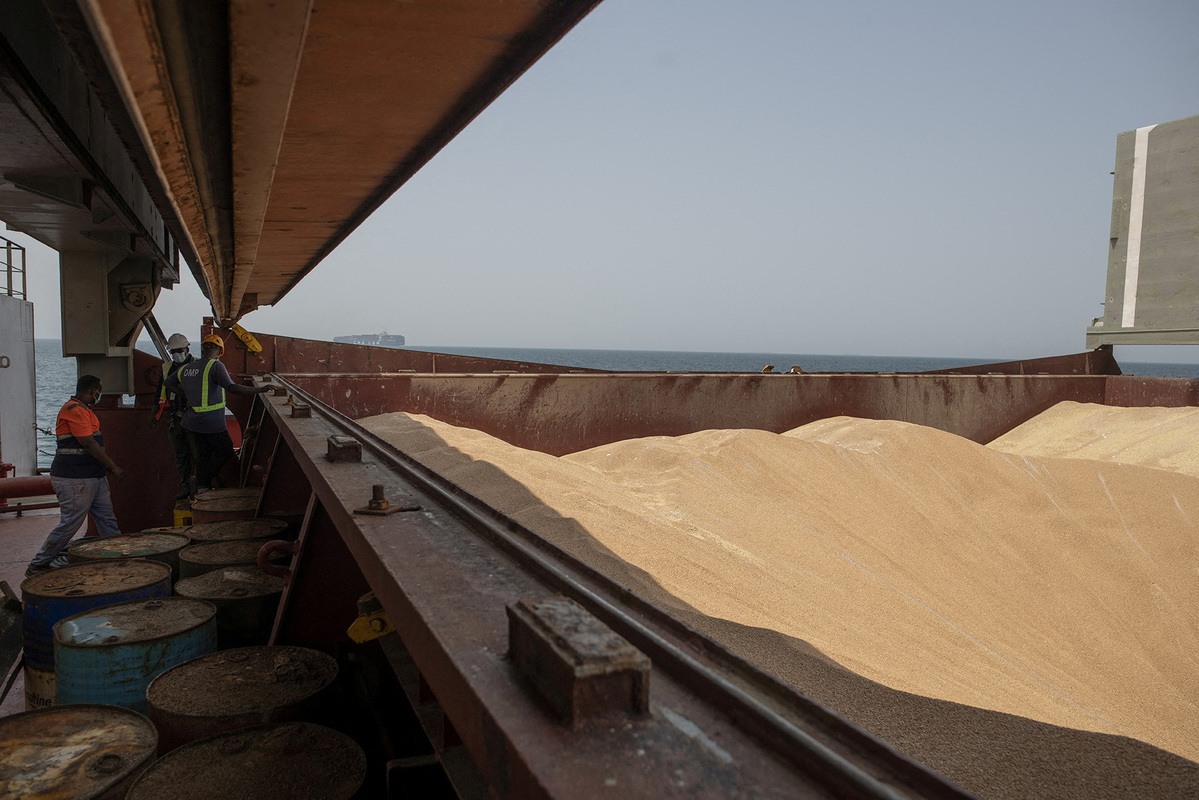 Low-income nations are facing famine and social unrest due to the knock-on effects of the Russia-Ukraine conflict, said the Organisation for Economic Co-operation and Development in its biannual economic outlook.
That could happen as the global GDP growth is expected to slow sharply to 3 percent this year, down from 5.9 percent last year, the organization predicted on Monday.
The conflict in Ukraine has led to supply issues for food staples, as well as surging energy prices, and many countries in Europe are experiencing low economic growth coupled with rampant inflation.
The OECD warned that numerous low-income nations are at risk of famine due to high dependence on food imports from Russia and Ukraine. The two nations usually account for about 30 percent of global wheat exports, and are also major suppliers of corn and mineral fertilizers.
The world is paying a "heavy price" for the Russia-Ukraine conflict that has triggered a cost of living crisis affecting people around the globe, OECD Secretary-General Mathias Cormann said.
"The global economy has lost momentum," Cormann told a news conference on Monday. "GDP growth has stalled in many economies and economic indicators point to an extended slowdown."
Weaker growth
Economic growth is set to be markedly weaker than expected in almost all economies, said the OECD, predicting that growth will be even weaker next year at 2.2 percent.
In the G20 economies, inflation is projected to average 8.2 percent this year and remain as high as 6.6 percent next year.
"This challenging economic situation requires bold, well-designed and well-coordinated economic policies," Cormann said. "High inflation and the energy crisis are particularly urgent. It is critical that monetary and fiscal policy work hand in hand in managing inflation by cushioning its impact."
Cormann said failing to act now would make future monetary policy actions "more costly and more painful".
"Addressing the energy crisis is an obvious high priority," he added. "Gas prices in Europe and Asia have soared, and the risk of further increases remains."
The OECD said without action, there is "high risk of a food crisis" as supply disruptions are rising.
The conflict has quashed any hope of a rebound from the COVID-19 pandemic, which had already stretched public budgets in many developing nations. The report said many of these countries could struggle to provide food and energy at affordable rates to their populations, "risking famine and social unrest".
A surge in commodity prices is already undermining purchasing power, the report found, forcing lower income households worldwide to cut back on other items to pay for basic energy and food needs.
The OECD recommended that the main central banks of the world continue tightening monetary policy in the face of soaring inflation.
"Tighter monetary policy is needed to restore household and business confidence," Cormann said.
He added that governments should increase investment in clean energy going forward, in order to bolster domestic energy production and mitigate the effects of global warming.