On the tech attack
Share - WeChat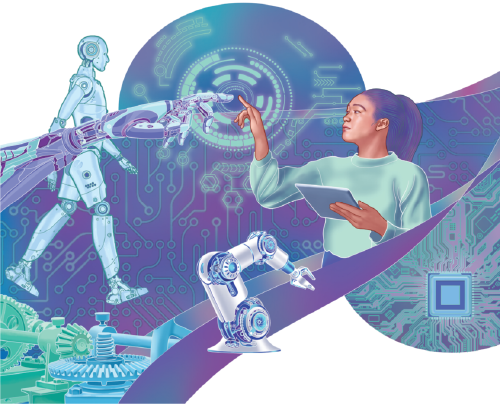 US is making concerted efforts to regain the industrial and innovation leadership that it has lost in many sectors
In an attempt to save its leadership in some segments, the United States has implemented economic protection measures from different sides to the point that it has used an unprecedented measure to ban exports to China of Nvidia and AMD's flagship artificial intelligence chips. Some may think this measure is an isolated one — in the semiconductor leadership war — but in reality, it is part of the new US industrial and innovation policy strategy.
Some US policymakers have called for the US government to take measures to change its industrial and innovation policies, which have been largely laissez-faire for several decades and have indirectly and directly encouraged companies to outsource their manufacturing productions. In addition, they understand that the increasing dependency of the US government on private sector innovations has shifted research and development priorities and has been weakening the US structural competitiveness capabilities. According to the US National Science Foundation, the US private sector was responsible for 72 percent of all R&D funding in the US in 2019. The main view of US policymakers is that the loss of critical manufacturing capabilities must be shored up to rebuild the US technological and market leadership.
With that in mind, the new US industrial and innovation policy is structured with the objectives of increasing the resilience in its supply chain leadership, restructuring public-private collaboration based on new financing models, increasing and improving public procurement, and using decarbonization policies to mobilize new resources toward a green economy to maintain its world economic leadership.
As one of the main objectives, the US government will finance and protect the private sector that is struggling to adjust to the rapidly changing demand for products, supply chains with multiple choke points, and of course, the loss of leadership in global supply chains. Moreover, the US government knows that without strengthening the public systems that connect manufacturing, researchers, workers, and small businesses through a very extensive program of investment in physical and digital infrastructure — in which they need to modernize the ports, airports, rail systems, and give universal access to affordable broadband, and power grid expansion and efficiency — this will not happen.
Another important point that the Joe Biden administration has been very emphatic about is the necessity of the US government to use public procurement as an engine for industrial and innovation development, shaping markets to align with the US government's industrial strategic goals.
Analyzing the latest policy measures that the US government has taken — the $1 trillion bipartisan infrastructure bill, the CHIPS and Science Act with $52.7 billion for US semiconductor research, development, manufacturing, and workforce development, and the Inflation Reduction Act with $369 billion for clean energy and climate change mitigation initiatives, it can be concluded that the US government, for the first time in recent decades, has opened the "tool box" with supply-push (e.g., subsidies for new factories) and also demand-pull policies (e.g. create a market for the products of the new factories) to regain the industrial and innovation leadership that has already been lost in many sectors.
A good example of this lost leadership is the industries associated with the green economy. China has emerged as the world leader in the production of renewable energy equipment and electric cars and buses. The US has targeted this sector to foster industries in hydrogen production, carbon capture, new sources for batteries, support for the solar energy equipment industry, and has created a mass subsidy for electric vehicles in which each citizen will receive a maximum $4,000 tax credit for a used electric vehicle and $7,500 if it is new, but only if at least 40 percent of the raw metals and minerals (such as lithium and cobalt) used in the vehicle's battery are mined and refined in the United States, or in a country with which the United States has a free-trade agreement. This attempt follows the affirmation from President Joe Biden that "years from now our children will look back at this time as the moment when America had the chance to win the 21st Century".
These US actions will put pressure on the Chinese manufacturing markets, not only by limiting the production capacity but also by demanding large-scale investments in science and technology, improving industrial upgrading, improving demand-pull policies, especially in innovation, and continuing to cultivate and attract talents. Inevitably, China will need to continue its reform and opening-up policy and encourage knowledge-intensive entrepreneurship with a deep reform in its business capabilities to further develop its science and technology.
The author is former minister of tourism of Brazil and a professor of public policy at the School of Public Policy and Management at Tsinghua University. The author contributed this article to China Watch, a think tank powered by China Daily.
The views do not necessarily reflect those of China Daily.
Contact the editor at editor@chinawatch.cn
Most Viewed in 24 Hours
China Views