Central authorities start campaign to regulate bad habits, customs in rural areas
Share - WeChat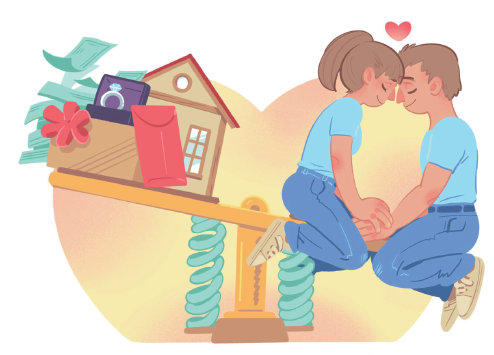 The central authorities has started a two-year campaign to regulate and correct bad habits and customs in rural areas, such as exorbitant bride price and luxurious burials, to relieve the rural residents' financial burden and foster Chinese traditions of diligence and filial respect for the elderly.
According to the notice jointly released by eight central departments including the Ministry of Agriculture and Rural Affairs, the Publicity Department of the Central Committee of the Communist Party of China, and the Ministry of Civil Affairs on Wednesday, the campaign started in August and is expected to finish by December 2023.
The notice said that the local authorities should respect people's traditional customs when implementing the campaign and take appropriate measures that are easier to be received and accepted by rural residents.
Under the campaign, people in rural areas should keep weddings and ceremonies frugal and keep away from asking for or showing off exorbitant bride price. Unreasonable comparisons on cash gifts are prohibited, also irrational banquets or parties with the purpose of collecting money must be avoided to relieve rural residents' financial burdens.
Some feudal and superstitious funeral events such as ghost marriages and luxurious burials must be stopped and eliminated, according to the notice.
Also, it states the prohibition to organize undue banquets with longer than necessary time periods or large scales for marriages and funerals, which may result in waste, the notice said. Local authorities are required to settle serious problems that local rural residents have filed complaints.
The notice also plans out a timeline for the implementation of the campaign.
For example, central departments such as the Ministry of Agriculture and Rural Affairs and the Ministry of Civil Affairs are required to organize county-level inspection teams to villages to get to know the real situations of these customs. The teams will analyze the reasons for the customs and find practical solutions by the end of September.
The notice said that Party members in rural areas should take the lead to put an end to the bad habits and customs.
The Departments of Civil Affairs and Rural Revitalization administration should guide the villages to revise their pacts and launch regulations to let rural residents know what they are encouraged to do and what they are not by the end of December. The regulations should include guidance on organizing appropriate marriage parties or funerals.
Those well-behaved families who show their positive value to society will be praised or rewarded, according to the notice.
Agricultural departments at all levels are required to summarize their work in regulating rural bad habits and customs and report to the central authorities in late December this year and December in 2023.