Democratic cities all at sea in migrant row
Share - WeChat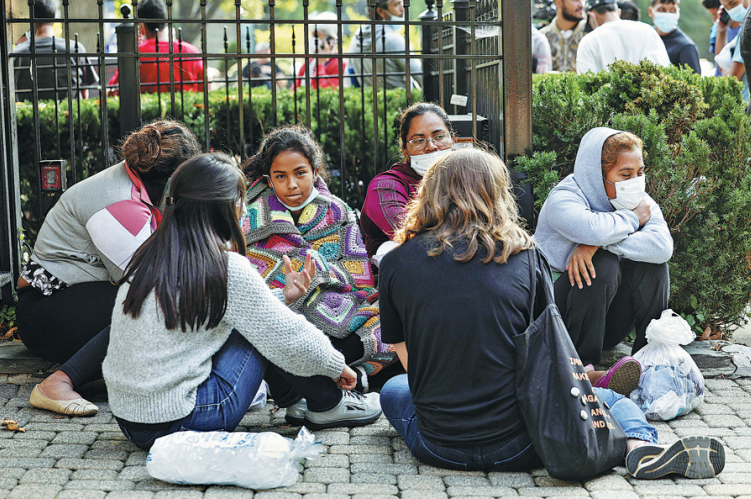 First they were put on buses to northern US cities and now migrants bounced from southern border states in a partisan political row may end up sleeping on a cruise ship.
The office of New York Mayor Eric Adams is in talks with executives of Norwegian Cruise Line, a cruise ship company, to discuss the possibility of housing asylum-seekers on one of its ships, The New York Times reported.
Deborah Diamant, director of legal affairs for the Coalition for the Homeless, told the newspaper that it was insulting, and it raised concerns over providing people access to transportation, food and schools.
"He's been pushing people to the margins, and he's been pushing people out of sight," she said of Adams and the talks on the issue.
The row over the report that the migrants may be pushed off dry land highlights the extent to which Texas Governor Greg Abbott has succeeded in causing strains in liberal-leaning, Democratic-run cities in the north-far from the Mexico border that the migrants crossed.
Since April, Abbott, a Republican, has been busing thousands of migrants north; aside from New York, they have also been sent to Washington. Other Republican-led border states, such as Arizona, have also sent new arrivals north.
In New York, the cruise ship strategy was once considered by then-mayor Michael Bloomberg in 2002 when the number of homeless people in shelters reached 36,000.
This year, New York has seen an increase of 11,000 migrants to the city. About 2,500 were bused there by Abbott and the border city of El Paso.
According to The New York Times report, Adams' chief of staff, Frank Carone, had been tasked with discussing the ship idea with Norwegian Cruise Line. He stayed on one of the company's cruise ships in Normandy, France, last month as part of the administration's research, the report said.
Move criticized
Adams has criticized the busing of migrants to the city as a "humanitarian crisis made by human hands, by some of the governors in southern states" and is considering legal action against Abbott to stop the process.
"Our legal team is looking at legal challenges we could do with Texas," Adams said in an interview with CBS News on Sunday.
In another political gesture meant to draw attention to the increasing number of people crossing from Mexico, Florida Governor Ron DeSantis last week flew about 50 migrants to Martha's Vineyard, Massachusetts, from Texas on two charter planes on taxpayers' money. The price tag was $12,300 per migrant.
Many Democrats criticized DeSantis for trying to gain votes for the upcoming governor's race and boost his chances for a potential run for the White House in 2024.
Some of the migrants who arrived at Martha's Vineyard told National Public Radio that they were told they would be flown to Boston to get expedited work papers and free rent. But they found no such thing upon landing. On Friday, they were taken by ferry to a military base, Joint Base Cape Cod, where Massachusetts Governor Charlie Baker said they would be given food and temporary shelter.
An immigration attorney in Florida, Elizabeth Ricci, told The Associated Press that there's a "good faith argument" to be made that enticing migrants onto planes with the promise of jobs makes them crime victims.
"An enticement like that, regardless of whether you sign a waiver, is fraud and that is part of the definition of human trafficking," Ricci said. "I think that everybody on those planes has a case to legalize as a direct result of being transported by the governor."
Authorities in Massachusetts said on Sunday that they have requested a federal human trafficking investigation into DeSantis' move.