Pioneer keeps injured birds under wing
Share - WeChat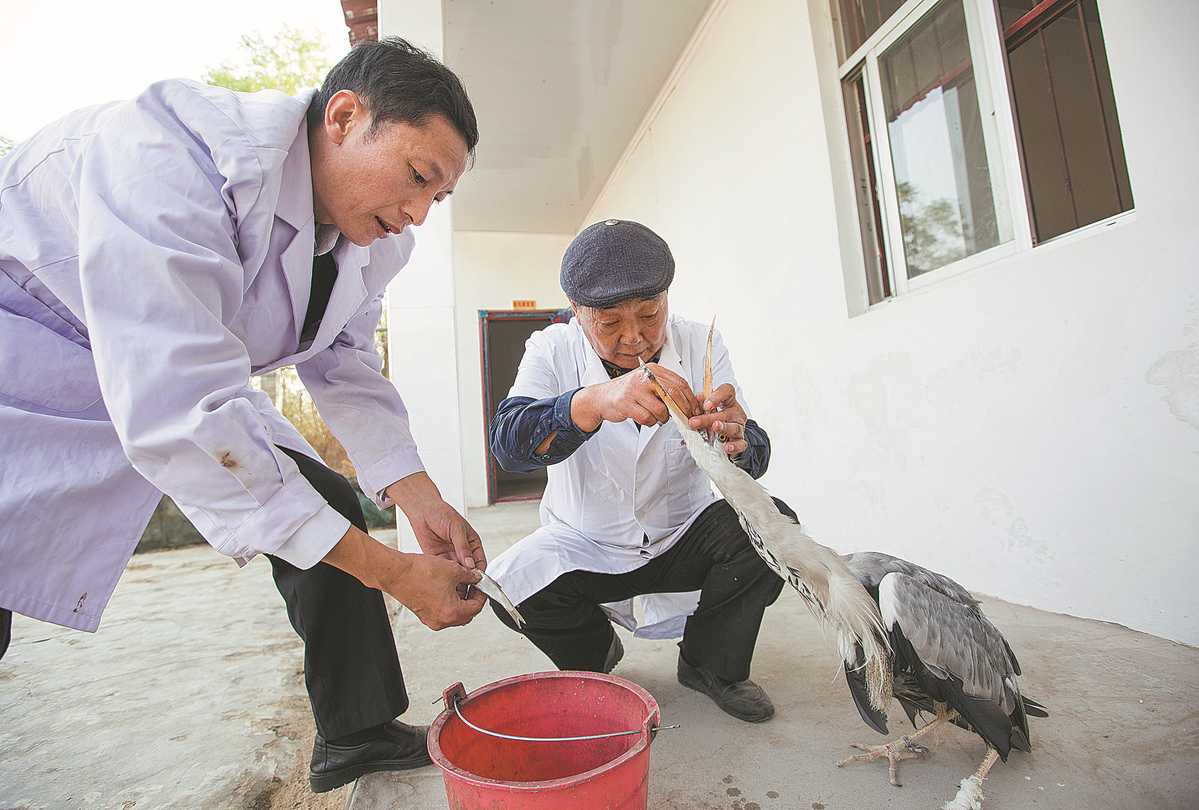 Farmer's efforts to rescue migratory feathered friends help create movement to strengthen ecology. Hou Liqiang reports.
Editor's note: To mark the 20th National Congress of the Communist Party of China, China Daily is producing 10 profile stories to show the development and changes in their fields in the past decade. This is the first of the series.
When an injured white crane was sent to Li Chunru in 2015, the little chick was so severely dehydrated it was close to expiring.
Li got to work straight away to bring the injured fledgling back to health, and over the following 24 hours, the dedicated 78-year-old from the village of Dongzili in Jiangxi province was able to snatch Xiao Bai from the jaws of death. Xiao Bai was the name Li gave to his struggling patient. Xiao Bai wasn't out of the woods yet as the bird was still so weak that it was unable to eat unassisted. For days, Li treated his charge, diligently feeding it nutrient-rich corn juice with a pipette.
They gradually developed a bond, Li said, and when he'd go out for a walk, Xiao Bai would often follow closely.
"He sometimes just stood on my shoulder," Li recalled. "When I would go back to the rescue center he would fly toward me when I called his name."
After the bird fully recovered, Li tried unsuccessfully several times to encourage it to return to nature. That was until he followed the suggestions given to him by some local ornithologists that he should offer the bird no food for five straight days.
Xiao Bai is not the only special bird that Li has taken in under his wing to provide treatment to over the years, in total some 2,200 birds have been brought back to health at his rescue center for migratory birds that he set up a decade ago.
His good deeds in protecting migratory birds won him the honor of being selected as one of China's 100 model environmental protection volunteers this year. The group was jointly selected by the Ministry of Ecology and Environment and the Central Commission for Guiding Ethical and Cultural Progress.
For every bird that Li has taken in, he has kept meticulous notes, filling up 10 big notebooks until this point.
Li's enthusiasm for protecting migratory birds dates back about four decades. Before he set up his rescue center in 2012, however, he mostly worked alone.
When his village, located near Poyang Lake, the country's largest freshwater lake, was hit by torrential rain one day in the 1980s, above the crashing thunder he could also hear loud squawks from birds in distress.
In a forest near his home, he found many birds' nests fallen from their trees, and a large number of chicks struggling on the ground amid the downpour. Li eventually took more than 500 injured chicks back home with him.
Though he was only a farmer at the time, he was able to learn a bit from a local medical school in Jiujiang, a city that administrates the village of Dongzili. With that knowledge, he was able to treat and release about 300 of the chicks.
The incident provoked a passion for bird protection that has never left him.
In 2012, he decided he was going to set up his own rescue center for migratory birds, buying an old house for 30,000 yuan ($4,306) and spending about 100,000 yuan on renovations to ensure it could shelter birds from the wind and rain.
With no income from the project, he spends about 20,000 yuan a year to keep the rescue center up and running.
Without donations from different sectors of society, the rescue center, which can accommodate over 200 birds at any one time, likely would have closed.
Today, the center has good medical equipment, he said, thanks to help from a nearby veterinary education and practice center established by the local authorities and the China Agricultural University's College of Veterinary Medicine.
Nine volunteers assist with his work at the rescue center, including a rural medical doctor.
Each day, Li patrols 7.5 kilometers of the shoreline of Poyang Lake. To date, he said, his patrols have covered 126,000 km.
Though Xiao Bai never returned to him after he brought it back to health and released it back into the wild in 2015, Li does however receive the occasional visit from four gray herons that he rescued in his early days of saving birds.
"After I treated injuries on their legs, I tied little red ribbons to their wings before I released them, out of my curiosity about their migration habits. They hovered for a long time over my house as if they were saying goodbye to me," he recalled.
"I saw them again the next year and it made me feel that birds can perceive people's emotions and they were coming back to see me.
I started saving birds simply out of my compassion for animals in distress, but gradually, my emotional attachments to them have grown and grown."
Li's efforts to protect birds, however, have also left him with a few scars and stories.
He has been injured by poachers twice, once being hit in the face. He was bitten by a venomous snake and had to undergo hemodialysis in the hospital for 20 days.
Li said he couldn't remember how many times he had fallen over and injured himself while out patrolling, and stitches were needed in at least five of those occasions.
He is determined to continue, however, encouraged by the greater importance the government has placed on environmental protection in recent years and the increasingly diversified and growing bird species at Poyang Lake.
"In the past four decades, I have persisted in protecting birds while also farming and raising pigs. In the beginning, it was just voluntary work and I bought medicine out of my own pocket," he said.
"But now, the migratory bird protection authority in Changdu county pays me a bird protection fund of 900 yuan every month from September to April."
Poyang Lake, which now has cleaner water, greener grass and more flowers along its shore, is now visited by about 750,000 migratory birds every year.
"There are now more diversified bird species. I feel very delighted at that," Li said.
"I am more than happy to spend the rest of my life safeguarding these beautiful migratory birds."