Queen's coffin leaves palace ahead of funeral
Share - WeChat People wanting to pay respects might have to wait in line for up to 30 hours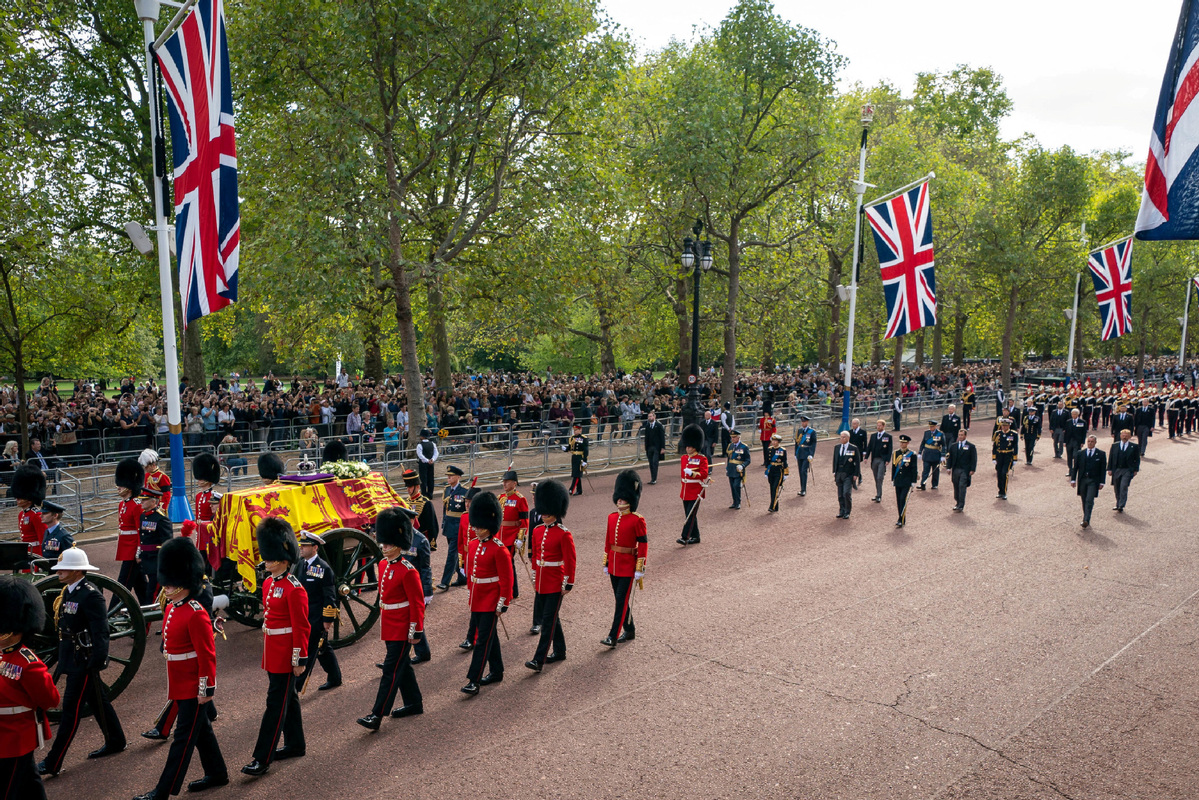 The coffin of Queen Elizabeth II made its journey from Buckingham Palace to the Palace of Westminster on Wednesday afternoon, to begin its lying in state in the run-up to her funeral at Westminster Abbey on Monday.
At 2:22 pm, a salute of 38 artillery guns began as the coffin left the palace, one fired each minute for the duration of the journey, which went down The Mall, the long straight road leading up to the palace gates, and through Whitehall, past Downing Street, to Parliament Square, before entering the grounds of Westminster at 3 pm.
King Charles III, his siblings, and princes William and Harry walked behind the coffin, which had on it the crown and a wreath of flowers, with other senior members of the royal family making the journey by car.
From early on Wednesday evening, the coffin was available for mourners, some having waited since Tuesday, to file past and pay their respects.
People will be able to do this until the early hours of Monday morning, the day of the queen's funeral at the nearby Westminster Abbey. It is anticipated that as many as three-quarters of a million people could join the line, which could be more than 7 km long, and people have been warned they may have to wait up to 30 hours.
A spokesperson for the Department for Digital, Culture, Media and Sport told ITV news that "common sense" will have to be used for people joining the back of the line, and they might be turned away if it becomes clear that they will not have sufficient time to see the coffin.
Flights at Heathrow Airport west of London were delayed so they did not disturb the royal coffin procession, to "ensure silence over central London as the ceremonial procession moves from Buckingham Palace to Westminster Hall".
"We anticipate further changes to the Heathrow operation on Monday, September 19, when her majesty's funeral is due to take place, and will communicate those in more detail over coming days," added an airport spokesperson.
More details of who will be attending the funeral have started to emerge, with members of royal families from across Europe, many of them relatives of the queen, and numerous heads of state being invited.
United States President Joe Biden and his wife Jill will attend, and there has been speculation that former president Barack Obama, who visited the royal family three times during his terms of office, may receive a private invitation.
Ireland's Taoiseach, or prime minister, Micheal Martin, will attend, as will the presidents of Germany, Italy, and the European Commission, Frank-Walter Steinmeier, Sergio Mattarella, and Ursula von der Leyen.
South Korea's President Yoon Suk-Yeol and Brazil's President Jair Bolsonaro will also be there, along with the leaders of Australia, New Zealand, and Canada. Other likely attendees include Japan's Emperor Naruhito, Turkiye's President Recep Tayyip Erdogan, and France's leader Emmanuel Macron.