Japan should learn its lesson on the Taiwan question
Share - WeChat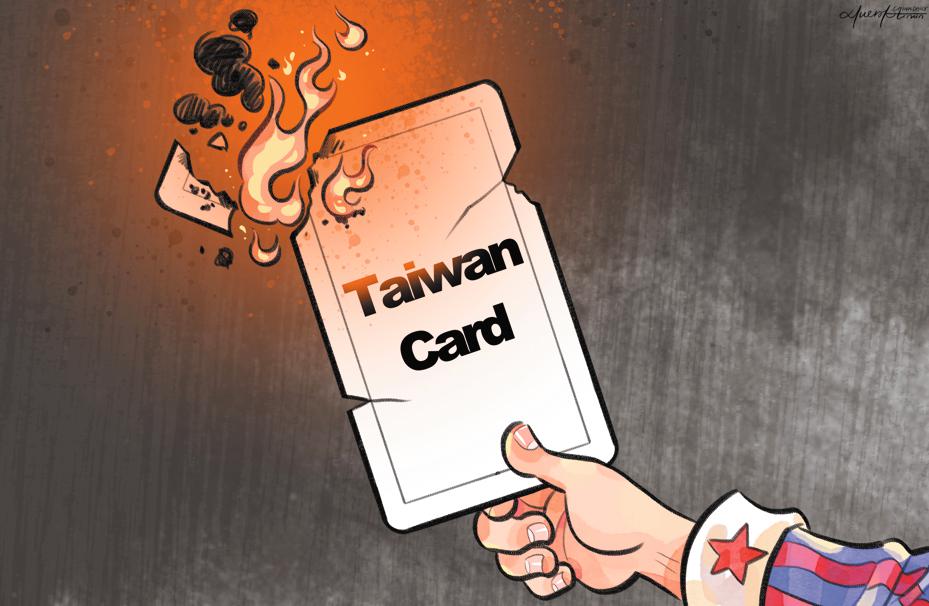 On the heels of US House Speaker Nancy Pelosi's provocative visit to Taiwan, some Japanese lawmakers eagerly followed suit. While it was nothing but a political farce, it has reminded people of the deeply ingrained mindset of Japan toward Taiwan.
The fact is that decades after its illegal occupation of Taiwan, Japan in the 21st century still doesn't want to miss any chance to exert its influence on the Chinese island and join its big brother on the other side of the Pacific Ocean in containing its rising neighbor.
Japan's constant attempts to cross China's red line show that it has unfortunately failed to learn from history, and risks repeating its past mistakes.
After Japan's 1894 war of aggression against China, the Qing government was forced to cede Taiwan in 1895. Since then, Imperial Japan started its brutal colonization of the island. In order to suppress local resistance, the Japanese colonizers conducted a frenzy of slaughters on the aboriginals there. It is estimated that during the 50 years of Japanese colonial rule in Taiwan, more than 600,000 people were murdered by Japanese aggressors.
During its occupation of Taiwan, Japan did everything to plunder the island, monopolize its external trade, and loot its natural resources. By 1945, Japan had controlled approximately 60% of the bank deposits in Taiwan, 96% of the island's power industry, and 94% of its sugar industry.
In addition to the economic pillage, Japanese colonizers also carried out the Kominka Movement to promote Japanization in Taiwan. The Japanese language was taught in schools as part of the assimilation program. Aboriginals were forced to change their names from Chinese to Japanese ones. Over 200,000 people from Taiwan were drafted into the Imperial Japanese Army and incited to die in the service of the Emperor of Japan.
After the defeat of Japan's militarist aggressors in 1945, the Japanese government was obliged to return Taiwan to China as prescribed in the Cairo Declaration and the Potsdam Proclamation. In 1960, however, Japan included Taiwan in its defensive range in the Treaty of Mutual Cooperation and Security with the US. Till today, Japanese politicians have kept hyping up the so-called "China threat" and even clamored that, "A Taiwan contingency is a contingency for Japan."
Japanese politicians have applied a carrot-and-stick approach to Taiwan. In their latest "visit" there, the Japanese lawmakers claimed to support Taiwan in joining the Comprehensive and Progressive Trans-Pacific Partnership (CPTPP). But on the other hand, they did not spare the opportunity to urge Taiwan to lift its remaining restrictions on imports of Japanese food products from areas affected by the 2011 Fukushima nuclear disaster. "Unless Taiwan lifts all the unscientific import restrictions, it will not be admitted to CPTPP", tweeted Kono Taro, Japanese Digital Minister and former Defense and Foreign Minister.
There is a more vicious side to Japan's manipulation of the "Taiwan card". So far, the so-called "security threat" from China and a potential "Taiwan contingency" have been easy excuses for far-right Japanese politicians to push ahead with their dangerous agenda.
Under the pretext of defending Taiwan, far-right Japanese politicians have successfully convinced the government to increase its defense budget for 10 consecutive years since 2012. On August 31, 2022, amid the escalating tensions across the Strait, the Japanese Ministry of Defense asked for 5.59 trillion yen (US$40.4 billion) for the fiscal year 2023, its largest ever budget request, for funding mass production of ground-launched cruise missiles with extended range and hypersonic warheads. Some analysts saw the procurement plan as "a clear departure from a decades-long range limit imposed on Japan's constitutionally constrained Self Defense Forces".
Provoking China by inciting tensions across the Strait, peddling the "China threat" theory, and persuading the government to increase its defense budget — this has been the far-right Japanese politicians' strategy with the ultimate aim of amending the constitution and shedding pacifist constraints. But such reckless moves would only endanger the entire region and beyond by driving up risks of military confrontation.
Taiwan is an integral part of China, and no one cares more about peace and stability across the Taiwan Strait than the Chinese people. While Japan claims commitment to peace in the region, its provocative acts and adventuristic expansion of military capacity are exactly what may push Taiwan into a real contingency.
(The author is a commentator on international affairs, writing regularly for Xinhua News Agency, CGTN, Global Times, China Daily etc. He can be reached at xinping604@gmail.com.)
Most Viewed in 24 Hours
China Views