Art form gets back in the saddle
Share - WeChat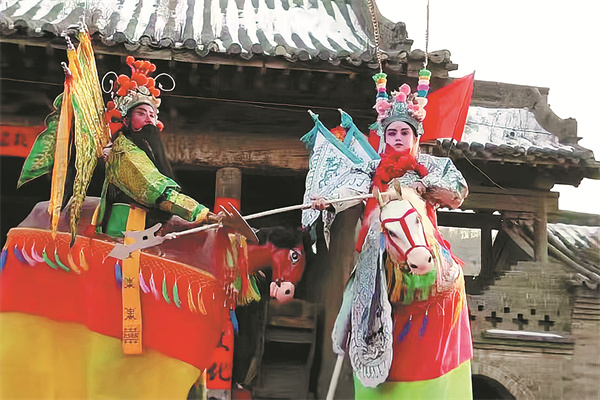 Back in the Tang Dynasty (618-907), a "bamboo horse" was revealed in the great poet Li Bai's work, The River-Merchant's Wife.
It depicts a wife's memories of her husband as a young boy, who used bamboo stilts to mimic a horse.
Today, an ancient art form featuring the bamboo horse has found a new lease on life in North China's Shanxi province.
At one performance, fluttering polychromatic flags danced in the wind and lanterns and colored streamers adorned the mountain village of Guojiagou in late July.
Actors were in traditional opera makeup and costumes, ready to get onstage. They adroitly tied nearly 1-meter-long stilts to their legs, with their feet on a small horizontally protruding wooden stick that bore their weight.
After ensuring the stilts were securely fastened, they nimbly sprang up and stepped into an opening in the middle of the bamboo horse prop, before carrying the whole thing up and dashing forward.
For a split second, they looked like some ancient horse-riding generals, brandishing swords for battle.
Applause broke out, as if on cue, from the crowd.