Natural disasters may follow earthquake
Share - WeChat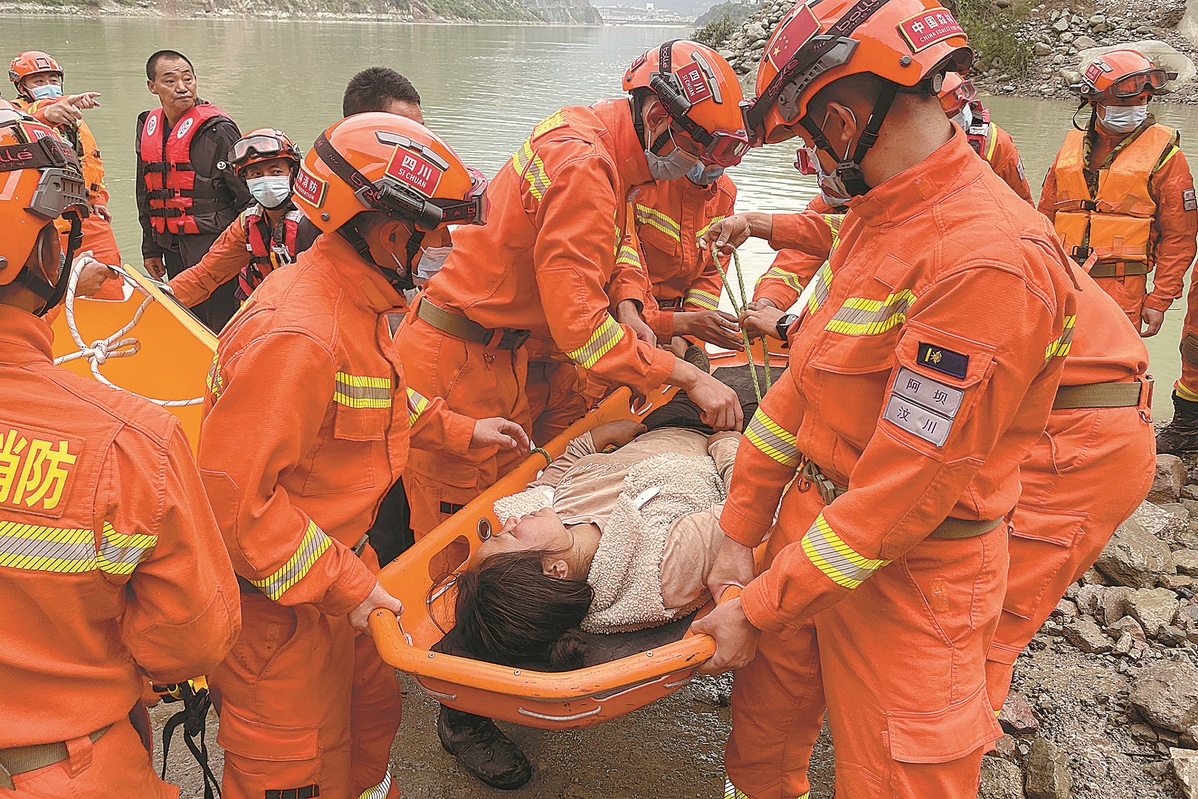 Expert warns of landslides, bursting barrier lakes; heavy rainfall forecast
People need to be cautious about more barrier lakes forming and mountain disasters being triggered after the 6.8-magnitude earthquake on Monday in Luding county, Sichuan province, according to experts.
Xie Hong, a researcher at the Institute of Mountain Hazards and Environment of the Chinese Academy of Sciences, in Chengdu, Sichuan, told China Science Daily that after the earthquake, people should protect themselves from mountain disasters including landslides, mountain torrents and bursting barrier lakes, especially after rainfall.
The China Meteorological Administration said that the area surrounding the earthquake-hit areas is forecast to have heavy rain on Wednesday and Thursday. Dozens of damaged weather stations are being repaired.
According to the China Earthquake Network, the focal depth of the quake was 16 kilometers with the epicenter located in Moxi town.
"Because the epicenter was near Mount Gongga's eastern slope-which has an altitude difference of about 6,500 meters, one of the largest in the world-the slope's stability is poor," he was quoted as saying.
"The terrain is extremely steep and chances are high that the earthquake damaged the hillsides," he said.
Flowing below the mountain is the Dadu River, so a further barrier lake may form.
"Throughout history, the mountain in Hailuogou Glacier Forest Park, near the epicenter, has experienced several severe landslides and ice avalanches, blocking the Dadu River. During an earthquake, the scale of the avalanche would be larger than normal," Xie said.
In 1786, a 7.75-magnitude earthquake in Moxi triggered a landslide, blocking the river to form a barrier lake. Around nine days later, the lake burst, causing a flood, according to the paper Discussion on the Formation Evolution and Genetic Mechanism of Mogangling Landslide Triggered by Moxi Earthquake, funded by the China Geological Survey.
As the recent earthquake occurred after a major drought, people online suggested a possible link between the two.
Sun Shihong, a researcher at the China Earthquake Network Center, told China News Service that the two cannot be so simply related.
Earthquake prediction cannot be made according to just a meteorological event, he said.
Despite that, Sun said, "One thing is certain, that is, the climate change we are in the middle of is definitely related to the crustal movement in the earth's interior."
In terms of earthquake occurrences, Sun said that they are not fixed. Earthquakes can concentrate in certain places while continents have their active periods and quiet periods.
"In a certain period of time, a certain area may experience earthquakes frequently such as Sichuan province. Although fewer earthquakes occur in East and South China, we cannot be sure that in the next 100 years, the areas will still be less likely to suffer from earthquakes," he said.