Mekong nations' goods promoted in Guizhou
Share - WeChat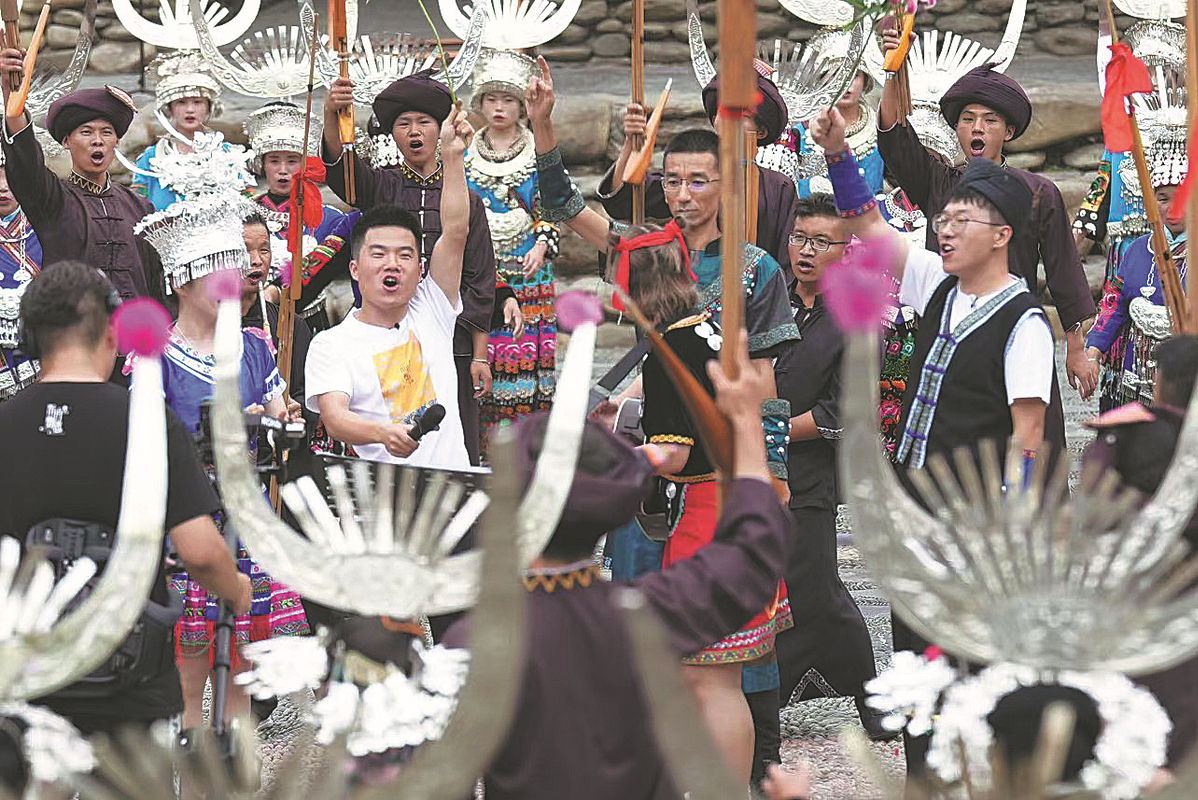 Resplendent in the traditional dress of the Miao ethnic group, replete with colorful woven fabrics and ornate silver head ware, livestreamers promoted specialty products such as teas, coffee beans and cured meats from Southwest China's Guizhou province and countries located along the Mekong River on Saturday.
A total of 1.24 million orders worth 58 million yuan ($8.36 million) were placed during the nine-hour event, which attracted an audience of more than 10 million people online.
Among the 42 products that sold out during the event were 39,000 orders for Guizhou high-mountain tea, 20,000 orders for the local smoke-cured bacon, 30,000 orders for rice from Cambodia, and 14,000 orders for coffee beans from Vietnam, according to the local authority.
The popular livestream hosts of Oriental Selection, the livestreaming arm of New Oriental, were part of the attraction during the sales event held at Xijiang Qianhu Miao village in Leishan county.
Last year, the former tutoring giant launched the livestream channel on Douyin, the Chinese version of TikTok, after it ended its tutoring business for primary and high school students.
One of the hosts Dong Yuhui, along with the channel, rocketed to stardom because of his bilingual introductions of agricultural products and creative combination of a talk show style with e-commerce livestreaming.
Jiang Hong, member of the Leading Party Members Group of the Guizhou Provincial Foreign Affairs Office that hosted the event, said the province sought collaboration with Oriental Selection to promote products from Guizhou and countries along the Mekong through cross-border e-commerce.
"Oriental Selection is the most influential e-commerce livestreaming platform. The hosts can not only sell products, but also publicize culture and positive ideas, meeting our expectations to achieve a fruitful result of the cooperation between China and Mekong countries and show viewers nationwide a vivid and beautiful Guizhou," Jiang said.
Products sold during the livestreaming event included over 800 from the province and more than 100 picked by embassies from countries along the Mekong, she said.
Apart from selling products, the hosts livestreamed their immersive experience of Miao ethnic culture, such as enjoying the welcome liquor and trying embroidery.
"It's the first time that Oriental Selection has sold products from Mekong countries, allowing Chinese viewers to learn about and buy imported commodities at lower prices through e-commerce platforms," Jiang said.
The event will boost cross-border e-commerce collaboration between China and other countries while bringing more local specialties to the whole country.
"I am touched by the visual feast, their elaborate preparation for helping farmers and inheriting local culture, and more importantly their sincerity and kindness that showed during the event," an online viewer commented on Douyin.
Zhao Yandi contributed to this story.