Safeguarding energy security
Share - WeChat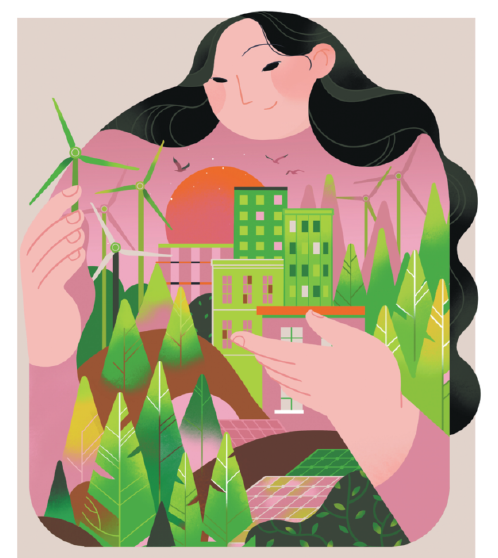 Severe power shortages in some areas due to extreme weather highlight need for reliable and stable supply
Heat waves have increased in intensity, frequency and duration in China, with power consumption in several localities hitting record highs time and again. In the meantime, parts of central and southwest China have been hit by a drought. Reduced rainfall in the area has threatened the hydroelectric power generation in Sichuan province, which accounts for the majority of the province's generation mix, resulting in severe power shortages in some areas. Local governments have been paying high attention to energy supply stability. Relevant government departments have taken a variety of measures to ensure an adequate supply of power amid the growing demand for electricity, covering both the supply and demand sides and coordinating inter-provincial mutual aid, demonstrating the significance of going all out to safeguard energy security.
Amid the push to peak carbon emissions before 2030 and achieve carbon neutrality before 2060, China is confronted with the dual challenge of advancing its transition toward low-carbon energy options while guaranteeing a secure, reliable and stable supply of energy.
Specifically, against the backdrop of the low-carbon transition, the short-term challenges to China's energy security greatly differ from the medium- and long-term ones. Thus, a deep understanding of the main problems in different phases is essential to coming up with corresponding solutions to tackle the problems one by one.
In the short to medium term, the main challenges to China's energy security are extreme weather-induced power shortages in certain areas and China's high dependence on imports of crude oil.
Extreme weather events such as heat waves and severe storms are likely to become more frequent or more intense, posing a grave challenge to energy supplies.
To start with, more orderly use of electricity is necessary to tackle soaring electricity demand prompted by extreme weather events. Smart power grids could properly allocate power for residential, commercial and industrial use. In extreme temperatures, residential electricity use faces great volatility, but that won't last long. With close to 68 percent of electricity are consumed by the industrial sector and only less than 15 percent by residents in China, orderly power utilization among Chinese industrial companies could quickly help mitigate power shortages and guarantee power for increased residential usage. At the same time, with more frequent extreme weather events, forward-looking planning for and investment in grid infrastructure have become all the more important. Given the impact of extreme weather events, we should make the power grids more load-flexible and smarter.
Second, the design for power grids should be on a systemic and interconnected basis and to the greatest extent avoid isolated grids. Greater interconnection of regional grids will allow different regions to deploy and transmit electricity to avoid losses brought by regional blackouts or insufficient supplies and better engage the rapidly increasing electricity generation from renewable energy sources.
Last, sources of electricity generation in provinces such as Sichuan should be further diversified and coal power should play a more flexibly "ballast" role in the power system, providing a crucial guarantee for stable power supply in extreme weather events. Of course, the investments for extreme weather events are difficult due to low returns and the government should provide necessary assistance.
Currently, China has a high dependency on oil imports. Official figures show that China's dependence on crude oil imports reached nearly 73 percent in 2021, making the country's energy supply more vulnerable to the impacts of geopolitical conflicts. Although China has enjoyed a fairly stable oil supply for a long time, it should never underestimate the risk of oil supply disruptions caused by geopolitical conflicts or trade disputes. A case in point is the impacts of the Russia-Ukraine conflict on global energy markets. The Russia-Ukraine conflict has put Europe's energy supply under great pressure, leading to severe energy shortages across the continent. Moreover, Europe has had difficulty finding alternative oil and gas supplies in the short run. The soaring energy prices have greatly undermined Europe's social and economic development.
With regard to China, oil and gas account for less than 30 percent of China's total energy consumption; therefore the oil and gas shortages have a lesser impact on China. However, the security of the country's oil supply should not be overlooked. Guided by the carbon peaking and neutrality goals, China's low-carbon transformation has provided specific solutions for lowering its dependence on imported oil. In the short run, China should ramp up efforts to develop electric vehicles to displace oil demand and use, while promoting decarbonization in electricity generation.
In the medium and long term, to achieve carbon neutrality before 2060, renewable energy sources must account for a much larger proportion of primary energy consumption. Turning the unstable wind and solar power into stable sources of electricity generation will be a major issue in safeguarding energy security.
Now, thermal power accounts for the lion's share of China's electricity generation, and solar and wind power sources make up less than 10 percent of the total at present. The instability of wind and solar power sources can be offset by the more stable coal-fired power generation. However, from a medium- and long-term perspective, China's carbon peaking and neutrality goals require that renewable energy sources, such as wind and solar power, account for over 65 percent, or even close to 70 percent, of the country's electricity generation. The share of coal-fired power generation therefore will substantially decline, only playing a complementary role for emergency use with carbon capture, utilization and storage technologies. All this requires China to develop large-scale power storage facilities and smart grid management systems to ensure a stable, low-carbon power system.
In the new energy-centric electricity system, the overall cost on the power generation side will gradually decline with the increase in renewable energy installations and technological innovations. However, to ensure a stable electricity supply, the electricity transmission and distribution side will face higher and higher costs. The costs of future power systems will more come from ensuring a stable power supply, and such costs will continuously grow on fast-expanding clean energy electricity generation and storage systems. The current electricity system can hardly bear the costs by itself, and more stakeholders, such as users and customers, should be involved to share the rising cost of stable electricity supply.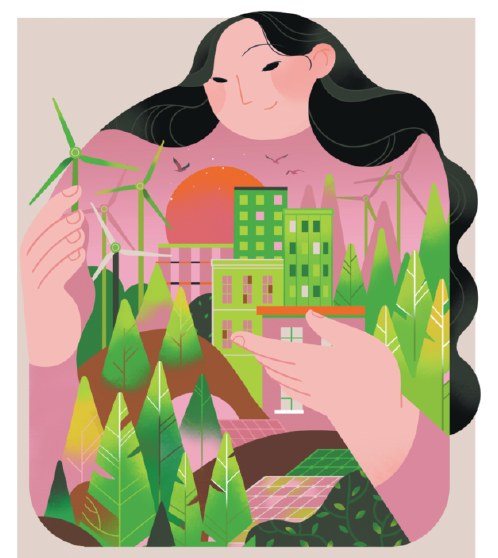 The author is head of the China Institute for Studies in Energy Policy at Xiamen University. The author contributed this article to China Watch, a think tank powered by China Daily.
Most Viewed in 24 Hours
China Views