Garbage app hopes to clean up waste disposal
Share - WeChat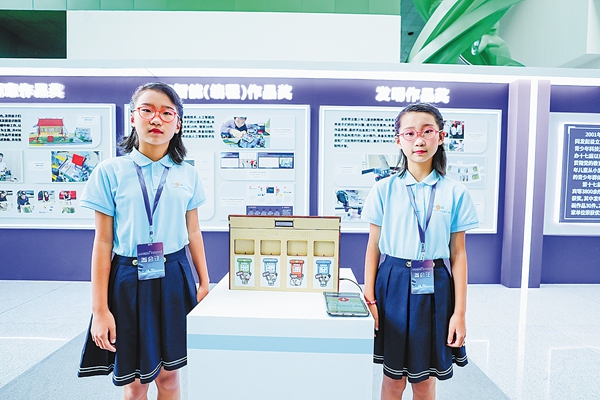 Sorting out rubbish is not a waste of time, but it can be a responsibility that people may too often discard. Which is why improving household garbage treatment in urban areas and popularizing the knowledge of waste sorting and recycling among city dwellers is an idea that should not be binned.
It's not an easy task for everyone to keep waste-sorting knowledge in mind and practice garbage classification on a daily basis. Some people might even get confused when deciding which category the rubbish they are going to throw away belongs to.
But, what if we had a garbage container that could help us classify the trash? Based on that assumption, twins Chu Siyu and Chu Siqi, both fifth-grade students from Beijing Huiwen No 1 Primary School, have employed artificial intelligence, cloud storage and the internet of things to design a set of four garbage containers, which is able to help users to sort the trash.
Users first open a designated app upon which the names of different kinds of rubbish are displayed. Once the user chooses an item of trash in the app, the corresponding Bluetooth-enabled trash bin will automatically open.
"That also allows people to throw away their waste without touching the trash bin, which is more sanitary," say the young inventors.
Speech recognition technology is also applied in the invention, allowing users, the twins say, to open the corresponding trash receptacle by speaking out the name of the item of trash that they wish to discard.
The creation of the prototype interactive trash bins propelled the duo to the top prize in this year's the Soong Ching Ling Award for Children's Invention.
The event received around 20,000 entries from more than 30,000 domestic and foreign students from more than 3,800 primary schools and middle schools.
The award ceremony was held in Beijing on Aug 21. Renowned academics with the Chinese Academy of Sciences or the Chinese Academy of Engineering were invited to present the trophies, enabling the young participants to meet accomplished scientists in person.
Other award-winning entries included a badminton shuttlecock collecting robot and a smart elevator, which is designed to help curb the spread of COVID-19. To do this, it employs AI technology to monitor the social distance between passengers, as well as allowing them to select their floor remotely via their mobile phones, eliminating the need to push a button.
The event also raised the curtain on a series of science promotional activities co-hosted by the China Soong Ching Ling Foundation and China Association for Science and Technology.
Jing Dunquan, vice-president of the foundation, notes that both will carry out science-popularization work among youngsters to forge their scientific literacy and cultivate young people's desire to make a contribution to society.
The two organizations announced a strategic partnership with each other in February to better carry out cooperation in science promotion, talent cultivation and international exchanges.
Most Popular