Film sector needs a successful story
Share - WeChat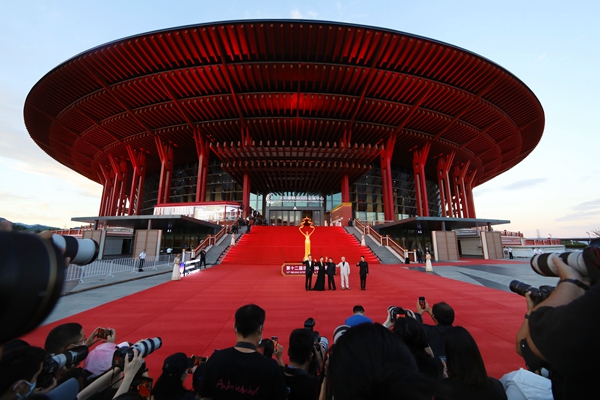 Beijing festival highlights and celebrates talent but plotline for global acclaim remains elusive, Xu Fan reports.
Glittering celebrities, quickly sold-out tickets, insights from veteran insiders-these represent the distinctive accoutrement and charm of a movie festival. As the first international film festival to be held on schedule in China this year, the recently concluded 12th Beijing International Film Festival again became a carnival to hook in floods of die-hard movie fans.
A total of 135 movies, ranging from yet to be officially released new flicks to masters' classics, were released in 18 cinemas. The most sought-after movies included Japanese animated movie One Piece Film: Red, Chinese sci-fi comedy Journey to the West and a Dolby Vision remastered version of The Godfather.
Drawing 1,450 movies, with 1,193 from 88 countries and regions, to compete for the festival's highest honor, the annual Tiantan Award saw Finnish movie, The Blind Man Who Did Not Want to See Titanic, become the biggest winner, which swept three awards for best feature film, best actor, and best screenplay.
One of the topics of the most interest for the attending celebrities and insiders was still how to make a good movie, an often talked-about yet still challenging goal.
In November, the China Film Administration, the country's top sector regulator, issued its strategy for the 14th Five-Year Plan period (2021-25), emphasizing that China has formed a vast cinematic "plateau" but has yet to see enough "peaks" emerge, a metaphor referring to the fact that while the huge domestic market produces a remarkable amount of movies every year, it still lacks outstanding works.
Several of the festival's heavyweight forums revolved around discussing this subject, also a pivotal endeavor for China to realize its vision of establishing a "strong film power" by 2035.
Huang Jianxin, president of the Beijing Film Association, says the art of cinema requires an open and tolerant mind to absorb cultures from different countries.
Recalling the war epic franchise, The Battle at Lake Changjin, which saw its postproduction work undertaken earlier last year, Huang, also a prestigious director and the movie's chief executive producer, says the visual effects were too complicated to be finished before the release date, even though they recruited all the Chinese companies capable of doing the job.
So, Huang had to seek help overseas. With the input of VFX companies from the United States, the United Kingdom, South Korea, Japan and India, a total of more than 4,000 visual-effect artists from 47 companies, the franchise, boasting more than 5,000 special-effect scenes in its overall two movies, brought in a combined box office of 9.84 billion yuan ($1.43 billion), 5.74 billion yuan for the first movie and 4.1 billion yuan for the second. It became the highest-grossing Chinese franchise of all time.
"Cinema has already developed to a world art. Most of the major tentpoles often team up a lot of excellent film workers from different countries across the world," adds Huang, encouraging domestic filmmakers to seek cooperation with fellow international talent.
For actress Zhang Ziyi, known for a bunch of award-winning blockbusters such as Ang Lee's Crouching Tiger, Hidden Dragon and Wong Kar-wai's The Grandmaster, her experience of making an acclaimed movie is to be fully immersed into her role coupled with not being afraid to get out of the comfort zone.
Most Popular