Drawing on a Chinese legend
Share - WeChat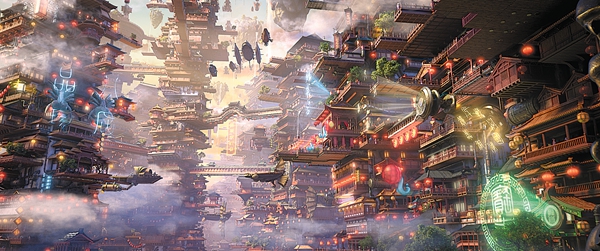 Animated blockbuster tops the film charts with a heroic reframing of the oft-maligned, three-eyed deity Yang Jian, Xu Fan reports.
With a famous third "truth-seeing" eye on his forehead, Yang Jian-aka Erlang Shen-is a well-known figure from Chinese mythology. Over the centuries, the powerful celestial being has been reimagined many times, in works ranging from the 16th-century classic Journey to the West to the late-1990s award-winning animated blockbuster Lotus Lantern.
Now, Yang Jian, who always fights alongside his howling canine companion, Xiaotian, appears in his latest iteration in New Gods: Yang Jian, which was released in theaters across the Chinese mainland on Aug 19.
Showing on more than 33 percent of China's screens, the 127-minute epic is tailored to multiple formats, including Imax, and has so far grossed 300 million yuan ($43 million) to become the country's new single-day summer box office champion, according to the live tracker Beacon.
The movie marks the seventh feature-length title produced by Light Chaser Animation, which has focused on making animated movies inspired by Chinese mythology, legends and folklore. Some of its best-known works include Little Door Gods, the White Snake franchise and the first installment of the New Gods seriesn Nezha Rebor.
Set in a fantastic interpretation of China's Jin Dynasty (265-420), heavenly gods and humankind coexist in the movie, which tells a brand-new story.
More than 1,500 years after falling from grace in an epic battle to restore order in heaven, Yang leads a rough life as a bounty hunter, but a "mission" entrusted to him by a beautiful woman leads him to uncover a horrifying plot.
Most Popular