China-EU economic and trade cooperation highly resilient with newly developed traits
Share - WeChat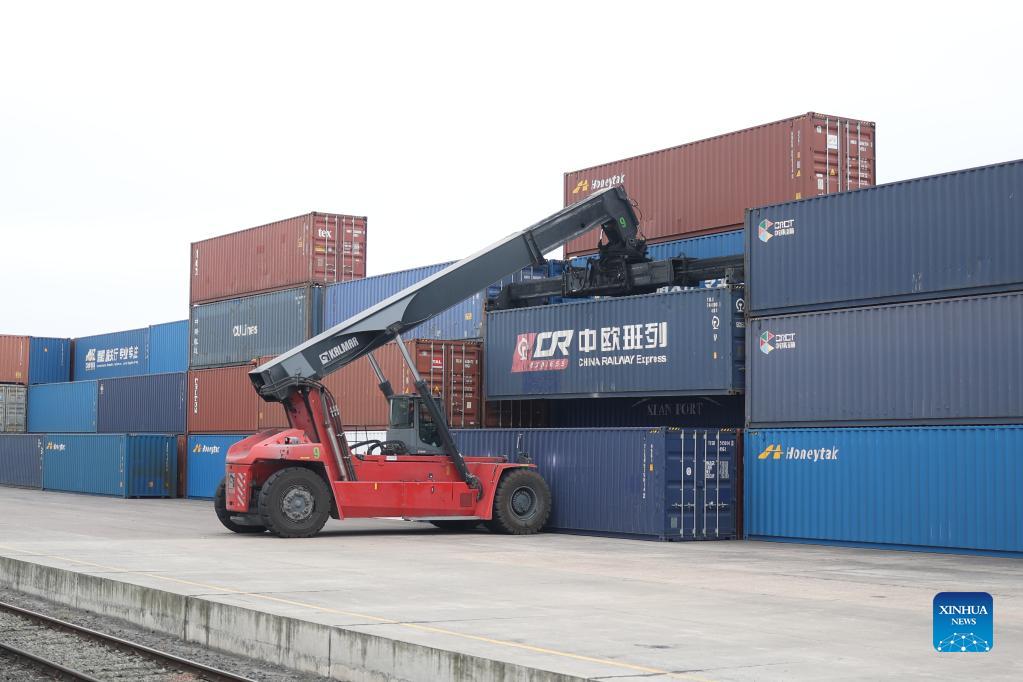 Against the negative impact of the continuing pandemic on international economy and trade activities, China's economic and trade cooperation with the European Union has grown with resilience and dynamism. According to the Chinese Ministry of Commerce, trade between China and the EU reached $420.6 billion in the first half of 2022 at the year-on-year growth rate of 8.4 percent. An upgraded commodity structure has seen improvements in terms of both quality and quantity.
Not just that, but, as revealed by the European Union Chamber of Commerce in China, nearly half of the companies surveyed are making higher profits in China than the global average, with 60 percent among them planning to expand their business further. The importance of China-EU economic and trade cooperation has been increasingly acknowledged by the West, especially in the so-called decoupling debate.
"The degree to which our prosperity is funded by China is extremely underestimated in this country," Volkswagen CEO Herbert Diess said in a recent interview, implying reconsideration of the notion of decoupling. Most business executives who have ever put time, effort, and investment into China most probably think the same way and resist the notion of decoupling. In fact, every third car produced by German carmakers is sold in China. The picture is similar across other key German export sectors from chemicals to machinery.
What's more, about 1.1 million jobs in Germany, or 2.4 percent of the total, directly rely on Chinese consumption, according to a study by the Cologne-based German Economic Institute. It is thus no exaggeration for Matthew Karnitschnig, POLITICO's chief Europe correspondent, to say that "China has propelled the German economy for decades and still remains a key growth driver."
With China overtaking the US to become Germany's biggest trading partner, the bilateral cooperation has gradually become the epitome of the broader common interests between China and the EU. The consistent choice upon two-side consensus to further deepen economic and trade cooperation has debunked again the decoupling theory.
Not only European but also Chinese enterprises are enjoying the benefits given by such strengthened relationships. Chinese carmaker BYD, whose pure electric buses are running in over 20 countries and 100 cities in Europe, would have found its decision to set up a production line in Hungary a smart move. Upon a general acceptance of the brand among overseas consumers, BYD's new energy vehicles are soon to be seen in major markets such as Germany, Sweden and Spain. More Chinese automobile brands are making their forays into European countries at the moment. A Schmidt Automotive Research shows that 16 percent of the 1.2 million electronic vehicles sold in Western Europe in 2021 were imported from China. Moreover, Great Wall Motors is expected to start to deliver luxury SUVs there later this year. New York Stock Exchange-listed Chinese electric vehicle startup Nio is expanding its presence with a newly built power product plant to be operational in September in Hungary as well.
It seems that the people of China and the people of Europe have also a common choice as to live green and environmentally friendly when it comes to lifestyle. When most of the European countries regard the green and digital transition as one of the most valued developmental tasks, and when Chinese entities realize the shared interests better served by such transition, new areas of cooperation are jointly explored, mutual investments promoted.
In July 2022, the Airbus Lifecycle Services Center project broke ground in Chengdu, as Airbus' first aircraft lifecycle service project outside Europe, which once completed will be able to reach recycling rates of 90 percent or higher. Earlier, by 2021 year- end, a wind farm at Senj constructed by a Chinese company in Croatia was officially inaugurated and is expected to produce about 530 million kilowatt-hours of green electricity each year and reduce the country's carbon dioxide emissions by about 460,000 tons per year. The Senj Wind Farm Project was called by Croatia's Prime Minister Plenković "one of the two fundamental runways of the development of Croatia, Europe and the world", and definitely of "the green and digital transitions". Such milestones are continuously set on the path of China-Croatia and China-Europe green cooperation, boosting confidence in energy transmission globally.
In its Índice Elcano de Presencia Global 2022 report, the Spanish think-tank Royal Elcano Institute recently noted that China has overcome the impact of the epidemic and continues to play an active role in international trade, energy investment, development cooperation and other external areas. The report gives full recognition to China's continued high level and quality of opening-up to the outside world despite the current trend of "counter-globalization". The report thus suggests continuously expended cooperation between the EU and China into other important areas such as combating climate change, protecting ecological environment, maintaining energy and food security, as well as supply chain stability, and last but not least, promoting sustainable development goals.
China and Europe are important trade and investment partners with strong economic complementarities, extensive areas of cooperation and great development potentials. Strengthening bilateral cooperation is in the interests of both sides, and therefore a win-win cooperation of mutual benefits remains the keynote of China-EU cooperation. Especially when the world political and economic situation is undergoing profound changes, stable and sustainable China-EU economic and trade relations are conducive to global development and prosperity. Far-reaching China-EU relations are believed to not only enhance mutual understanding and common interests of both peoples, but also promote the in-depth development of economic globalization, contribute stability to a turbulent world, and make joint efforts toward peace and development.
Zhu Rui is with the Institute of European Studies at the Chinese Academy of Social Sciences.
The opinions expressed here are those of the writer and do not necessarily represent the views of China Daily and China Daily website.
If you have a specific expertise, or would like to share your thought about our stories, then send us your writings at opinion@chinadaily.com.cn, and comment@chinadaily.com.cn.
Most Viewed in 24 Hours
China Views