Hong Kong shows China's internal affairs brook no outside interference: China Daily editorial
Share - WeChat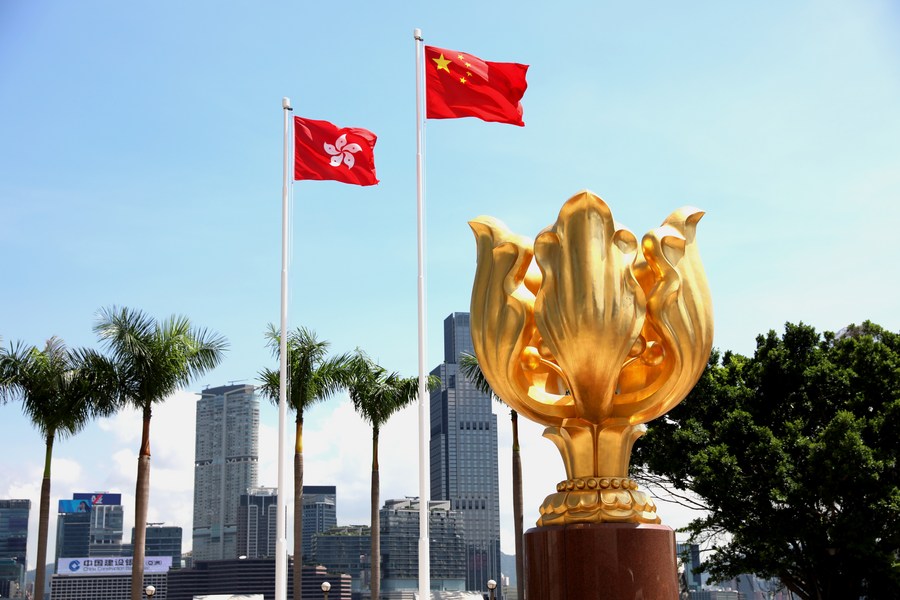 In the hope of an audience, some Western politicians seem content to fiddle while Rome burns. Despite their own countries being mired in problems, they do nothing other than try to interfere in China's internal affairs.
After 29 of 47 plotters and organizers of an illegal legislative primary election in the Hong Kong Special Administrative Region pleaded guilty to subversion charges in a court hearing in Kowloon, Hong Kong, last week, these ever-ready critics of China in the United States and the United Kingdom have sought to smear the special administrative region's judicial procedures and endorse the law-breaking activities of their countries' pawns-behind-bars.
The hypocrisy of these US and UK politicians is brazen. They did not describe the Capitol Hill riots and the ransacking of the US legislature as "beautiful sights", but they were happy to do so when it happened in Hong Kong.
The strong disapproval the Commissioner's Office of the Foreign Ministry in Hong Kong expressed on Saturday at their attempts to badmouth the SAR's judicial system is fully warranted.
The details of the 29 subversives' admissions are striking. Behind the unlawful so-called primary election for the SAR's legislature they organized in July 2020, which the US and the UK politicians praised as "democratic", was a complete conspiracy to paralyze the SAR government and force the resignation of the Hong Kong chief executive. The purpose of doing so was to provoke the central government to resort to "bloody suppression", which would provide the US and the UK with an excuse to impose debilitating sanctions on Hong Kong and the Chinese mainland.
With their backscratching relations and ulterior motives so clearly exposed, it is no wonder the US and UK politicians that have been acting as their patrons have been so wholeheartedly trying to slander the SAR's judicial system.
It was the shameless support of the US and the UK under the banner of "democracy" that made the chaos-seekers in the SAR so fearless and reckless in challenging the rule of law, claiming that the city should perish together with them if their "plan" failed. However, the national security law for Hong Kong, which came into effect on June 30, 2020, shattered their dreams, if not their already planned schemes.
With justice having caught up with the subversives in the SAR, their Western patrons will have no further use for them, and they will turn their attention elsewhere. Taiwan seems to have become the latest focus of attention for them.
But China will by no means allow external forces to interfere in its internal affairs, and what Hong Kong experienced over the past few years has awakened people to the true colors and motives of the anti-China "democracy" peddlers backed by the West.
Most Viewed in 24 Hours
China Views