Train from Tibet brings cases to the capital
Share - WeChat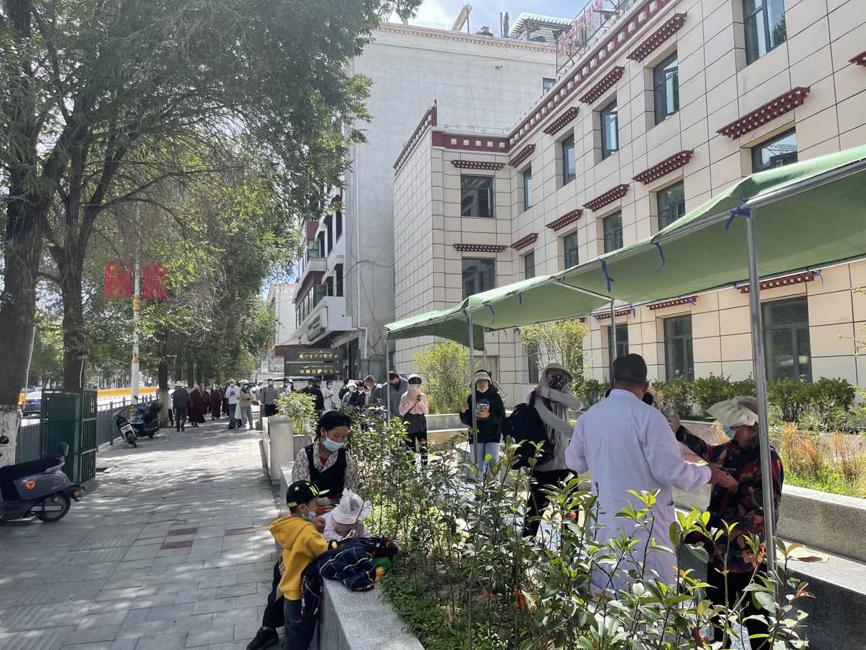 At least 29 passengers aboard a train that set off from Lhasa in the Tibet autonomous region on Monday and arrived in Beijing on Wednesday had tested positive for COVID-19 by Friday noon, after they'd disembarked at various stations along the more than 3,700-kilometer route.
The train, Z22, had 10 stops during its over 40-hour journey, passing through five provincial-level regions-Qinghai, Gansu, the Ningxia Hui autonomous region, Shanxi and Hebei, Beijing Daily reported.
As of Friday, Beijing and four provinces had reported a total of 29 positive cases-two in the capital, 13 in Hebei, five in Henan, seven in Shanxi, one in Shandong and one in Gansu. All tested positive after they got off the train, according to local COVID-19 prevention and control authorities.
Among them, Beijing's Shunyi and Daxing districts reported two positive cases on Friday. The case in Shunyi got on the Z22 train at Xining in Qinghai on Tuesday, got off at Hebei's capital city Shijiazhuang and transferred to Handan in Hebei, then went on to Beijing on Wednesday. The case in Daxing also got on the train in Xining but got off in Beijing directly.
Since Monday, Beijing has detected 12 COVID-19 cases, four of whom were infected while they were on trains heading to the capital, Liu Xiaofeng, deputy director of the Beijing Center for Disease Prevention and Control, said at a news conference on Friday.
"Passengers taking trains face increased transmission risk because of the long travel time, large volume of people and confined space," he said.
Liu suggested passengers enhance self-protection measures and for people not to travel to places that have COVID-19 outbreaks.
Among the regions along the train's journey, several are facing local COVID-19 outbreaks.
Tibet's Lhasa reported 225 local asymptomatic carriers on Thursday. The city's current total is 33 confirmed cases and 1,727 asymptomatic carriers, according to the office handling the COVID-19 outbreak.
Qinghai reported one locally confirmed case on Thursday and 34 asymptomatic carriers. As of Thursday, the province had 14 confirmed cases and 123 asymptomatic carriers. Ningxia had three asymptomatic carriers by Wednesday.
The capital's neighboring Hebei province reported two asymptomatic carriers on Wednesday and 11 more on Thursday, all of whom were train passengers.
Most of them got on the train in Lhasa and got off in the provincial capital Shijiazhuang.
According to their contact tracing disclosed by local authorities, some had sat in the same carriage on the train.
To curb further transmission, some districts in Shijiazhuang have started mass nucleic acid testing, including the districts of Chang'an, Qiaoxi and Xinhua. Residents in those districts need to do the tests for three consecutive days.
Meanwhile, the latest outbreak of COVID-19 in South China's Hainan province has been contained and the situation is showing positive signs, local authorities said at a news briefing on Friday.
"There was a continuous drop seen from the number of infected cases reported in the three rounds of nucleic acid tests from Monday to Wednesday in Sanya. The number of newly reported infections in high-risk areas continued to decline," Li Wenxiu, deputy director with the Hainan Provincial Health Commission, said at the briefing.
Ma Zhiping contributed to this story.