Xi sets out tasks to revitalize northeast
Share - WeChat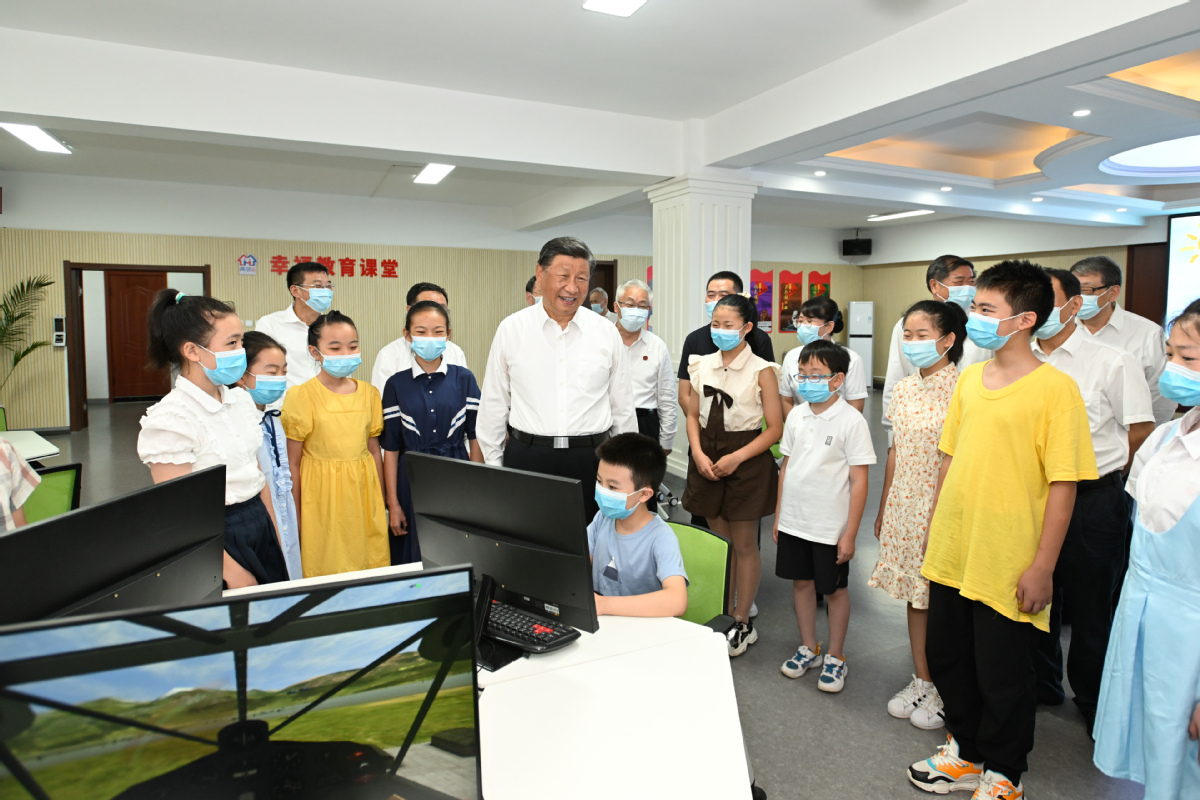 President stresses innovation during fact-finding trip to Liaoning province
President Xi Jinping has underlined protecting the ecology and environment, giving priority to independent innovation and bolstering community services as the nation carries forward a strategy to revitalize the northeastern region in the new era.
In remarks made during a two-day fact-finding trip to Liaoning province beginning on Tuesday, Xi, who is also general secretary of the Communist Party of China Central Committee, expressed full confidence in and high anticipation for the revitalization of the northeast in the new era.
The trip, which included visits to a revolutionary museum and a forest park in Jinzhou and a robotics producer and a community in Shenyang, the provincial capital, came four years after Xi presided over a high-level meeting in Shenyang, during which he laid out a host of measures to revitalize the region.
The northeast, one of China's key grain production bases and a traditional manufacturing powerhouse, has experienced an economic slowdown and a population outflow in recent years.
Xi underscored during the trip that a fine ecology and environment are precious resources for socioeconomic growth in the northeast and the key strength for revitalizing the region.
It is important to implement the green development philosophy in fields including ecological protection, environmental development, production and manufacturing, urban development and people's lives, he said.
Xi has long championed a green development philosophy, calling for the northeastern region, comprising Liaoning, Jilin and Heilongjiang provinces, to see its ice and snow-covered land in winter as an invaluable asset.
In the first half of this year, Liaoning's GDP grew by 1.5 percent year-on-year, while that of Heilongjiang increased by 2.8 percent over the same period, compared with the national average of 2.5 percent. Meanwhile, Jilin's economy contracted by 6 percent after a surge in COVID-19 cases forced a prolonged lockdown early this year.
The president visited Siasun Robot & Automation Co in Shenyang, a company focusing on the research and development of robotics technology.
He said that the CPC Central Committee attaches great importance to independent innovation and the fostering of an environment for innovation to improve China's industrial level and strength as it carries out an innovation-driven strategy.
Xi reiterated the need to follow a path of independent innovation in the nation's drive to build a modern socialist nation, calling for a heightened sense of urgency to enhance self-reliance and China's capacity in science and technology, and secure early breakthroughs in bottleneck problems.
The nation must strive to "take the core technologies in key fields and equipment manufacturing into our own hands", he said.
Zhang Keyun, a regional economics professor at Renmin University of China, said that during the trip, Xi again stressed innovation as a key solution for revitalizing industries in the northeast.
He explained that a key factor that led to the decline of industries in the region was a lack of impetus for innovation. The northeast was once the heartland of China's heavy industries with its robust steel, automaking, coal and petrochemical sectors.
Xi's visit to the robotics company spoke volumes about the emphasis given by the top leadership to emerging sectors and innovation, he said.
"For the northeast, the path of its revitalization does not lie in traditional industries but in emerging sectors," he said.
Chi Fulin, president of the China Institute for Reform and Development, said the northeast could play a key role as China seeks to better coordinate its development with the guaranteeing of security on a number of fronts, especially food security.
He cited figures that showed the region's grain production grew by 41.24 percent between 2010 and 2021, which played a key role in bolstering China's food security.
Liaoning's efforts to encourage entrepreneurship and innovation have started to pay off with the number of market players increasing by 735,200, or 21.6 percent year-on-year, in 2021, he said. The province's investment in the high-tech manufacturing sector rose by 12.2 percent year-on-year in the first half.
Xi also visited a community with over 3,000 households in Shenyang, in which he underlined the renovation of old residential communities as a key aspect of work to enhance the sense of gain for the general public.
He underlined the importance of developing industries for the elderly population, strengthening eldercare facilities and proactively offering eldercare services.
Zhang from Renmin University of China said that improving eldercare services is even more urgent for the northeast, one of China's leading regions in terms of the graying of its population.
According to the nation's latest census in 2020, over 25.72 percent of the population in Liaoning is age 60 or older and over 17.4 percent of the population is 65 or over.
He said it is of vital importance for the region to reduce the outflow of its talent and for young people to maintain the region's competitiveness in the longer term.
xuwei@chinadaily.com.cn