Opportunities flow with e-commerce
Share - WeChat Livestreaming gets Chinese talking about African products as technology deepens trade bonds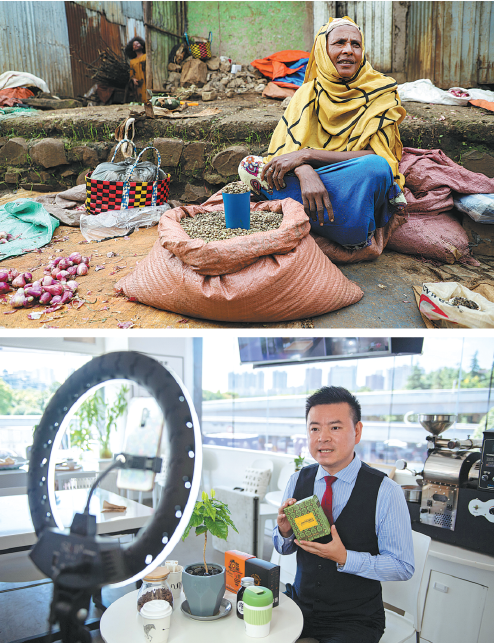 When James Kimonyo looks back over the past two years, the envoy still remembers how happily surprised he was the first time he tried his hand at livestreaming in China-not least with the speed.
"It's so fascinating to see how fast things can go," he said, recalling how he introduced specialties from his country before a camera.
As Rwanda's ambassador to China, Kimonyo came to Beijing three years ago. When the COVID-19 pandemic hit the country and the world hard in 2020, he began his e-commerce journey. And, just like many influencers and other diplomats have done in drumming up interest for diverse products, Kimonyo participated in many live broadcast sessions promoting coffee, chili sauce and bamboo products from Rwanda.
Sitting with influencers, Kimonyo made his livestreaming debut in January 2020, when he sold 2,000 packets of coffee beans in less than 10 minutes.
"You sit with an influencer, knowing he or she has a big number of followers and people are so excited to buy. By the time the influencer announced that we are good to go, when you're counting, three, two, one, go, people click the buttons. And before you know it all the products are sold out," he said. "It has a huge impact but it's done in a very small way."
He has since been continuously engaged in the livestreaming business and is always "excited about it".
"In another livestreaming, 3,000 packets of coffee were sold in almost one second. This (livestreaming) is new to me and I have had a very good experience with it," Kimonyo said.
Last summer, the ambassador also took part in a live show organized by Hainan TV and the China Foundation for Peace and Development, with the event showcasing African specialties.
He was joined by the ambassadors to China from Benin, Ethiopia and Tanzania. African diplomats have been seizing the opportunities to use the technology to promote their countries' products to Chinese consumers.
Coffee, chili sauce and bamboo products from Rwanda, tea and wood carvings from Kenya, and red wines from Tanzania were displayed on an episode of the show.
"Livestreaming has become a very powerful and important tool to connect to the consumers in the Chinese market to run the products," Kimonyo said.
He said the livestreams have spurred coffee farmers in Rwanda to increase their production, leading to higher prices-and increased profits-from the increased demand.
Coffee is a leading export crop of Rwanda, with about 400,000 small-scale farmers involved in coffee production, the ambassador said.
Tang Xiaoyang, a researcher in African studies at Tsinghua University in Beijing, said that African agricultural products, especially those less known to Chinese customers, have gained traction in the Chinese market because of livestreaming.
Livestreaming helps to promote China-Africa trade and boost the export and internationalization of African goods, Tang said.
During a visit by Chinese President Xi Jinping to Rwanda in 2018, China and Rwanda signed a memorandum of cooperation on e-commerce.
Cooperation needed
For Kimonyo, the big picture is important. "I just want to say that we should not look at it from a very narrow perspective of bringing coffee and sitting with influencers and selling to consumers," the ambassador said.
"When President Xi visited Rwanda, bilateral cooperation agreements were signed between China and Rwanda, and one of those was for e-commerce. The Chinese government is committed to supporting Rwanda in developing e-commerce so that we can be able to be part of the global digital economy."
In the same year, Chinese e-commerce giant Alibaba and the Rwandan government launched the Electronic World Trade Platform partnership.
Over the past two years, the platform has boosted Rwanda's exports, with coffee alone gaining a 40 percent boost just after the signing of the partnership agreement.
In fact, African products are finding more marketing space in the Chinese market. From April 28 to May 12, an annual online shopping festival promoting African goods was held with the participation of more than 300 e-commerce platforms and 1 million e-shops, according to the Chinese Ministry of Commerce, which supported the event.
Zhou Ping, deputy director of the Department of African Affairs at the Ministry of Foreign Affairs, said the online shopping festival will generate great value as China and Africa deepen cooperation on digital innovation this year. As Zhou puts it, China-Africa cooperation is being upgraded with the spark of digital power and these efforts will help Africa narrow the digital divide that exists between the continent and other regions.
"China always keeps its promises, and tries its best to deliver on its commitments to African friends, which is the most important feature of China-Africa cooperation," Zhou said.
In 2021, the China-Africa Economic and Trade Expo, held in Changsha, Hunan province, attracted about 900 enterprises from China and nearly 40 African countries. During the four-day event, deals for 135 cooperative projects were signed on-site or online, with a total value of $22.9 billion.
The China International Import Expo has also provided African traders a platform for exploring the Chinese market.
China's successful experiences in the digital sector are helpful to Africa as the continent has a need for rapid development of e-commerce, and the two sides have already achieved progress in cooperation on 5G networks, e-commerce and a broad range of technology infrastructure, said Tang of Tsinghua University.
In Kenya, e-commerce platforms like Kilimall are bringing more convenience to Africans, especially during the pandemic when shopping online became a new normal.
Kilimall, initiated by Chinese entrepreneurs, now operates in Kenya, Uganda and Nigeria, said Qin Wen, co-founder of the platform. And in East Africa, it has become the No 1 e-commerce platform, Qin added.
Silas Musyoka, marketplace operations manager of Kilimall, said the shopping platform has seen "quite some growth" in the past couple of years, especially during the pandemic.
"Shopping habits of most Kenyans are changed. We also had more vendors registered to sell on our platforms. This means that the number of products that we are offering to our customers also increased," Musyoka said in a video interview with Xinhua News Agency.
In line with Kilimall's strong growth, Musyoka said, the company has also provided employment opportunities to more Kenyans.
Tang said e-commerce in Africa has huge potential. "It's a blue ocean."
But continuous growth in e-commerce requires supporting infrastructure and other services, Tang said.
"Take agriculture as an example. Agriculture is not just about planting. Fertilizing and related management measures, the processing and logistics … They all count," Tang said. "That's the same when it comes to e-commerce. Delivery, government policies including bank loans and other supporting facilities should also be in place. It's a joint effort of all stakeholders," Tang said.
Digital economy
The academic added: "China and Africa should strengthen cooperation in digital economy, including e-commerce, under the Belt and Road Initiative."
Kimonyo said China's support for infrastructure development in Africa plays an important role in helping countries to connect better and to further the development of e-commerce.
"China comes to Africa to help build infrastructure, because that is something that the African continent needs. When you look at the level of infrastructure between African countries, we still have a long way to go to connect ourselves on the road networks, railway networks, and air transportation systems," the ambassador said.
"China has been very supportive of Africa's infrastructure development. China supports many African countries. E-commerce cannot exist without better infrastructure.
"It has to happen when there is a delivery system that is going to be based on sound infrastructure networks that help with the transportation of goods and services from one point to the other."
Kimonyo said the BRI is not merely about infrastructure but is "a tool for integration of countries" in Africa.
Though the pandemic restricted mobility and hurt Rwanda's business activities and exports, e-commerce has helped reduce the impact.
"Because of COVID-19, we are buying online more than we used to do," the ambassador said. "And I think this is going to be a new normal. So it is something that we want to continue to focus on. We want to continue building our networks to continue to sell products online," Kimonyo said.
The significance of livestreaming is not just "the numbers that you sell on a particular day" but "the impact livestreaming has made to our exports to China", he said.
Now an old hand behind the camera, Kimonyo said livestreaming is helping to forge ever deeper connections between Rwandans and Chinese, with inquiries pouring in with requests for sessions to introduce the coffee, tea and chili products of Rwanda to Chinese consumers.
zhaoruinan@chinadaily.com.cn