As seasonal moratorium ends, fishermen set sail to S. China Sea
Share - WeChat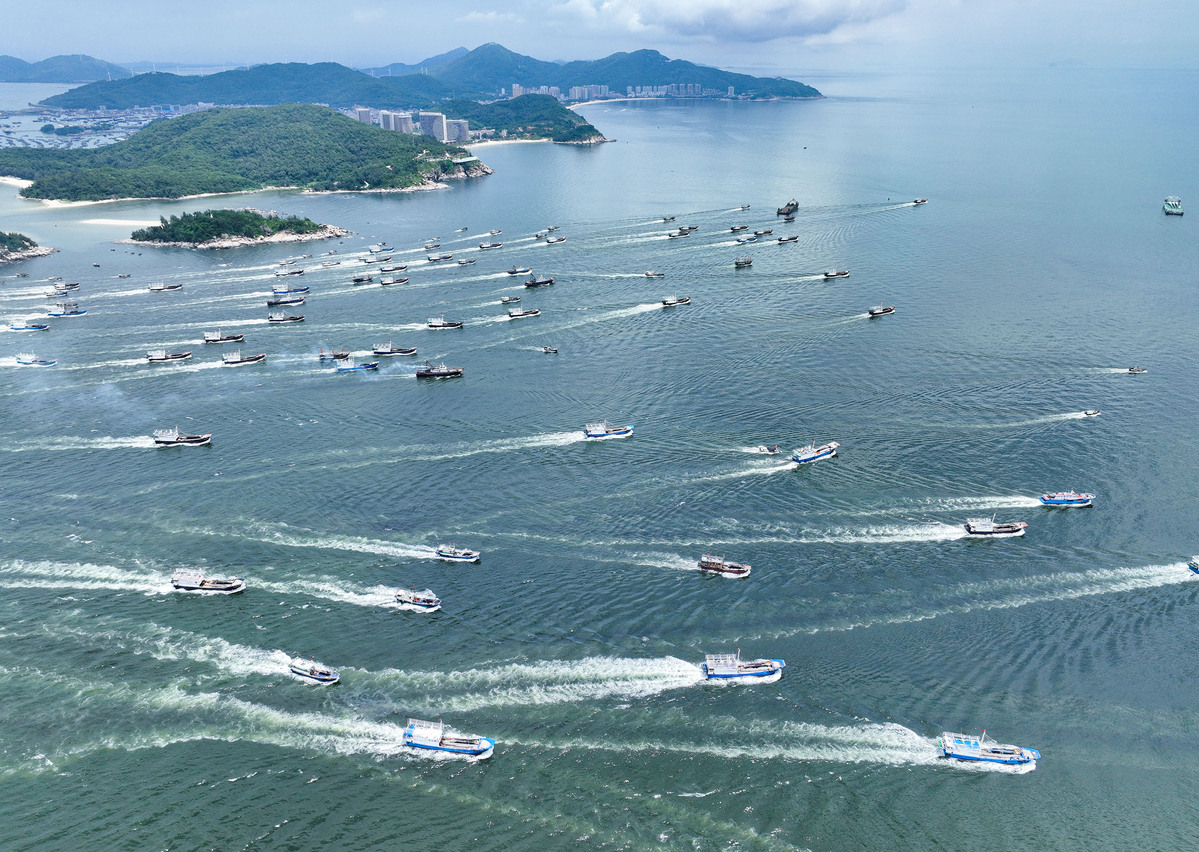 Thousands of fishing boats set sail from the shelters and ports of the coastal cities of Guangdong province, with high expectations of good catches, as the recent 107-day fishing moratorium in the South China Sea came to an end on Tuesday.
In the city of Yangjiang in western Guangdong, government officials and fishermen organized a grand ceremony on Monday to celebrate the annual fishing festival, and offer up prayers for a smooth journey and a healthy haul.
One of the fishermen going out, Yang Yongshang, said that his crew had been busy stocking up on ice, freshwater and fuel for the last few days.
"Many fishermen have also bought new nets and stocked up on rice, oil and other daily necessities for use on board to help ensure a smooth trip," he said.
Ice factories in coastal areas have been busy producing blocks of ice of late, he said.
"Restarting fishing is an important event, and we are all ready to set sail," said Yang.
He Xuejun, a neighborhood committee official on Yangjiang's Hailing Island, said that the committee had helped reissue and review certificates and operating licenses for some 200 boats up until Monday to ensure they'd be ready to sail when the ban ended.
The committee has also helped with nucleic acid tests and has urged the fishermen to be very careful while out at sea.
Wu Zhencheng, a fisherman from Jieyang in eastern Guangdong, said that he was excited and happy to be able to go fishing again.
"I am expecting to bring back a big catch this time," he told China Daily, adding that he has already prepared to set sail and has had a nucleic acid test.
The ban has greatly affected them all in recent months, he said.
"Many fishermen had to go out and find other work during the ban, as they've had very little income for the previous three and a half months," he added.
In an open letter jointly issued by the province's bureau of agriculture and rural affairs and its maritime safety administration, Guangdong authorities urged fishermen to strictly abide by COVID-19 measures while at sea and urged boats not to leave without taking the proper safety precautions.
In Beihai in the Guangxi Zhuang autonomous region, authorities organized safety inspections of the city's fishing boats to remove hidden dangers and eliminate potential sources of accidents before they leave ports.
Ou Qiquan, director of the Beihai Oceanic Administration, said all fishing boats entering and leaving Beihai city must strictly implement the approval and filing system to ensure that only those with operating licenses set sail.
Crews are required to have green health codes and negative nucleic acid test results taken within 48 hours before leaving port and must report to relevant departments on their return.
The South China Sea fishing ban started at noon on May 1 and was officially lifted at noon on Tuesday.
The ban was part of efforts to promote sustainable fishing and improve the marine environment.
Qin Yifei contributed to this story.