Power from above benefiting rural villages
Share - WeChat Editor's note: In this series, China Daily looks at some of the areas in which major progress has been made in the 10 years since the 18th National Congress of the Communist Party of China was held in November 2012.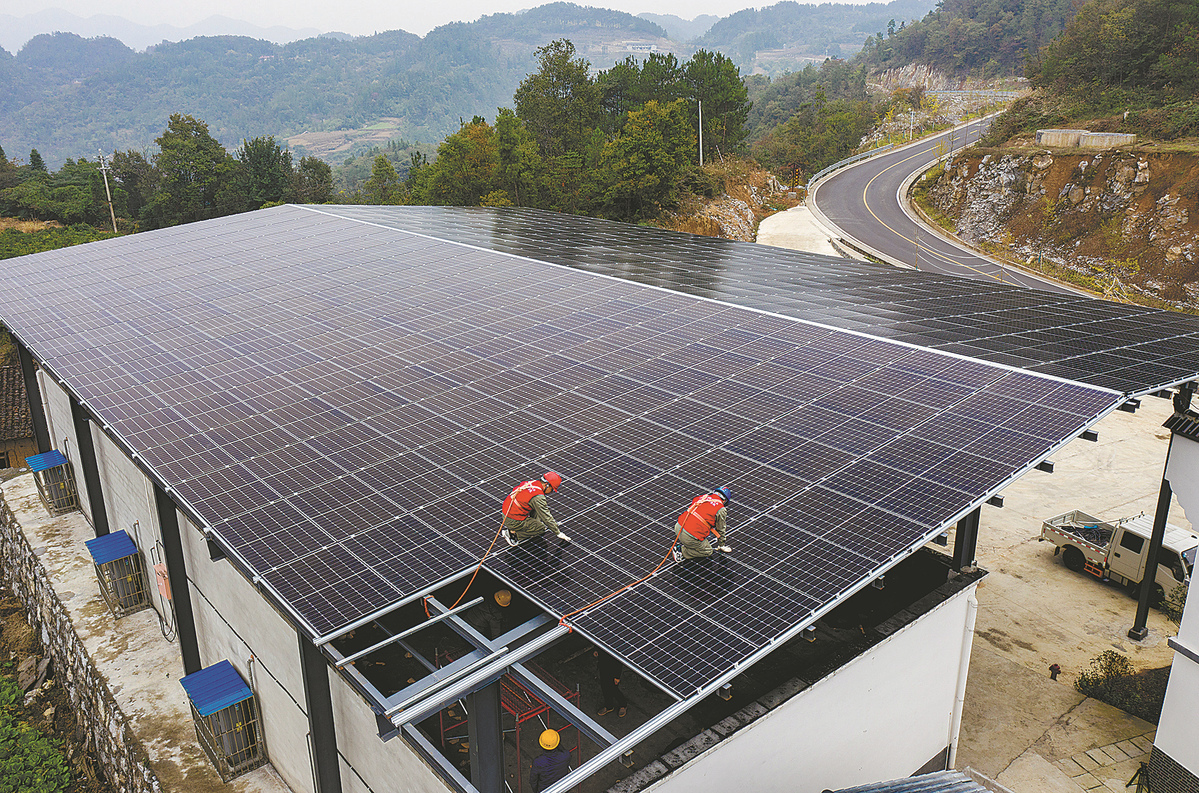 Rooftop solar panel program provides local electricity, eliminates poverty by creating jobs, boosting income
Chuanxindian, a small village in Central China's Hubei province, was the first participant when Zigui county launched a new energy project that aims to put solar panels on top of some local buildings-part of the county's new targeted poverty alleviation efforts.
For example, photovoltaic panels "have been installed on the 560-square-meter top of a large cold storage warehouse in the village, with a total installed capacity of 250 kilowatts," said Wang Wei, who is in charge of photovoltaics management at Zigui's rural vitalization bureau.
Before the project, the villages relied on other means of getting electricity, such as hydropower or power brought in from other areas by State Grid Corp of China. Now, the panels provide electricity for the villages, and surplus electricity can be sold to the grid.
By February, the county's photovoltaic power system had total installed capacity of 52 million kW since July 2016, when the first solar power project was put into production.
Lower electric bills
Huge gains have resulted, according to Zhai Bingshan, an official of the city of Yichang's water conservancy bureau.
"Companies used to pay 0.7 yuan (10 US cents) for one kW. Now the electricity price is 0.4 yuan for them, thanks to the local solar energy projects," Zhai said. "In other words, the firms can save 30,000 to 40,000 yuan on their electricity bills."
The 49 villages that have photovoltaic power systems also win. They sell their surplus electricity from the solar panels for some 50,000 yuan a year. State Grid Corp buys the electricity they generate, integrating it into the power grid for use in other areas of Hubei.
Solar power systems also offer villagers job opportunities, such as cleaners and maintenance workers. Gardening jobs are also available, because in rural areas, some newly built facilities hire local farmers to prune trees, remove weeds and maintain landscaping. Such public service jobs are encouraged by the government to create jobs in poverty-stricken areas.
In 2016, State Grid Corp built the first photovoltaic power station in Jiandong, a village in Zigui county, with the aim of promoting local development.
"When the weather is fine, the village can produce electricity of more than 2,000 kW a day," said Cai Xianmeng, an employee at the Zigui office of State Grid Corp.
Statistics show that between Jan 1, 2011, and Aug 1 this year, Zigui had 378 sunny days, more than 2,000 cloudy days and around 1,500 days of rain or snow.
Solar panels are most productive when they absorb direct sunlight, but they still work in cloudy conditions, according to Zhang Long of Zigui's bureau of rural vitalization.
Meanwhile, part of Jiandong is on a low-lying riverbank that is not fertile for growing crops, so the land was long unused. State Grid Corp signed a lease for the riverbank land when it was assigned by the Chinese government to help the poverty-stricken village.
The company had the land filled in and leveled and then built a photovoltaic power station there. Rows of solar panels were installed, and beneath them villagers grow crops and raise livestock.
From July 2016 to June this year, the station generated 3.19 million kW of electricity, which has brought profits of more than 3 million yuan to the village.