Zhuanghe charged up over clean energy
Share - WeChat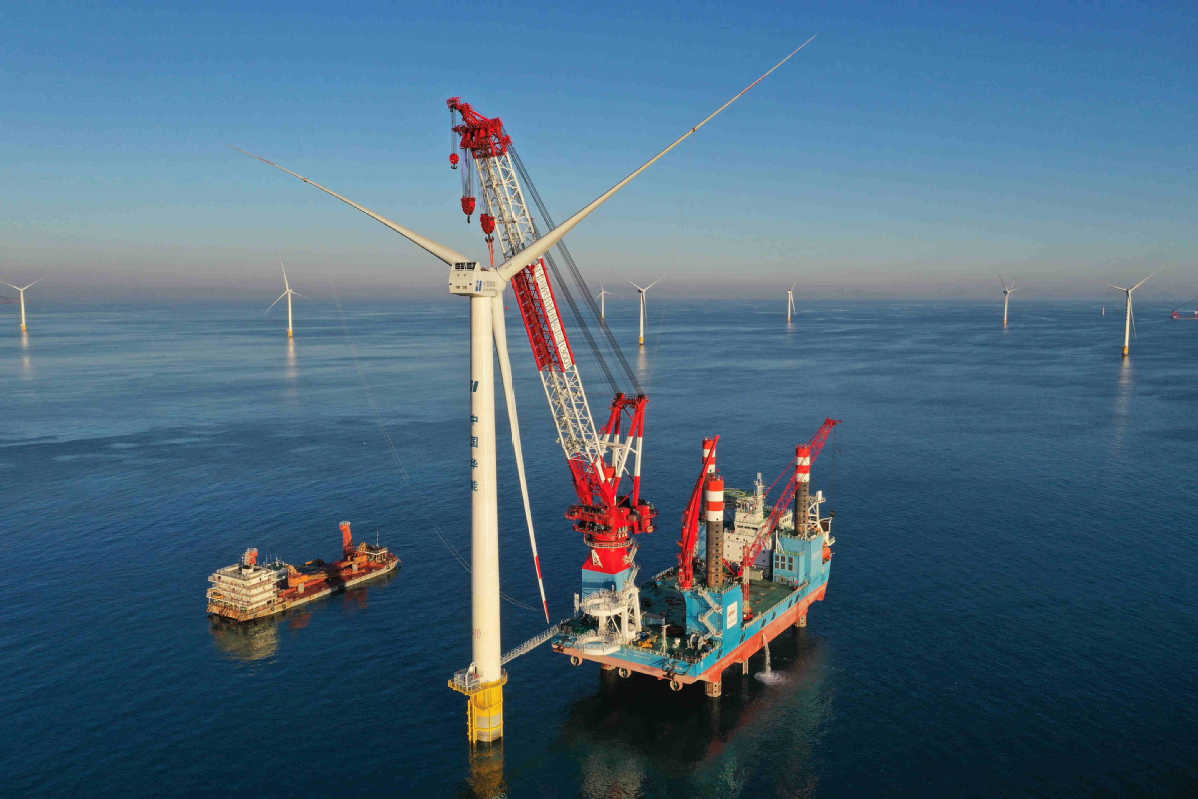 Just off the coast of the city of Zhuanghe in Liaoning province an invisible yet inexhaustible resource is being farmed 100 meters above the rolling Yellow Sea.
Over 300 towering wind turbines slowly rotate as the breeze passes through their giant blades to generate electricity that is fed back to shore to power Zhuanghe.
The city is one of the hundreds, big or small, across the Chinese mainland that are adjusting their energy mix to use more renewable energy in order to contribute to China's national goal of achieving a carbon dioxide peak by 2030 and carbon neutrality by 2060.
With a planned installed capacity of 3.2 million kilowatts, Zhuanghe is building the largest offshore wind farm in northern China.
"Currently, we have offshore windmills with a capacity of 1.05 million kilowatts. Another 630,000 kilowatts are scheduled to be put into operation by the end of next year," said Su Changzhong, vice-mayor of Zhuanghe.
Zhuanghe, a county-level city, had a GDP of 57.45 billion yuan ($8.5 billion) in 2021, ranking it among the 100 top-performing county-level cities in China.
The city, which has a land area of 4,114 square kilometers and a sea area of 2,933 sq km, boasts unique advantages in developing its clean energy industry.
"The average annual wind speed in the area is about seven meters per second at a height of 90 meters above sea, while our abundant water resources of rivers and reservoirs make it possible for the county to construct pumped storage power stations," he said.
"In addition, it is an excellent place for a coastal nuclear power plant and photovoltaic power generation projects."
In recent years, Zhuanghe's clean energy sector has grown rapidly with green energy industrial structures combining wind, solar, water, a nuclear power and hydrogen storage being established.
A photovoltaic project at Yongji Reservoir, which realized full capacity in 2017, can generate 170 million kilowatt-hours of electricity annually, saving 42,000 metric tons of standard coal and reducing 104,000 tons of carbon dioxide emissions annually.
Su said that by the end of 2025, the installed scale of clean energy in Zhuanghe is planned to reach 2.53 million kilowatts, and total clean energy generation will reach 5.9 billion kilowatt-hours.
"Half of the electricity produced can be sent outside the city to support the wider province, and with favorable conditions we could peak our carbon emissions by 2028," said Su.
Lan Fengfei from Zhuanghe's development and reform bureau, who has worked in the energy sector for more than 20 years, said, "Zhuanghe has become a hot spot for investors in clean energy."
The city is home to more than 20 State-owned enterprises and more than 10 large private clean energy enterprises.
In 2017, China State Shipbuilding Corporation Haizhuang Windpower set up a subsidiary in Zhuanghe.
Since it was put into operation in 2019, the company has manufactured 85 windmills with a total installed capacity of 500,000 kilowatts for two projects in Zhuanghe. It has also fulfilled orders from neighboring provinces such as Shandong.
Last year, the company produced offshore windmills with a capacity of nearly 750,000 kilowatts, and an output value of 2.4 billion yuan.
This year, it is expected to produce equipment that can generate 800,000 kilowatts.