Tibet continues to report new cases
Share - WeChat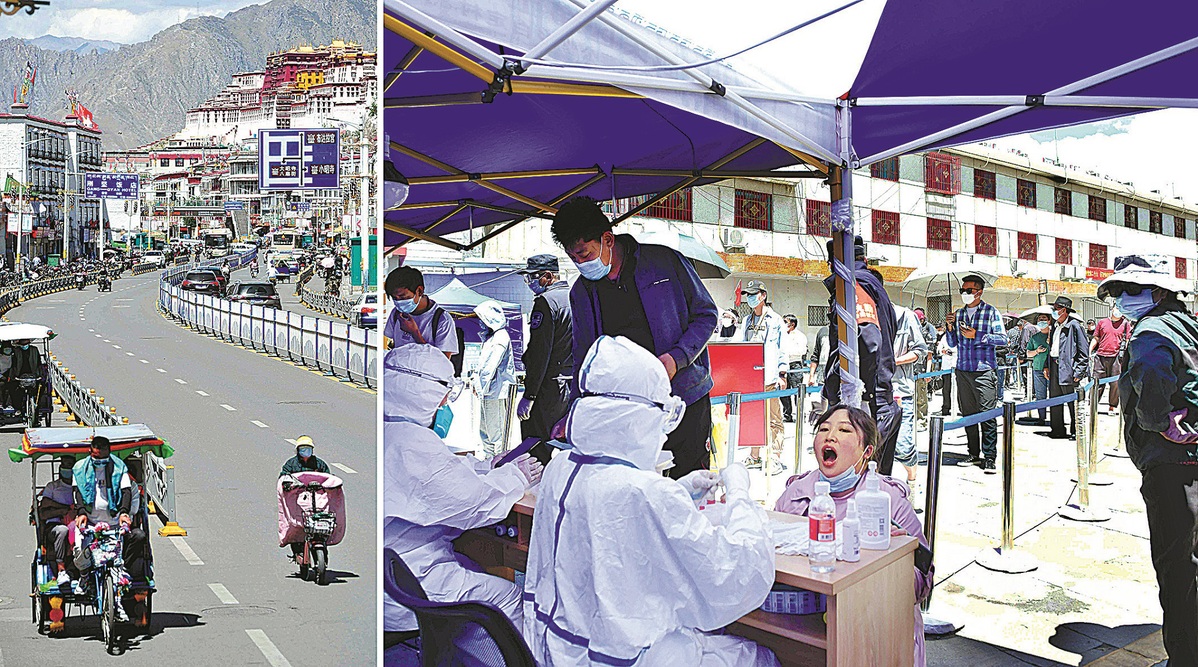 Ngari prefecture of the Tibet autonomous region has reported five new asymptomatic carriers of COVID-19 as of noon on Wednesday, and the region reported nine confirmed and 18 asymptomatic cases on Tuesday, according to a regional press briefing on Wednesday.
Among the nine confirmed cases, two are in Chengguan district of the regional capital Lhasa, six are in the region's Shigatse city, and one in Nedong district of the region's Lhokha city.
Among the 18 asymptomatic cases, two are in Burang county of the region's Ngari prefecture, 12 in the region's Shigatse city, and four in Nedong district of the region's Lhokha city.
At present, the region has reported a total of 11 confirmed and 43 asymptomatic cases.
Wang Shoubi, an official from the region's health commission, said one of the confirmed cases, a 67-year-old woman, is a severe case and the patient suffered from hypertension and heart disease in the past.
"The severe patient has been receiving treatment in a designated hospital and all other confirmed cases have been hospitalized and are in stable condition," Wang said.
Currently the region has 15 areas designated as high-risk for COVID-19, and 34 areas are medium-risk.
In Lhasa, Shigatse, and Ngari prefecture, more than 1.99 million samples have been collected for nucleic acid tests, and more than 560,000 samples have been collected in the center towns of the region's cities of Lhokha, Nyingchi and Chamdo.
Lhasa has set up 545 nucleic acid testing points since Monday. More than 1,400 medics and 1,400 grassroots workers have joined the fight against the pandemic, and more than 1.08 million nucleic acid test samples have been collected as of midnight on Tuesday, according to a news conference held by the city's health authorities on Wednesday afternoon.