Shenzhen powers ahead in transport
Share - WeChat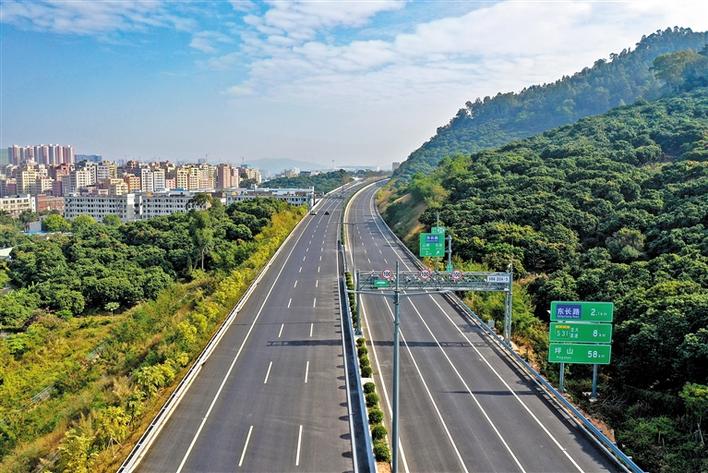 Shenzhen is speeding up the construction of more than 30 railway and expressway routes to neighboring cities in order to create what it calls a "half-hour living and economic circle".
Intercity traffic volume between the Guangdong province metropolis and the cities of Dongguan and Huizhou amounts to about 1.36 million people every day, according to Shenzhen's transportation bureau. Most are business travelers and an intercity commuting model has begun to take shape, it said in a statement.
With the development and integration of the Guangdong-Hong Kong-Macao Greater Bay Area, the bureau estimates that traffic between the three cities will reach about 5.2 million people per day by 2035, and commuters will hit the 3 million mark.
Road travel accounts for about 85 percent of the journeys made in the area and so reinforcing road connectivity is one of the main tasks.
The number of cross-city expressways and roads will rise respectively to 12 and 44 from the current combined total of 35.
In addition, train routes will increase from 4 to 15 routes, and about 17 urban metro facilities in the three cities will be extended to link to each other. For instance, Shenzhen's Metro Lines 10, 11 and 22 will be linked to Dongguan, while Line 14 will be linked to Huizhou.
Ten intercity metro projects are under construction in Shenzhen this year with a total length of about 351 kilometers and an investment of about 187.2 billion yuan ($27.7 billion).
Sun Bushu, deputy director of the South China City Research Association, said that the provincial capital Guangzhou has already built two metro lines to its satellite city of Foshan, and Shenzhen is lagging behind.
Compared to national railway networks, which mainly cater to business trips and tourism, intercity metro lines cater to commuters and play a more important role in exchange, he added.
Transportation infrastructure can facilitate the free flow of essential elements among cities and promote development, he highlighted.
"On the one hand, land-scarce Shenzhen can use this advantage to bring in large projects, and on the other, surrounding cities gain greater opportunity to grow," he said.
Across the Pearl River, the 24-km east-west Shenzhen-Zhongshan Bridge will link Shenzhen with Zhongshan by 2024, cutting transportation time between the two cities from 2 hours to just 20 minutes.