Case prompts greater awareness of protection among public
Share - WeChat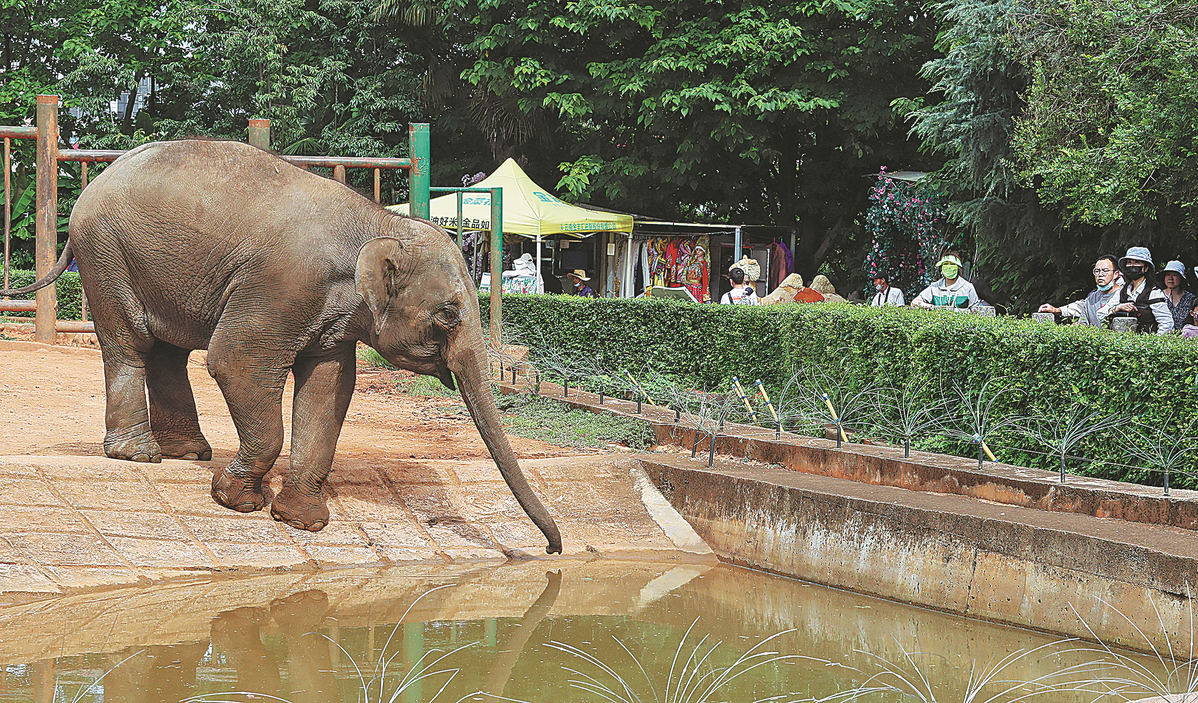 Moli's return to her hometown after intense, prolonged internet discussion illustrates an awakening and a rise in public awareness of animal protection, said industry insiders, who called for more specific legislation to be enacted.
"The case began after some pictures and videos that sowed suspicions Moli was being abused were found on social media, triggering great and continuous attention from netizens, public figures and the media," said Zheng Yu, wildlife project manager at the international NGO World Animal Protection, noting that all concerned had been trying to improve Moli's situation.
Zheng said she was a little surprised by the strong public reaction, but said the attention had been a genuine revelation.
"On the one hand, it's natural that Moli, who has been in the spotlight since birth, has received so much attention because of her unfortunate experiences at such a young age. But on the other hand, the idea of animal protection has been sinking deeper into people's hearts, which can be seen from the growing opposition to animal performances," she said.
"What's more, a number of people will continue to focus on Moli, who has already returned to her home in Kunming, because they think a totally natural habitat is the best home for elephants."
Zhou Jinfeng, secretary-general of the China Biodiversity Conservation and Green Development Foundation, said Moli's case shows growing public awareness of animal protection issues as the elephant has repeatedly made social media headlines. "As the discussion deepened, people changed their attitudes toward wildlife, and they are rethinking the relationship between humans and animals," he said.
Zheng attributed the rise in awareness to the nation's growing attention to the protection of wildlife, including Asian elephants, over recent years as a series of related laws and regulations were enacted, especially a complete ban on the ivory trade. Moreover, people had witnessed a herd of wild elephants return to their home in southern Yunnan after spending 17 months wandering the province.
Now, a growing number of zoos have offered to cancel animal performances after growing boycotts by visitors in response to the country's Wildlife Protection Law, which was revised in 2016 and bans animal abuse, she said.
A 2018 World Animal Protection survey, conducted nationwide with a sample size of 1,500, showed that 88 percent of people age 19 to 33 were opposed or highly opposed to tourism activities that could result in injury to or abuse of animals.
Ma Shuxiao, a 19-year-old student at the Shanghai Theater Academy, said she has noticed a change in attitudes toward animal performances since 2012, when she watched one such show while traveling with her parents in South China's Hainan province.
"Nowadays, many people, including my family, friends and me, have a clear opinion of animal performances-opposition-after media coverage alerted us to the fact that the training behind them is cruel," she said. "I will call on more people around me to stop watching such performances."
Zheng said that Moli's case is not unique. She stressed that law enforcement and targeted legislation should be strengthened.
"From the short-term perspective, law enforcement should be improved. But in the long term, more legislation should be formulated to protect animals and benefit them," she said. Zheng added that many legal measures on biodiversity and endangered species have been enacted, but more efforts are needed to ensure basic living standards for all animals.