Singapore joins over 100 countries in voicing support for One-China
Share - WeChat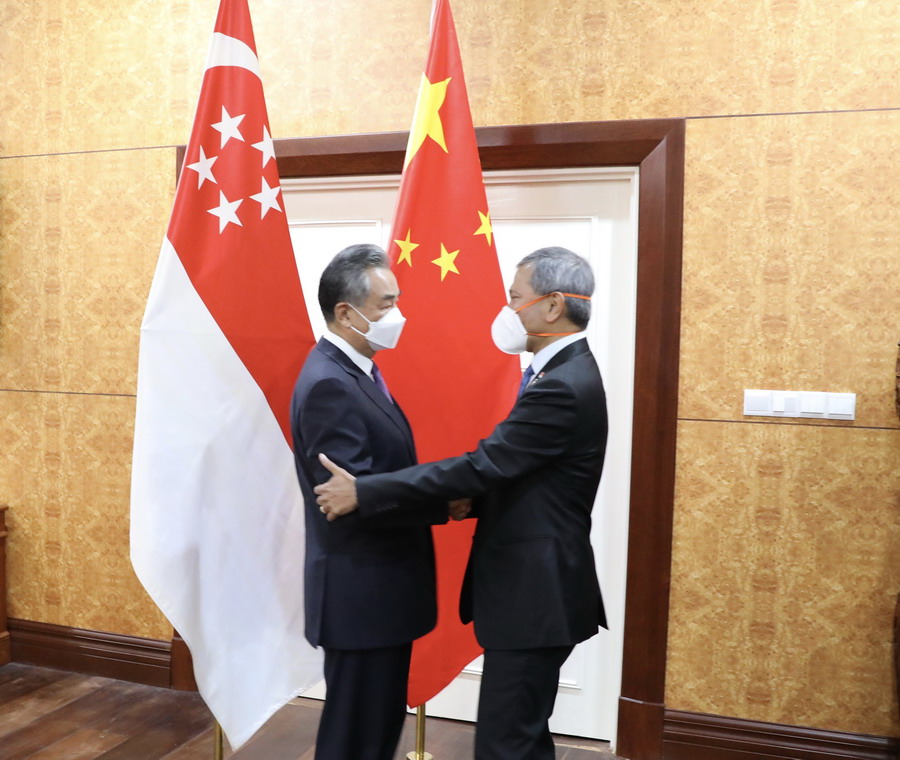 The responsibility of the tension across the Taiwan Straits completely rests with the United States; China's responses on US House Speaker Nancy Pelosi's visit to Taiwan are legitimate and justified, State Councilor and Foreign Minister Wang Yi said on Thursday.
He made the remarks when meeting with Singaporean Foreign Minister Vivian Balakrishnan on the sidelines of ASEAN-plus foreign ministers' meeting in Cambodian capital Phnom Penh.
Wang comprehensively elaborated on the historical ins and outs and the real status quo of the Taiwan question. "Taiwan question bears on China's sovereignty and territorial integrity and China has no room for compromise on the question concerning its core interests."
The US' farce under the pretext of the so-called democracy cannot affect the process of China's reunification, Wang said, adding the noose around the neck of "Taiwan independence" forces would only get tighter and tighter.
Wang underlined that countries should deeply understand and stay highly vigilant of the seriousness and harm of Pelosi's visit.
He cautioned that if countries connive at the violation of the one-China principle and the damage of the norm of international relations of non-interference in the internal affairs, their self-security and long term interests will be undermined, and regional peace and stability will be endangered.
He urged countries to resolutely prevent the unlawful and unilateral bullying and not allow the world to relapse into the law of the jungle, to jointly defend international fairness and justice.
Over 100 countries have stated the commitment to the one-China principle in the wake of Pelosi's visit and the United Nations Secretary-General Antonio Guterres made it clear on Wednesday that the UN abides by General Assembly Resolution 2758 and affirmed the world body's one-China policy.
Balakrishnan said it is Singapore's consistent and clear-cut stance to abide by the one-China principle, while pledging the country would not deviate from this position.
Singapore unequivocally and consistently opposes "Taiwan independence" and hopes avoid misjudgments and accidents as well as maintain peace and stability across the Taiwan Straits, he added.