Strong public sentiment expressed for national reunification
Share - WeChat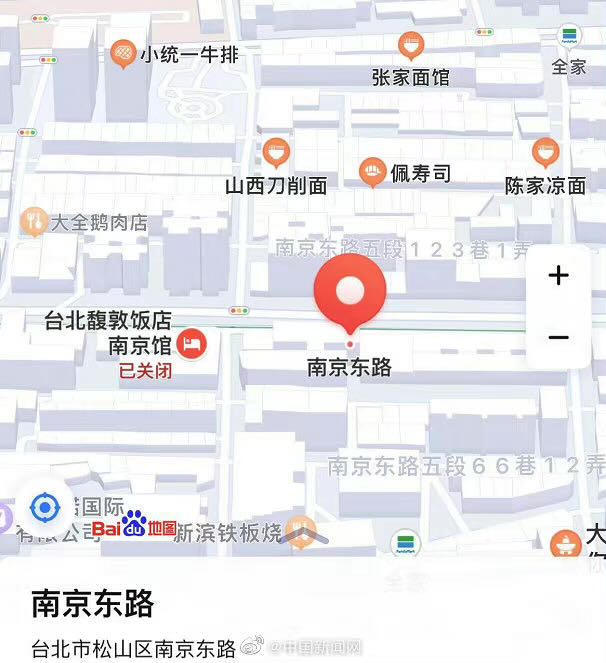 Mainland netizens are expressing their deep affection for the Taiwan island and their strong desire for national reunification after they discovered Taiwan's streets or even snack bars could be searched by online maps.
Through Chinese navigation apps, such as Baidu Map and Gaode Map, internet users can easily find out detailed location information about streets, buildings and small food shops in Taiwan, with some named after mainland cities, including Chongqing, Nanjing and Changsha.
Users can also search bus routes, whether there are traffic jams and what food will be provided around popular scenic spots in Taiwan on Baidu Map.
On Friday, such mapping services quickly received huge attention on mainland's social media platforms. As of 5 pm on Friday, a hashtag called "Maps have already shown every street in Taiwan" has been viewed more than 1.2 billion times on Sina Weibo, the Chinese Twitter-like platform.
Although the service has been in place for quite a long time, the high public attention came after United States House Speaker Nancy Pelosi's visit to the island this week. A weibo user called Hia-Taurus said, "I could feel how the old generation was homesick when I saw many streets on the island are named after mainland cities. Come back, Taiwan!"
After discovering a few Taiwan food shops are also called Shanxi knife-cut noodles, a traditional food from the Shanxi province, via Gaode Map, another weibo user nicknamed Zhangbeibeina, whose IP address is located in Shanxi, commented, "I would like to know if the noodles in Taiwan are as delicious as ours."
Apart from these warm feelings, many netizens have also expressed support and understanding of how the mainland has been responding to Pelosi's visit in the recent days.
Zheng Ning, an associate professor with the Communication University, has been following the public sentiment. She said she could feel mainland netizens' close attention to and deep feelings for Taiwan.
"Many posts are full of emotion, and have become more sensible compared with the previous infuriation from earlier this week," she said. "Some of my friends on WeChat, especially young students, for example, were angry on Tuesday while seeing Pelosi's flight landed in Taiwan without receiving drastic military countermeasures from the mainland."
"Such anger or disappointment came from their pure patriotic feeling, and it can be understood. But when they calm down and see countermeasures gradually unfolding, they've become aware of what kind of response is more beneficial to the country," she said.
Zheng said that such an emotional change has also happened to many of her students. "More netizens, I believe, will be more sensible while talking about the Taiwan question with more information and countermeasures provided by the country."
Huang Min, a Fujian province native, experienced the 1996 Third Taiwan Straits confrontation. He said at that time, locals could sense tension was mounting given the presence of armored vehicles and military personnel being seen transferred to the front line.
In 1996, China held a series of live-fire drills around Taiwan, but most of the exercises were done in the Taiwan Straits and the island's northern and southern waters, Huang recalled. Now, the Chinese military has been conducting drills all around Taiwan, most notably in the eastern waters of the island, "this is a noticeable progress of military capability," he said.
However, Huang said he and his friends still wish to see a peaceful reunification, given how Fujian and Taiwan share many similarities in culture, language and customs, as well as have close relations in history, family ties, economy and other aspects.
"Military conflict would inevitably hurt ordinary people in Fujian and Taiwan, and thus should not be waged lightly," he said. "We have to love our country rationally, and trust that our Party and the government can make the best choices in the interest of the people."