Energy profits should be taxed, says UN chief
Share - WeChat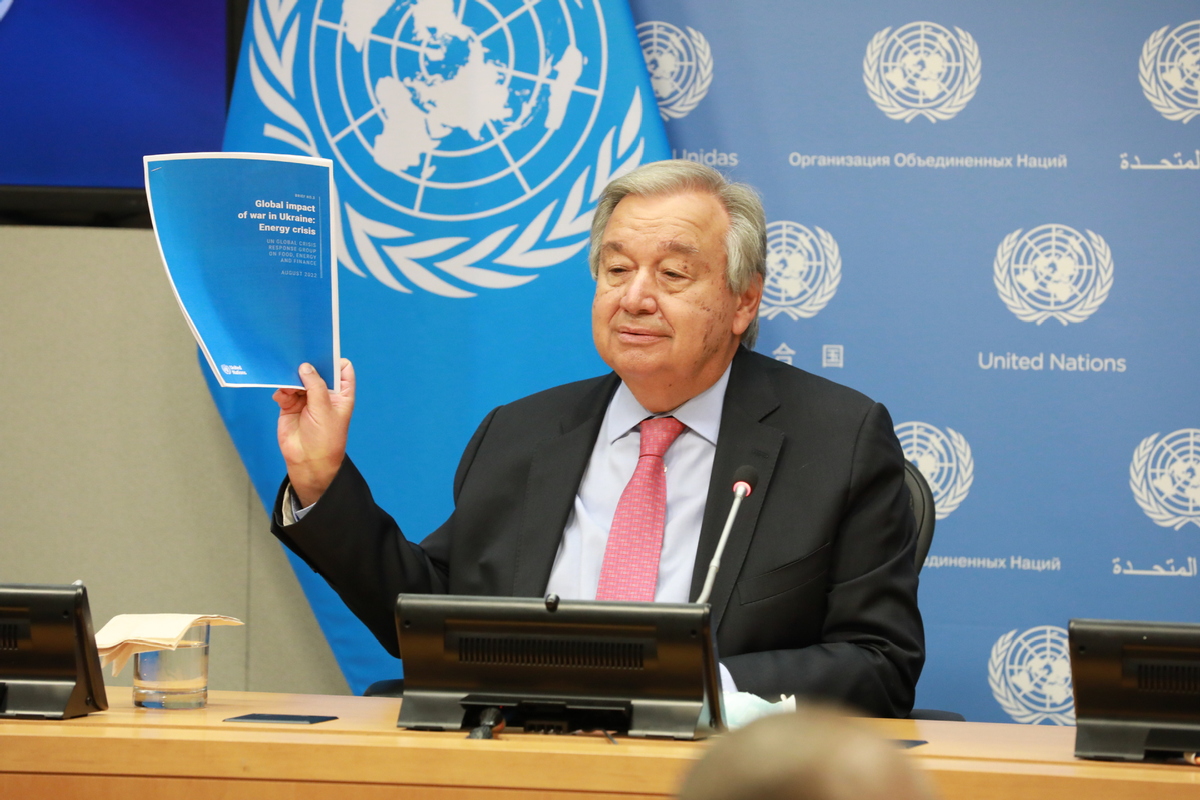 United Nations Secretary General Antonio Guterres has said record profits made by oil and gas companies from the energy crisis are "immoral" and should be taxed.
Guterres said the combined profits of the largest energy companies in the first quarter of this year reached nearly $100 billion, which he insisted was unacceptable as many people around the world struggle with debt, reported Agence France-Presse, or AFP.
"It is immoral for oil and gas companies to be making record profits from this energy crisis on the backs of the poorest people and communities, at a massive cost to the climate," he told reporters in New York on Wednesday.
"I urge all governments to tax these excessive profits, and use the funds to support the most vulnerable people through these difficult times.
"And I urge people everywhere to send a clear message to the fossil fuel industry and their financiers that this grotesque greed is punishing the poorest and most vulnerable people, while destroying our only common home, the planet."
Companies, including British-based BP and Shell, as well as United States-based ExxonMobil and Chevron, have reported massive profits in the second quarter, noted AFP.
The UN chief urged governments globally to act by introducing windfall taxes, reported Reuters.
Guterres was speaking after releasing a UN report on the consequences of the Russia-Ukraine conflict, which has sparked surging energy prices globally.
He warned that "many developing countries are drowning in debt, without access to finance, and struggling to recover from the COVID-19 pandemic and could go over the brink".
"We are already seeing the warning signs of a wave of economic, social, and political upheaval that would leave no country untouched," he said.
He also said developed countries must do more to address energy demand and to help developing nations switch to renewable energy, reported The Guardian.
"Developing countries don't lack reasons to invest in renewables. Many of them are living with the severe impacts of the climate crisis including storms, wildfires, floods, and droughts. What they lack are concrete, workable options," he said.
The UK last month approved a 25 percent so-called windfall tax on energy companies. Italy has introduced comparable measures, while France has rejected such a move.
There is little political desire for it in the US, noted the BBC. It quoted Frank Macchiarola, a senior vice-president for oil and gas lobby group the American Petroleum Institute, as saying calls for a windfall tax were misguided.
"Policymakers should be focused on increasing energy supply and reducing costs for Americans. Imposing new taxes on our industry will do the exact opposite and only discourage investment at a time when it's needed most," he said.