Artificial flower co-op alleviates poverty
Share - WeChat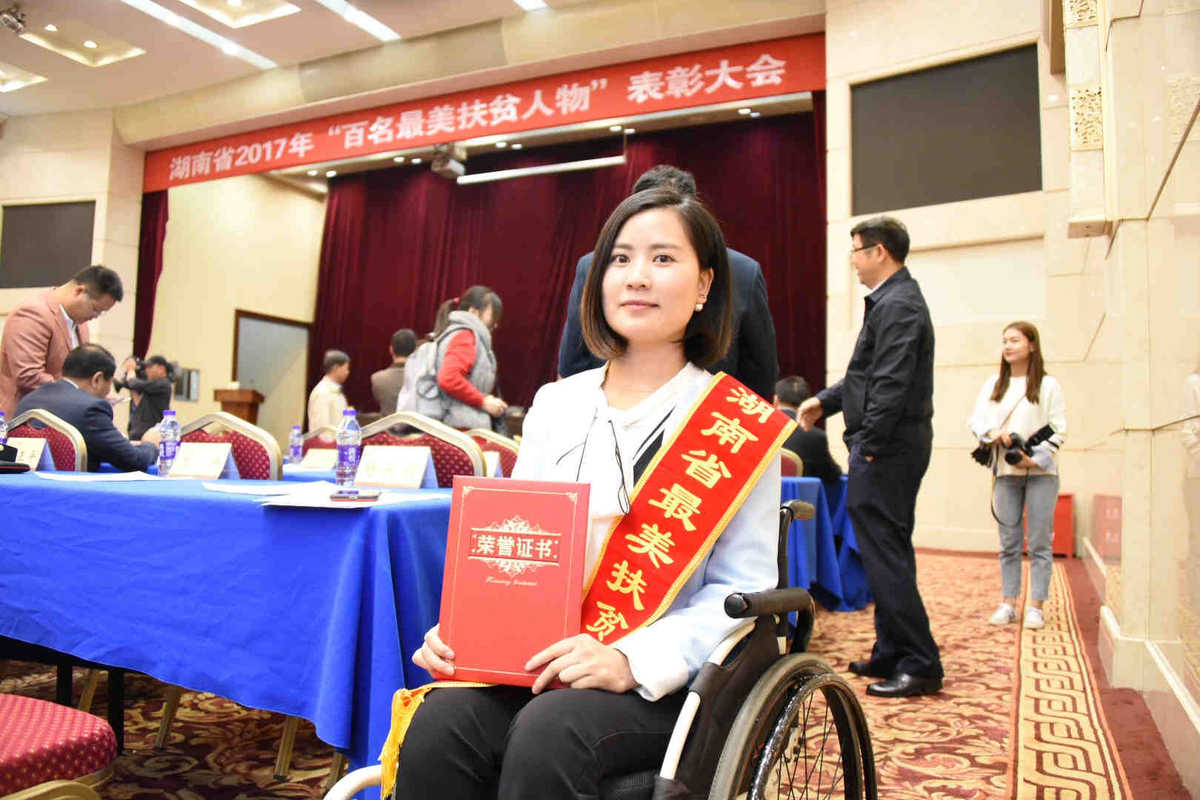 Though she lost her ability to walk after being badly injured in a traffic accident at age 20, Yang Shuting went on to run a successful business that benefits thousands of her fellow villagers.
Born in 1991 in mountainous Gewu village in Chengbu Miao autonomous county of Shaoyang, Hunan province, Yang used to be an assistant doctor until the car crash in 2011. She spent one-and-a-half years bedridden, depressed about her situation, but support from her parents and friends inspired her to pull herself together and seek a new lease on life.
Yang began using a wheelchair and started looking online for part-time jobs that would allow her to work from home. "The money I managed to earn from those jobs made me feel more confident in my future," she said.
Over time, she discovered that the domestic and international markets for artificial flowers were huge. So in May 2015, she decided to establish the Chengbu Wanhong Flower Planting Professional Cooperative, which mainly produces three types-the lily, butterfly orchid and hydrangea macrophylla.
Growing up in Gewu, where residents have to drive on a road that zigzags along the mountainside for nearly three hours to reach downtown Shaoyang, Yang understood how hard it is for women, seniors and the disabled who live there to make money.
She signed a cooperation agreement with more than 200 poor families in the village and gave them semifinished artificial flowers that they could transform into complete arrangements at home. Then Yang's cooperative collected and sold the arrangements, with everyone sharing the profits. As business developed, the cooperative even managed to sell its products to customers in other countries, including Austria and Hungary.
In 2017, Yang set up 22 flower assembly branches of the cooperative and two poverty alleviation workshops in villages across Chengbu, the most impoverished county in Shaoyang city at the time. More than 400 villagers have participated in assembly, earning a monthly per capita income of 2,000 to 4,000 yuan ($310-620).
Zhong Yufeng, a Chengbu villager who used to be a migrant worker in Guangdong province, is now working in Yang's cooperative.
Zhong said that the job opportunity enabled her to return home so she can take care of her child, who is studying at a local primary school.
Contributing to the nation's poverty alleviation efforts, Yang's cooperative has helped more than 140 people from 40 impoverished households by offering them stable jobs. She also gives them all a bonus at the end of the year.
To expand production, Yang later founded the Hunan Seven Seven Technology Co, which produces commodities for foreign trade-not only artificial flowers, but also items such as soccer balls and backpacks. To date, her cooperatives have helped lift more than 1,300 people in more than 30 villages out of poverty.