Pelosi's expected visit to Taiwan spurs protest
Share - WeChat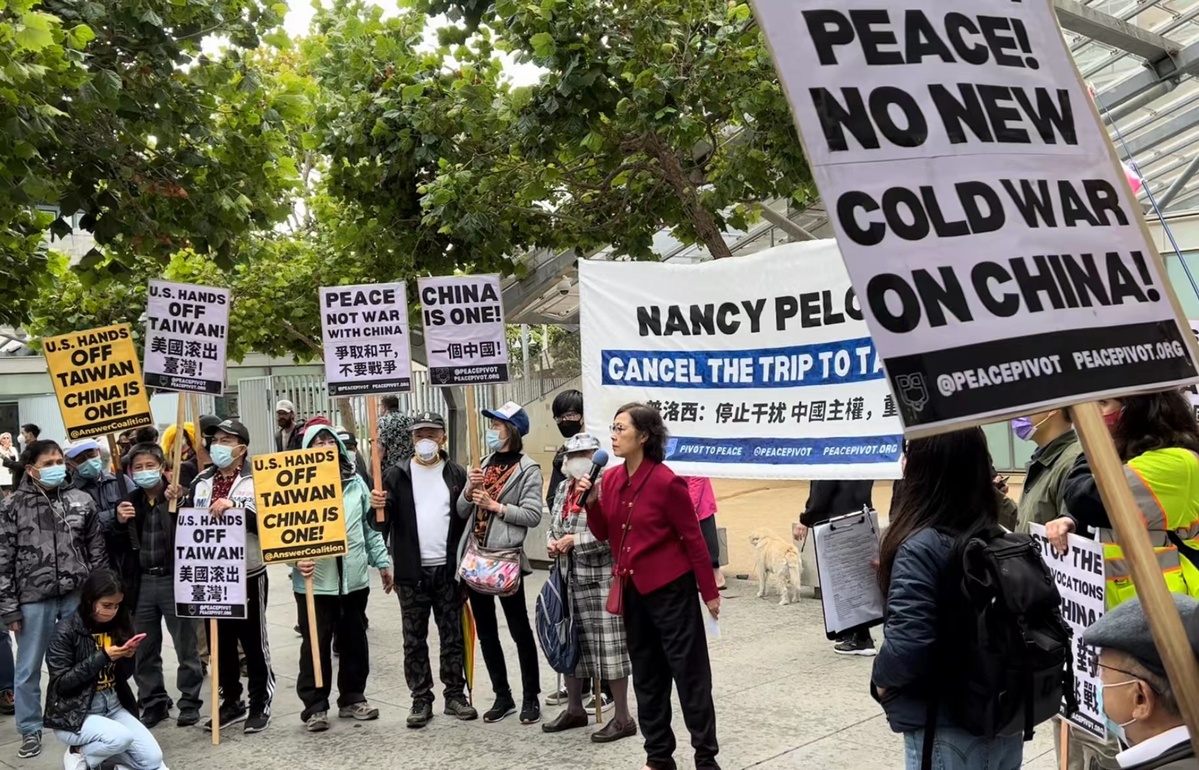 Peace activists and community members on Monday protested US House Speaker Nancy Pelosi's expected visit to Taiwan, demanding that she cancel the trip and focus on issues facing ordinary Americans.
The rally, organized by a few groups, included members of Pivot to Peace, ANSWER Coalition, CODEPINK, Veterans for Peace and leaders of the Chinese community. People from different walks of life participated, holding signs proclaiming that "China is one", "US hands off Taiwan", and chanting, "China is not our enemy."
"China is not an existential threat. What is an existential threat is racism and American policy that drives us to war. … The Cold War tactics and agenda by leaders, particularly Pelosi, is unwarranted," said Julie Tang, co-founder of Pivot to Peace and a retired Superior Court judge in San Francisco, at the rally outside Pelosi's local district office.
"Let's together join up and urge her to come home and deal with our local issues, homelessness, monkeypox and all those issues that are killing our people," Tang said.
In past decades, US-China relations have had ups and downs, said David Ewing, San Francisco chapter president of the US-China Peoples Friendship Association, but Pelosi's planned trip is "one of the more dangerous moments".
"China has always sought peace and friendship with the American people," he said, but he said the actions of the US in the last year or two — the challenges to Chinese territories in the Pacific and now more direct intervention in Taiwan, are "very reckless".
Pelosi is expected to visit Taiwan on Tuesday and stay overnight, according to media reports, though the island is not currently on her public itinerary.
The California Democrat had previously planned to lead a US congressional delegation to Taiwan in April but canceled the trip after she tested positive for the coronavirus.
She would be the highest-level US official to go to Taiwan since 1997, when then- House Speaker Newt Gingrich made a visit.
"There is no basis for Speaker Pelosi, the third person in succession to the presidency, to travel to Taiwan in disregard of the commitments made by our government," said the protesters in a statement.
In the three joint communiques issued by the United States and China in 1972, 1975 and 1982, the US acknowledged that there is only one China, and that Taiwan is a part of China. That one-China policy was echoed by the protesters Monday.
"Speaker Pelosi and other political leaders and office holders should be directing their attention to solving the problems facing our country, not to provoking tension and possible confrontation with China," they said.
"The people of this country are hurting," Cynthia Papermaster, CODEPINK's chapter coordinator in the San Francisco Bay Area, told China Daily at the rally.
"I have an electric car but my colleague who came over today said it cost her $100 at the gas pump. That's just one symptom of the problems, but people are living on the street; children are going hungry every night; veterans need support; the climate is burning all over the US," she said.
"All of those resources and her attention should be focused on us here at home, and then whatever resources we have to help other people as well. We're all one world, aren't we?" said Papermaster. "Pelosi really needs to open her heart and feel what we're saying."
Bob Spies, a web developer in the Bay Area, started a petition calling on Pelosi to cancel the Taiwan trip. The petition has received more than 1,300 signatures in five days.
"It's continuing to gain more," said Spies. He will deliver the petition to Pelosi's office when it reaches 2,000.
"We need her back here working on the problems we have in this country because we certainly have enough of them. And we don't need her over there trying to inflame tensions and potentially get us into a nuclear conflict," Spies told China Daily.
Pelosi's possible visit to Taiwan has resulted in stern warnings from Beijing and mounting concerns in Washington.
China's Defense Ministry has warned of serious consequences of a visit. The Chinese military will "absolutely not sit idle" if Pelosi visits Taiwan, it said.
"By disregarding the advice of many experts and forging ahead with her plan to visit Taiwan, Nancy Pelosi has imperiled regional and even global peace. History will judge her very harshly. And we will all pay the price for her shortsightedness," Stephen Roddy, professor of East Asian Studies at the University of San Francisco told China Daily.
Maybe the publicity of a visit by Pelosi to Taiwan will help her Democratic Party in the midterm elections in November, said George Koo, a retired international business advisor in Silicon Valley, but as the speaker of the House of Representatives, her actions represent the official position of the country.
"If you step over the red line China has laid down, it can't back down and not react. We don't know what its response would be, but it would be dangerous — potentially explosive, in fact," said Koo.
Chang Jun in San Francisco contributed to this story.