Nation opens door wider to tour groups
Share - WeChat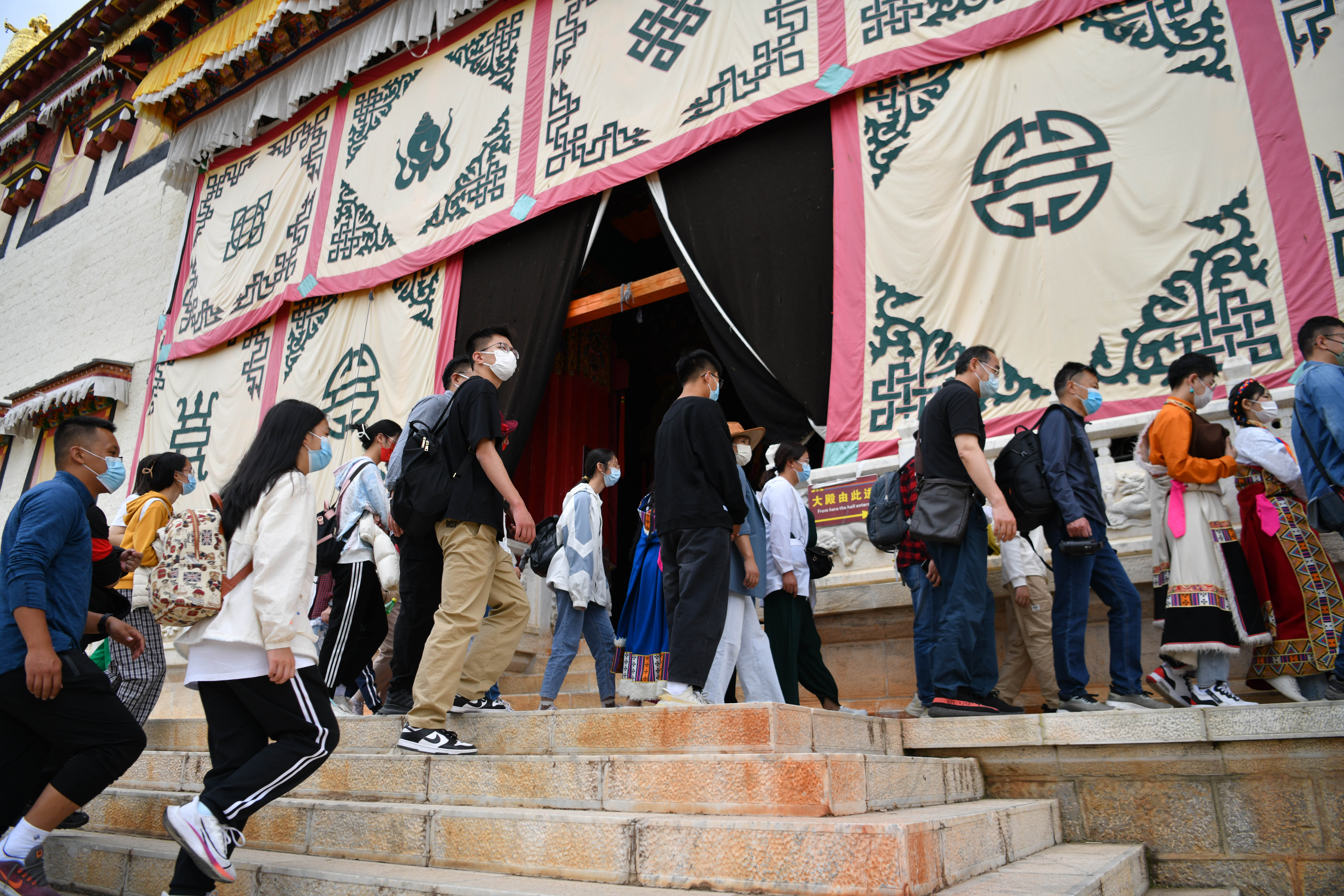 Diverse destinations
At Hangzhou Xixi National Wetland Park in Zhejiang province, tourists view the scenery from electric or traditional wooden boats while sipping cups of tea.
City visitors to the park experience agritainment-picking vegetables, going fishing and sampling hearty meals prepared with local farm produce.
Parents and children row dragon boats, paddle kayaks, and join study tour activities to learn about the park's aquatic plants and also an ancient paper-making method. At night, they watch an immersive show featuring culture from the Song Dynasty (960-1279).
Some 38 percent of visitors to the park are local residents, many of them elderly or parents with children.
This summer, Yunnan is one of the nation's most popular destinations for long tours, which include the provincial capital Kunming, Dali, Lijiang and Shangri-la.
Situated north of Myanmar and Laos, Xishuangbanna Dai autonomous prefecture in Yunnan started to develop its tourism industry in the 1980s, soon after China introduced the reform and opening-up policy.
After more than four decades, the prefecture remains a popular destination due to its magnificent tropical scenery, exotic ethnic group cultures, and wild elephants. It also features in travel guide book publisher Lonely Planet's top 10 regions to visit this year.
In the first week of last month, about 91,000 tourist visits were reported at Xishuangbanna Gasa International Airport, a month-on-month rise of 260 percent, with the airport ranking first among its competitors in Yunnan.
Dwarfed by towering tropical rain forests, tourists to the area experience the beauty of nature. They also take part in outdoor activities such as trekking and camping, and visit tea plantations and ancient villages, where they meet the locals.
At Xishuangbanna Tropical Botanical Garden, visitors witness some 13,000 species of living plants, including a number of precious varieties. The venue is also a research institute affiliated with the Chinese Academy of Sciences.
Xishuangbanna Dai Ethnic Group Garden, which comprises five well-preserved Dai villages, attracts visitors with its local culture, history, religion and folk customs.
Arrivals stay in traditional Dai style diaojiaolou-suspended wooden houses-in an area surrounded by coconut and betel palms and bambusa multiplex-a species of bamboo that can grow to a height of 7 meters.
The Water Splashing Festival, which falls in mid-April, is a special occasion for the Dai people to traditionally welcome the start of their new year.
At the garden, visitors dressed in hired traditional Dai costumes can take part in water-splashing activities twice a day for most of the year, but three times a day in the peak summer tourist season.
They also experience living like the Dai people-tasting their cuisine, making pottery, singing and dancing. Children also explore the rice fields and go fishing.
Ou Chenglin, a manager at the garden, said it has a maximum capacity of 20,000, adding that the number of visitors to the venue each day last month has ranged from 6,000 to 8,000.
With preventive measures taken against COVID-19, the venue has also recruited more security personnel and volunteers. The latter serve tourists at the main entrance, in public squares and at theaters.
In January, daily livestream broadcasts were launched at the garden to promote its appeal to visitors from across the country.
Ou said, "While our task used to be to help local villagers become rich through tourism, the aim now is to increase their income via development, including improving services, operations, roads and other infrastructure."