Chinese athlete Wang Jianan leaps into history
Share - WeChat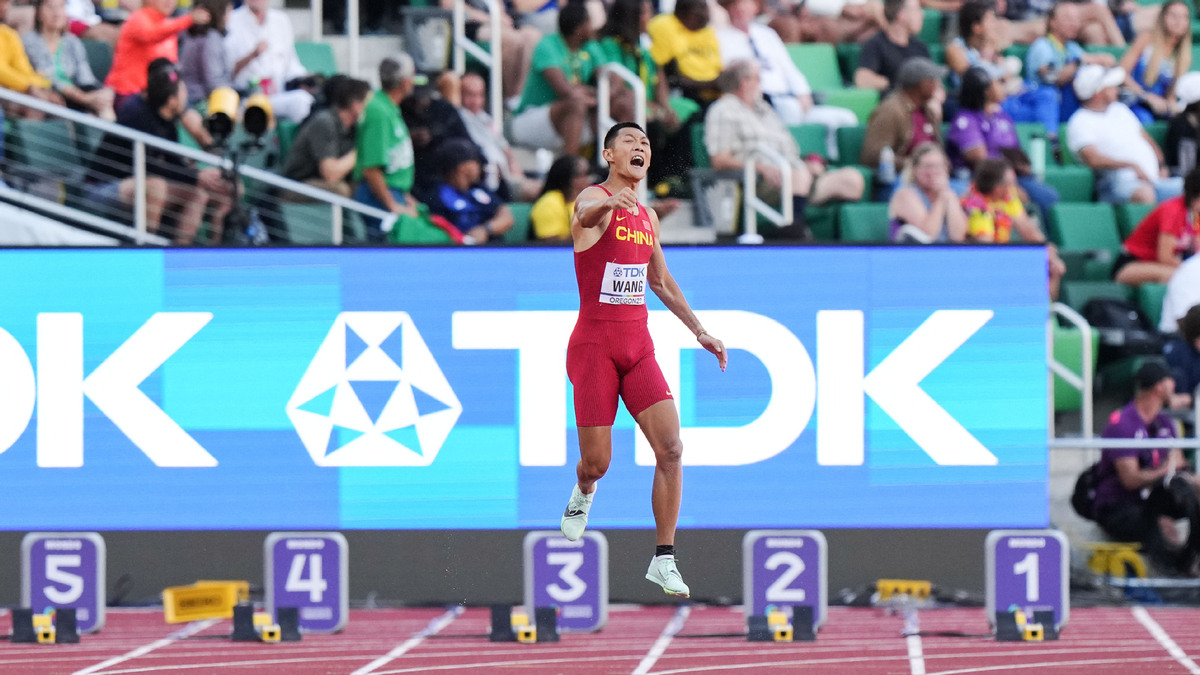 Chinese track and field stars are shining brightly at the ongoing World Athletics Championships in Eugene, Oregon, and a major surprise arrived on Saturday when Wang Jianan stunned the field to grab China's first ever long jump gold medal at a world championships.
Wang surged to victory in his sixth and final attempt with a season-best performance of 8.36 meters. That was 4 cm farther than the best attempt of Greece's reigning Olympic champion Miltiadis Tentoglou, who took the silver. Switzerland's Simon Ehammer claimed bronze with 8.16 m.
"I have dreamed at least three times before that I won a world championships gold medal. But each time after I woke up, I would tell myself to be realistic, and to make progress steadily. Now it's a dream come true for me, and I just stared at my gold medal for a long time just now," said the 25-year-old, who won a bronze medal at the world championships in Beijing in 2015.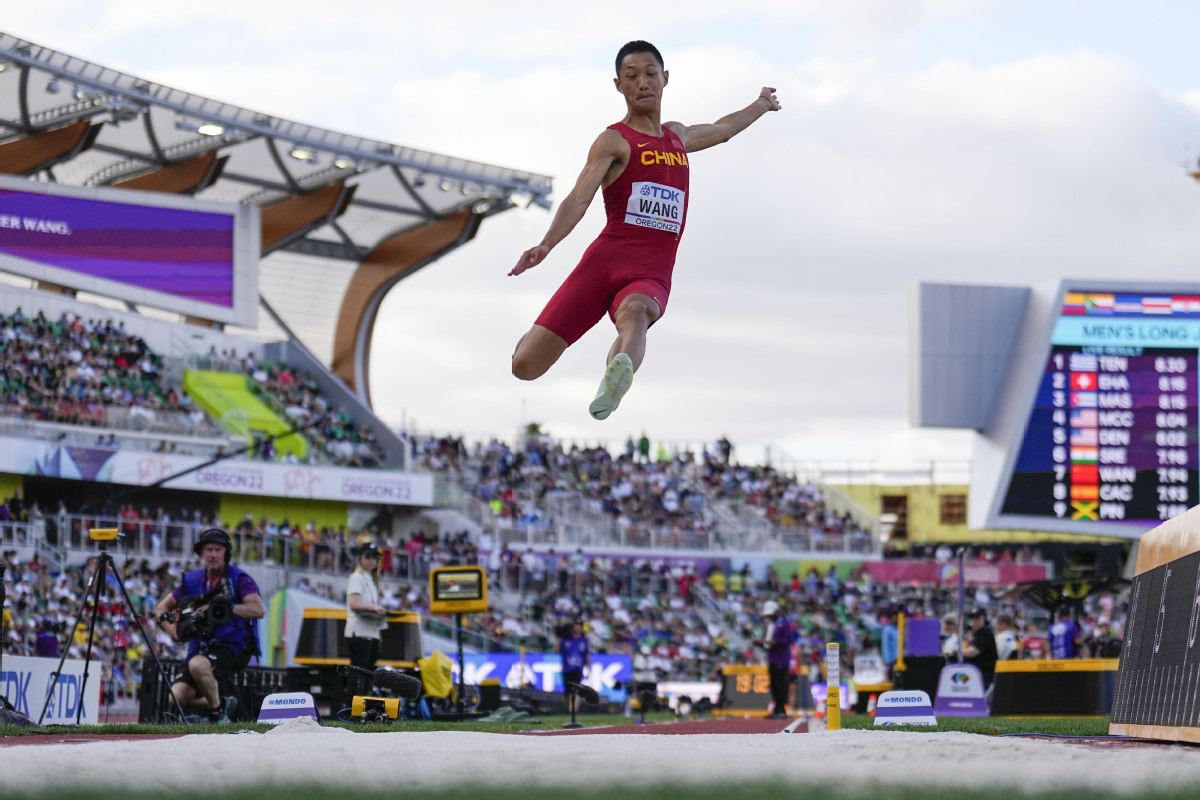 "I had gained confidence based on my performance in the previous attempts before the final jump. I told myself to give it all I had and I would at least win a medal. That's how I calmed my nerves and showed my skill.
"When I finished the last jump, I looked at the big screen in the stadium. I was thrilled when I saw I went over 8.30 m. So I started running on the track. I don't even know why I started to run like that after I realized I had made it to the podium. Maybe because I was so excited."
Another Chinese star who impressed fans at the world championships on Saturday was shot put legend Gong Lijiao.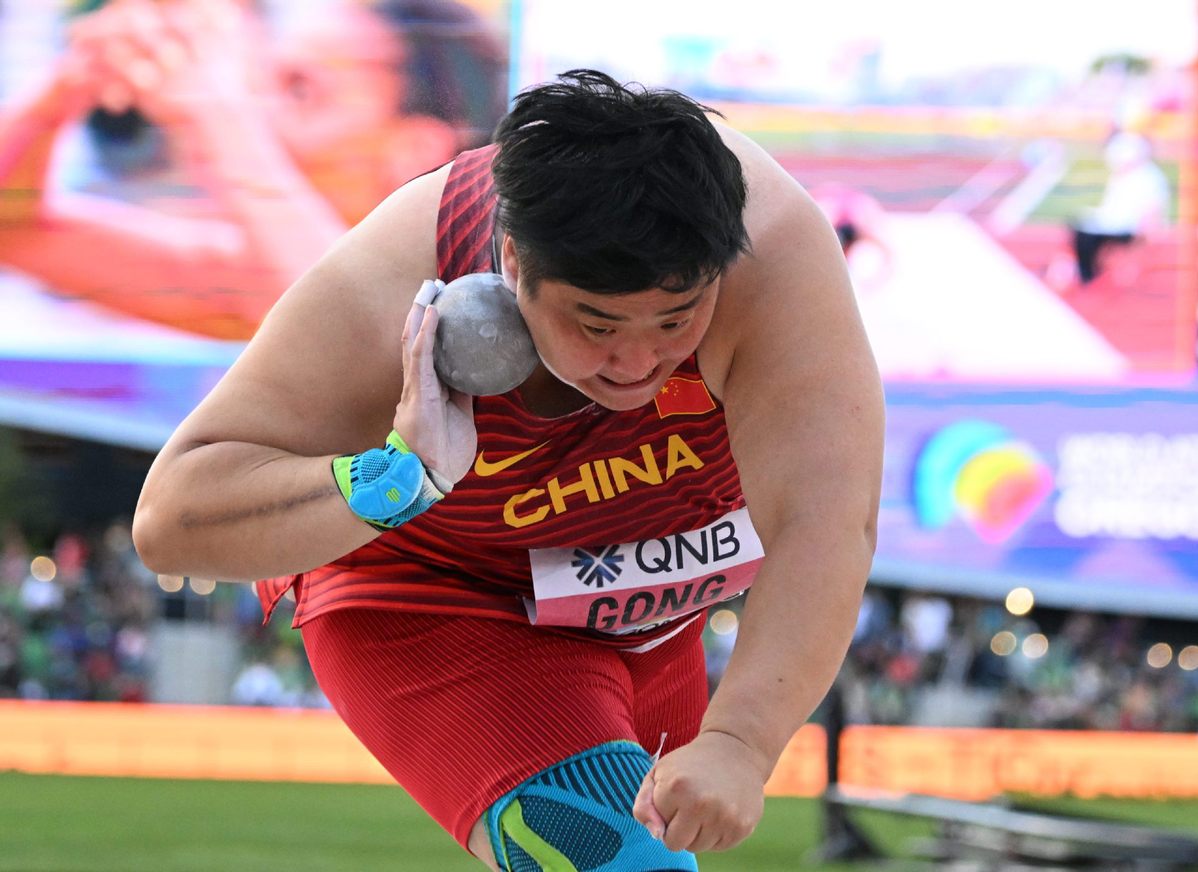 Fans praised Gong highly online for her perseverance and the passion she showed in the sport, although the two-time world champion failed to defend her title winning silver with 20.39 m in Eugene, as American national champion Chase Ealey picked up the gold.
Gong, 33, has competed in eight world championships winning a total of seven medals, including two golds in 2017 and 2019. Gong became the Olympic champion last summer, winning gold at the Tokyo Games, and all her achievements have made her one of the all-time greats in shot put history.
"I competed in eight world championships, and I have gained too much. I am thankful for the support from my great country, the help from the national team leaders, my team and all my friends and family," Gong said after the competition.
"I have always believed that as long I try to do my best, I won't have any regrets on the field. My dream will always carry on."
A disappointment for Chinese fans on the Saturday was that sprinting icon Su Bingtian failed to advance to the men's 100 m final, finishing eighth in the second heat of the semifinal with 10.3 seconds.
Being unable to break the 10-second barrier in the 100 m at the world championships, Su was clearly not at his peak because of an injury and not having competed for months.
"Speaking of the result, it was not ideal. However, considering my injury and my training condition leading up to the championships, I'm actually satisfied with it," Su said after the race.
As of Saturday, China had won three medals, including a women's 20 km race walking bronze won by the 2012 London Olympic gold medalist Qieyang Shijie on Friday.
The world championships will end on Sunday.