Chinese, Croatian police officers to conduct joint patrol
Share - WeChat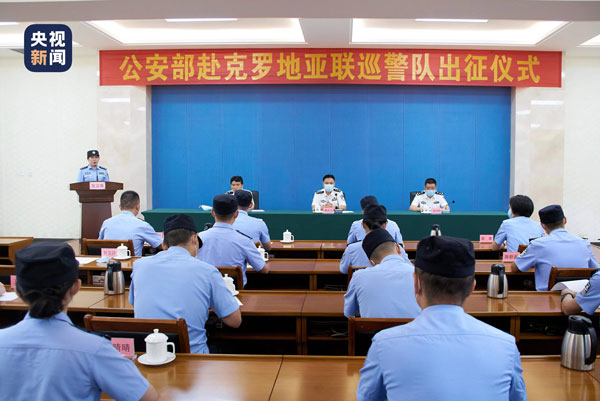 Eight Chinese police officers are going to Croatia to conduct a one-month joint patrol with the nation's police in various locations on Friday at the invitation of the General Police Directorate of Croatia, according to the Ministry of Public Security.
A ceremony for the patrol was held in Guangdong province on Thursday. The eight officers come from the provinces of Guangdong, Fujian, Zhejiang and Shandong, and they will conduct joint patrols with the Croatian police in multiple locations, including its capital city Zagreb.
They will also work to ensure the safety of Chinese citizens in Croatia and develop a strong communication channel with the European nation's police department.
During their trip, the police will also visit Chinese enterprises and communities in Croatia to gain a broad understanding of their safety needs, promote efforts to combat telecom and internet fraud, and share their work experiences with Croatian law enforcement authorities.
According to the ministry, the eight officers have completed training courses in patrol and inspection, foreign affairs etiquette, the English language and epidemic prevention and control at the Guangdong provincial Policing Training Center.
This is the first time Chinese police will participate in a joint patrol abroad since the outbreak of the COVID-19 pandemic in 2020. The ministry has maintained a joint police patrol mechanism with law enforcement departments in Italy, Croatia and Serbia since 2016.