Green development extolled on China Maritime Day
Share - WeChat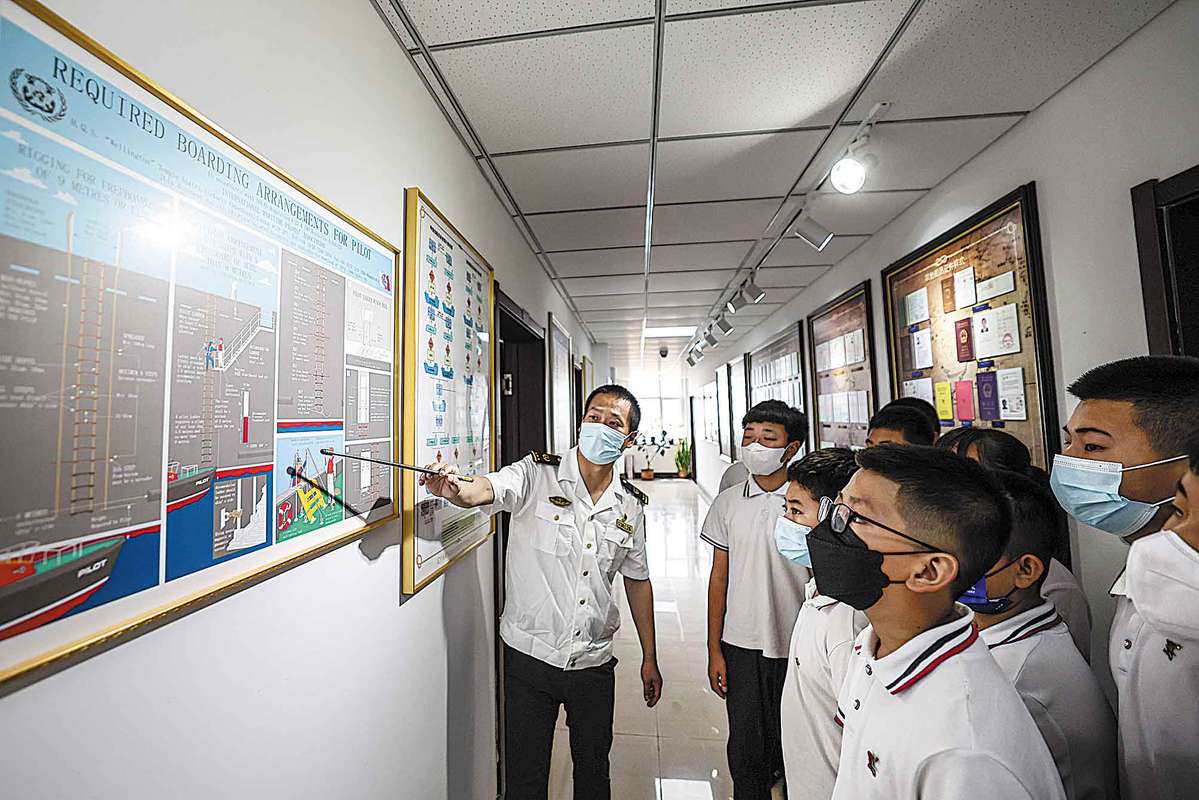 Government officials, business leaders and industry players advocated green, low carbon and intelligent shipping on Monday, on the 18th China Maritime Day, in Dalian, Liaoning province.
"China made hard-won achievements in the shipping sector last year, despite facing a complicated situation," said Zhao Chongjiu, vice-minister of transport and executive deputy director of the day's organizing committee.
The country's capacity and throughput at coastal ports have reached new highs, ranking first in the world. Among the top 10 ports in terms of cargo throughput and top 10 for container throughput, Chinese ports account for eight and seven respectively, Zhao told a forum held in honor of the maritime day.
"We should develop green shipping and improve the level of intelligent shipping unswervingly," he said.
Zhao suggested speeding up the restructuring of transport to take advantage of water, reducing energy consumption and carbon emissions from water transport infrastructure, and improving the capacity to control ship pollution.
He suggested making more intelligent ports, waterways and other infrastructure, strengthening the pilot, demonstration and application of smart ships, and accelerating the research, development and application of smart shipping services.
About 95 percent of Chinese cargo shipments in global trade were handled via ocean freight, according to the organizing committee.
China ranks first in the world in terms of the size of its maritime fleet, the output of marine fisheries, and the manufacturing scale of ships and marine engineering equipment, it said.
"At the moment, 1.7 million Chinese sailors and fishermen are working at sea, playing an important role in the global fight against the epidemic, promoting the recovery of trade and maintaining the stability of industrial and supply chains," the committee said in a statement.
The shipping industry, with its large transport capacity, low energy consumption and environmentally friendliness, should shoulder the responsibility and take the lead in achieving China's dual carbon goals-peaking carbon dioxide emissions before 2030 and achieving carbon neutrality before 2060, it said.
"Shipping enterprises must plan ahead from a strategic point of view and promote strategic transformation to adapt to become more low-carbon," Miao Jianmin, chairman of China Merchants Group, told the forum.
China Merchants Group is the second largest shipping company in the world in terms of fleet capacity. It has established a relatively complete port network in major coastal hubs in China, and has invested in 66 ports or terminals in 26 countries and regions on six continents.
In recent years, the group has been carrying out a series of low-carbon shipping plans. For example, it promotes the replacement of old ships with low-carbon ships mainly based on liquefied natural gas and new energy as well as the application of large and lightweight standard ships to implement emission reduction.
It also continues to speed up digital and intelligent development, including developing super-large intelligent tanker management systems, building smart ports and utilizing intelligent logistics platforms.
He Jianzhong, chairman of the China Institute of Navigation, emphasized the role of innovation.
Starting from this year, the institute will organize experts to select a number of major research projects that can lead the new trend of green, low-carbon and intelligent navigation, and encourage and support relevant units and experts to take the lead in organizing the research, said He.
China Maritime Week was also launched on Monday in Dalian, a major port city in Northeast China.
China Maritime Day was initiated in 2005. It marks the first voyage of Zheng He, a renowned navigator from the Ming Dynasty (1368-1644), who went on to make six more.