Push grows to curb out-of-state abortions
Share - WeChat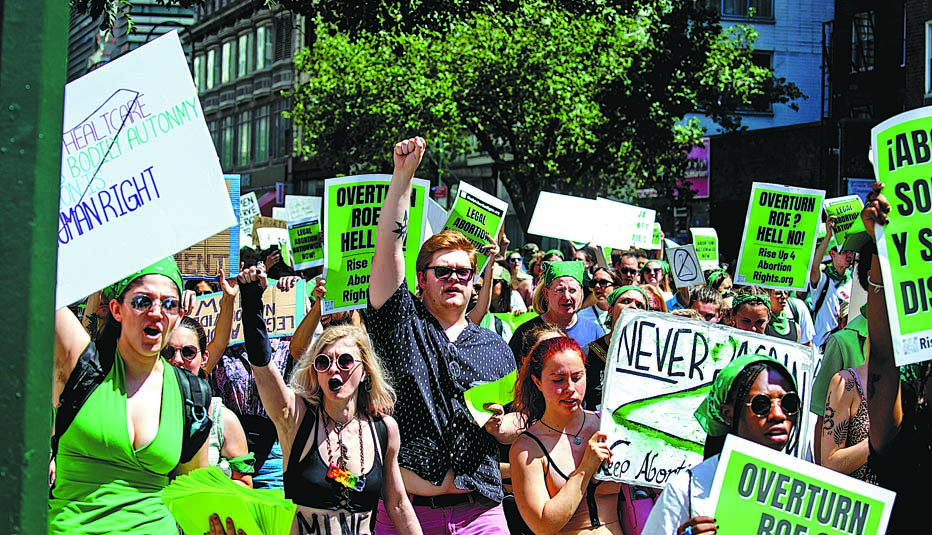 Missouri Representative Mary Coleman had proposed a bill allowing private citizens to sue anyone helping a Missouri woman access abortion outside the state. But the bill failed to pass earlier this year.
However, the idea is catching on in some states where most abortions are now illegal following the United States Supreme Court's decision to overturn Roe v. Wade and remove federal protection of women's right to abortion.
A few anti-abortion groups are working with some Republican state legislators to draft model legislation allowing private citizens to sue people who help women in states where abortion is illegal to get an abortion in states where abortion is legal.
The idea is borrowed from the Texas Heartbeat Act, which allows private citizens to sue people helping a woman to get an abortion after the detection of a fetus' heartbeat. The plaintiff does not even have to be a Texas resident. The law was passed last September and the Supreme Court declined to block the law.
The vigilante-style legislation is being copied by anti-abortion groups and states seeking to prevent women from seeking abortion elsewhere.
One such group is the conservative legal organization Thomas More Society, The Washington Post reported.
"Just because you jump across a state line doesn't mean your home state doesn't have jurisdiction," Peter Breen, vice-president and senior counsel for the Thomas More Society, was reported saying.
Such legislation, if passed, could have a chilling effect. Doctors in states where abortions are allowed could choose to stop providing abortion services to those women fearing legal and financial entanglement, which could cost them much time and money even if they eventually win in court.
Counter moves
However, some blue states have already taken action to counter such maneuvers and to protect their doctors and abortion rights.
Connecticut passed a law in April to shield patients and abortion providers from other states' anti-abortion laws. It allows anyone in Connecticut sued under a Texas-style abortion law to countersue for damages, attorney fees and other costs associated with the lawsuit.
In California, a state constitutional amendment will be put on the ballot to include abortion rights for a statewide vote in November.
Governor Gavin Newsom issued an executive order on Monday to ensure that California will not hand over information related to reproductive healthcare to any patient from other states who receive such care in California. The state will not extradite doctors who provide reproductive healthcare to out-of-state patients.
Clinics were shutting down abortion services in Texas on Saturday after the Texas Supreme Court blocked an order briefly allowing the procedure to resume in some cases.
Attorney General Merrick Garland said last week that under federal law, women cannot be stopped from seeking reproductive healthcare from other states.
Agencies contributed to this story.