Muddying of one-China principle called out
Share - WeChat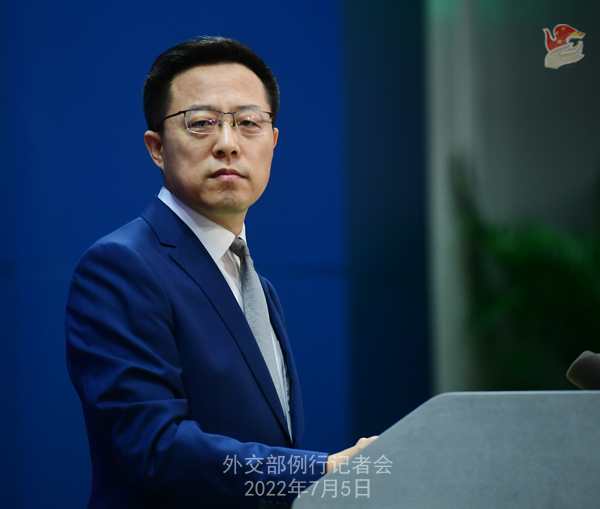 Foreign Ministry spokesman Zhao Lijian said on Tuesday that China does not acknowledge the so-called San Francisco Peace Treaty, warning that any attempt to challenge the one-China principle will be in vain.
At a daily news briefing, Zhao refuted the remarks by Michael Rubin, a senior fellow at the Washington-based American Enterprise Institute, who cited the treaty as saying Taiwan was never a part of China. "The article by the AEI under the cloak of academics is a real lie," Zhao said.
Noting the content of the article obviously violates historical and legal common sense, Zhao said the motive behind it is to hollow out the one-China principle.
"It is an attempt to cooperate with anti-China forces to 'use Taiwan to contain China', and clamor for 'Taiwan independence' forces to seek the United States' support to push forward an independence agenda," Zhao added.
As for the so-called San Francisco Peace Treaty, Zhao said it is an "illegal and invalid" document, for the US had excluded China and the Soviet Union when reaching it with Japan in 1951.
As the People's Republic of China never participated in the preparation, draft and signing of the treaty, Zhao said, the Chinese government has from the very start stated that China would never acknowledge it.
Countries including the Soviet Union, Poland, Czechoslovakia, the Democratic People's Republic of Korea, Mongolia and Vietnam also refused to recognize the document, he added.
Zhao said the treaty violated relevant regulations in the Declaration by the United Nations, signed in 1942 by 26 countries including the US, the Soviet Union and China, as well as the UN Charter and basic norms of international law.
"A number of international legal documents, including the Cairo Declaration and the Potsdam Proclamation, acknowledged China's sovereignty over Taiwan," Zhao added.
Though China has not realized reunification yet, Zhao said the fact that the Chinese mainland and Taiwan belong to one China has never changed.
As the merits of the Taiwan question and the one-China principle are crystal clear, Zhao said history brooks no distortion and facts cannot be misrepresented. "China will not allow any external forces to interfere in its efforts to safeguard national sovereignty and territorial integrity."