Innovation and entrepreneurship contest commences in Shangcheng district, Hangzhou
Share - WeChat To reach new heights in talent recruitment and regional hi-tech industries, the First "Sprint Forward in Golden Boots" Innovation & Entrepreneurship Competition in Shangcheng District officially launched in Hangzhou, East China's Zhejiang province this Saturday afternoon.
The opening ceremony, with virtual and in-person access, has brought together a total of over 400 representatives from related fields. Entrepreneurial talents, delegates from major enterprises, financial investment institutions and operating agencies for innovation platforms all attended the event.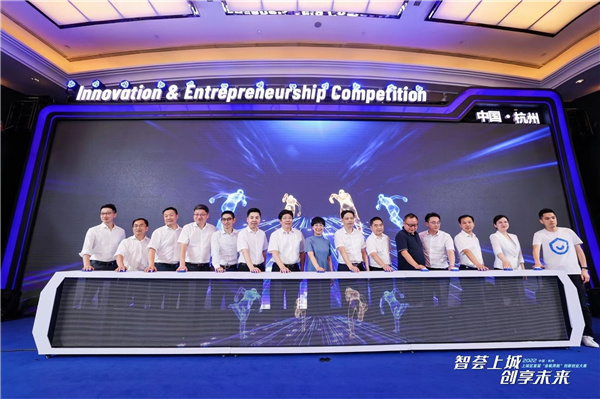 Themed "to converge bright minds for more innovations", the contest is a strategic move from the district of Shangcheng to attract high-level talents from home and abroad to start their businesses here.
As an open call for quality innovation and entrepreneurship projects around the globe, it focused upon six business domains – fintech, IT, high-end services, AI, smart healthcare and optoelectronic technology, all of which are principal industries in the region.
The competition, consisting of the preliminary, semi-final and final rounds, welcomed projects from domestic cities such as Shenzhen, Beijing, Shanghai, Xi'an, Wuhan and Hangzhou, and overseas regions such as the Americas, Europe, Asia and Oceania.
In mid-to-late August, the judging panel will select 120 projects for the semi-finals, based on registration requirements and development priorities of the region. From late August until late September, investors from prestigious venture capital institutions and leading experts will nominate the top 30 projects according to their quality and feasibility of implementation. Only 12 of them will advance to the final round.
The final group of 12 contestants will present their projects on-site in early November. After they are reviewed by chief venture capital investors and top industry experts, one first place prize, four second place prizes and seven third place prizes will be determined.
Winning projects from the first, second, and third place prizes as well as the Excellence Awards given out in the final, if the projects are actualized in Shangcheng district within a year, they can receive entrepreneurial funding up to 10 million, 5 million, 3 million, and 1 million yuan accordingly. Projects with excellent performance can receive up to 15 million yuan in funding, as well as full interest discounts on bank loans, equity incentives, office housing subsidies, talent apartment subsidies and other related support.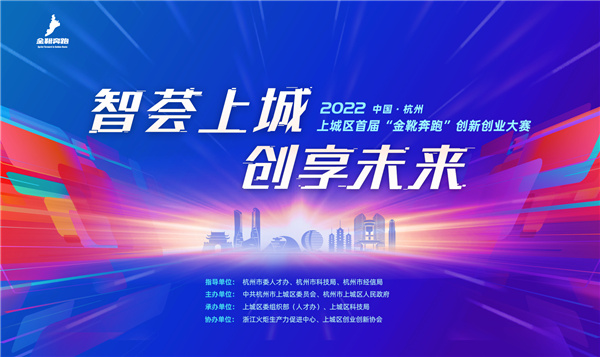 In addition, the competition also sets up a Talent Scout Award (Bole Award). Venture capital institutions, intermediaries and international platforms that endorse winning projects will be rewarded up to 50,000 yuan if the projects are implemented in Shangcheng district as required. For the award-winning projects invested in by equity investment institutions, if they are actualized within the district as required, a subsidy of up to 2 million yuan will be given to the institution based on 8% of the actual equity investment amount.
At the launching ceremony, talents, entrepreneurs and representatives from investment institutions shared their stories of participating in entrepreneurial competitions, building their dream companies and grooming companies in Shangcheng district. Zhang Yan, director of Shangcheng district, extended an invitation to entrepreneurs all over the world. Government officials, representatives and guests jointly announced the opening of the competition.
The "Sprint Forward in Golden Boots" Entrepreneurs Alliance, a platform for entrepreneurial talents to communicate and cooperate, was unveiled at the ceremony.
The event also integrated the up-to-date "Metaverse" concept. Audiences can log into the conference system and let their avatars explore this virtual world.
Talent is the most valuable resource, and innovation is the first driving force. After the optimization of administrative divisions in Hangzhou, Shangcheng district has gained an even brighter prospect for development. Relying on its own location advantages, it has established new strategic goals and aims to build a dynamic entrepreneurial environment.
Up to now, the district boasts more than 300 entrepreneurial projects, over 4,500 high-end talents acknowledged on or above the municipal level, nearly 600 national-level high-tech enterprises, and 37 entrepreneurship and innovation platforms at the municipal level and above. There are 3 provincial industrial innovation service complexes operating in Shangcheng.
The region's entrepreneurial scene has become more vibrant, with increasing support for innovative ideas. All this generates new momentum for stable local economic development.
To join the competition, click here.
Most Popular