Xi sets out new vision for HK
Share - WeChat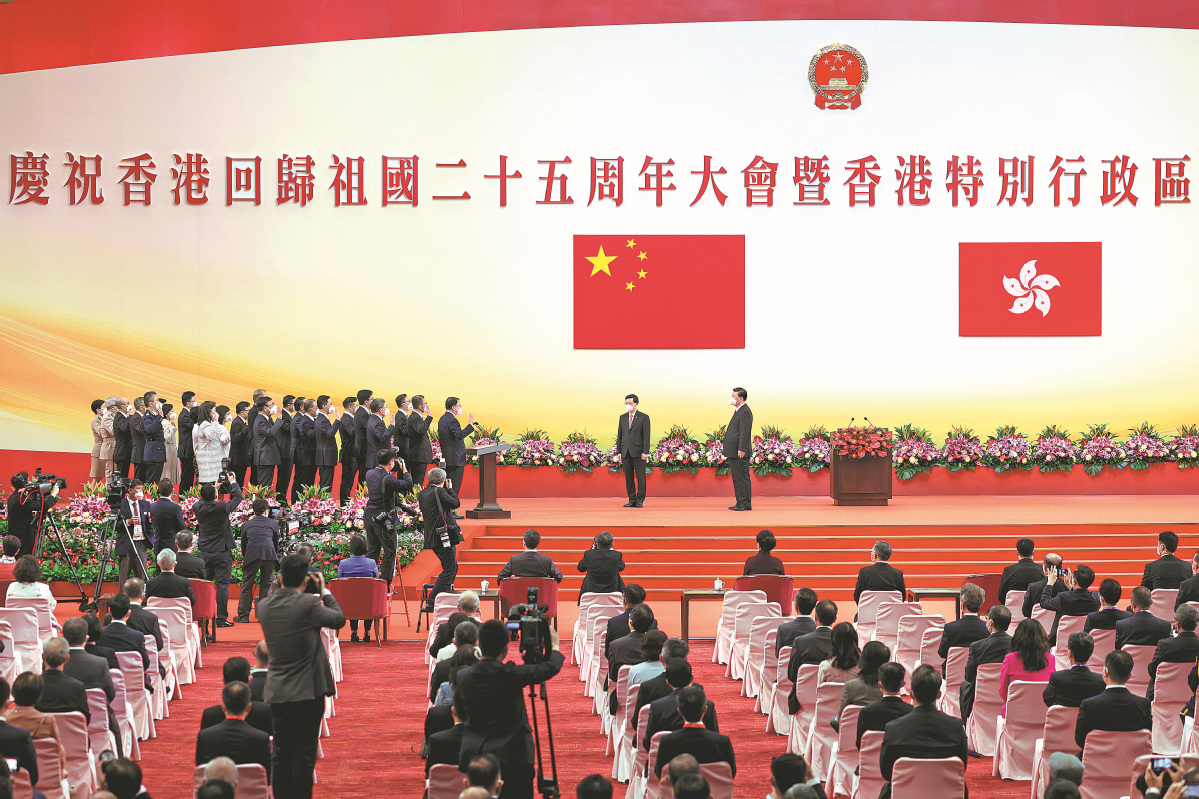 On the necessity to ensure the principle of "patriots administering Hong Kong", Xi said that no people in any country or region in the world would ever allow political power to fall into the hands of forces or individuals who do not love, or even sell out or betray, their own country.
He added that protecting the power to administer serves to safeguard Hong Kong's prosperity and stability, as well as the interests of the SAR's more than 7 million residents.
The president also stressed the significance of maintaining Hong Kong's unique position and strengths, pledging full support for the SAR in consolidating its position as a hub for international finance, shipping and trade, and upholding its free, open and standardized business climate, maintaining its common law system and expanding unimpeded and convenient global links.
The SAR has now entered a new period, moving from its turnaround from chaos to stability to transitioning from stability to prosperity, and the next five years will be a critical period for Hong Kong in breaking new ground and making a new leap forward, Xi said.
The president also put forward expectations for the new administration, including further improving its level of governance, continuing to enhance the momentum of growth, taking concrete measures to address the public's concerns and jointly safeguarding harmony and stability.
Xi also called for unity and stability: "Having gone through ups and downs, people have learned the hard way that Hong Kong cannot be destabilized and cannot afford chaos. They also feel keenly that no time should be lost in Hong Kong's development."
He expressed particular concern for the youth, saying that Hong Kong will thrive when its young people thrive, and that there is a future for the SAR when its young people have a future.
Margaret Chan Fung Fu-chun, former director-general of the World Health Organization, who was at the celebration, said Xi's speech was not only a message for Hong Kong people, but a message for the international community and foreign investors that Hong Kong will continue to implement "one country, two systems" and be a global financial center no matter the circumstances.
In Chan's opinion, Xi is familiar with the issues concerning Hong Kong, including housing, education and youth mobility, as well as care for the elderly.
Xi's call for the SAR government to address residents' needs is pragmatic and would certainly make the public feel heard and understood, she said.
Joe Ngai, managing partner of McKinsey Greater China, also backed the notion of an "effective government and efficient market". This will enable Hong Kong's financial and business sector to perpetually retain its attractive position in the international realm by further enhancing its "global connectivity", he said.
Shadow Li and Wang Yuke in Hong Kong contributed to this story.