Broad vistas await as China-Africa relations deepen
Share - WeChat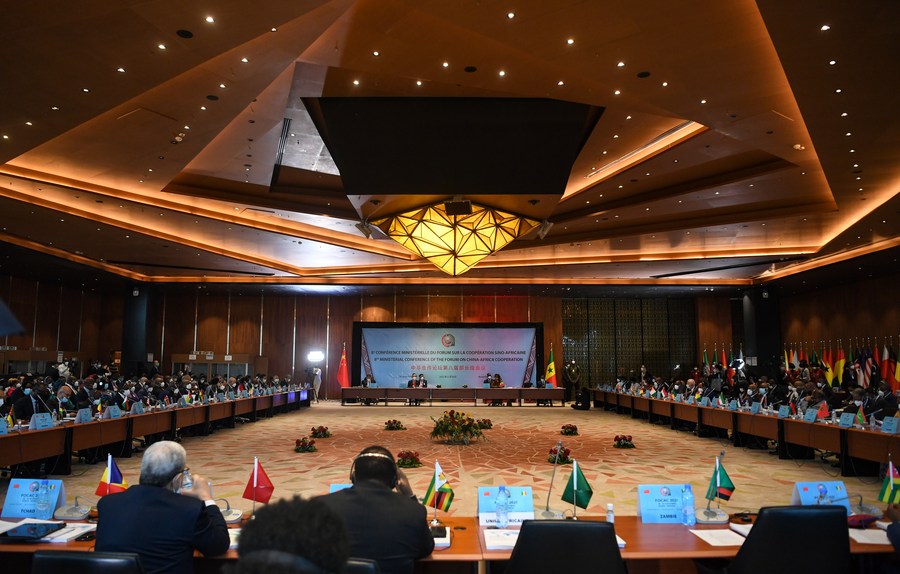 Since the establishment of the Forum on China-Africa Cooperation in 2000, Sino-African relations have achieved comprehensive and in-depth development. The African economy has also maintained very good momentum of development, in particular before the outbreak of the COVID-19 pandemic in 2020, when more than 10 African countries had an average annual economic growth rate of more than 5 percent.
The value of FOCAC is that it provides an integrated framework for governing China-Africa relations, and acts as a mechanism to promote diplomatic, trade, security and investment relations between China and African countries.
When the forum was founded in 2000, the yearly trade volume between China and Africa was only about $10.6 billion. As of 2019, the figure had reached about $208.7 billion, increasing twentyfold. China's direct investments in Africa reached $49.1 billion in 2019, up nearly 100-fold from 2000.
China has built more than 6,000 kilometers of railways and roads in Africa, nearly 20 ports and more than 80 large-scale power facilities, as well as 45 gymnasiums, more than 130 hospitals and medical centers, and more than 100 schools, which have brought significant progress to Africa's economic and social development. There are also thousands of Chinese companies operating in Africa, and China has started duty-free treatment for some products from the least-developed countries in Africa. Around 5,000 items are now covered by the preferential policies.
Africa is a very promising continent and, naturally, the developed countries of the West would like to enhance their relations with Africa.
However, China has outperformed other countries in terms of cooperation and providing assistance to African countries. For example, the level of Chinese investment in Africa has shown a remarkable performance. From 2000 to 2014, China's foreign direct investment has risen from 2 percent of the United States' levels to 55 percent, according to the China Africa Research Initiative at Johns Hopkins University School of Advanced International Studies in Washington.
As another example, according to database company Statista, the average number of jobs created each year through Chinese projects in Africa from 2010 to 2019 was about 18,500, compared with about 12,000 through US projects, around 7,700 resulting from French projects, and about 5,000 through projects of the United Kingdom.
I believe that this can be attributed to the extensive and honest Chinese efforts to build a solid trust with African countries by sticking to the following principles: not interfering with African countries' exploring of development paths that suit their national conditions, not interfering in African countries' internal affairs, not attaching political conditions to aid to Africa, and not seeking private political gains in investment and financing in Africa.
According to China's Foreign Ministry, the theme for China-Africa cooperation in the next three years and beyond is "Deepening the Sino-African partnership and promoting sustainable development to build a China-Africa community with a shared future in the new era". This theme is particularly important, as the pandemic ravages the world, severely affecting Africa's socioeconomic development.
China has assisted Africa with COVID-19 vaccines, the local manufacturing of vaccines, medical services and supplies, and capacity building. For example, Chinese biopharmaceutical company Sinovac jointly produces COVID-19 vaccines with Egypt's state-owned vaccine producer VACSERA. In addition, during the Extraordinary China-Africa Summit on Solidarity Against COVID-19 in June 2020, President Xi Jinping emphasized that "China takes seriously the debt concerns of African countries and will earnestly act on the G20 Debt Service Suspension Initiative, through friendly consultation as equals, and expedite support for the African countries worst hit by COVID-19".
In the process of deepening China-Africa relations, China has been subjected to slander and smears from Western countries, including claims of so-called "neocolonialism" or "debt traps" in Africa.
The media war led by the West aims to thwart the advancement of China-Africa relations. Actually, most debts are due to infrastructure projects that are long-term, with long-horizon returns. However, these projects attain a very good level of economic and social returns, from employment to poverty alleviation. In addition, these projects are the decisions of African countries based on their own conditions.
Looking to the future, the China-Africa friendship and cooperation have broad vistas, and China and Africa can forge an even stronger comprehensive strategic and cooperative partnership.
The author is former prime minister of Egypt.