Initiative can take China-Africa ties to new heights
Share - WeChat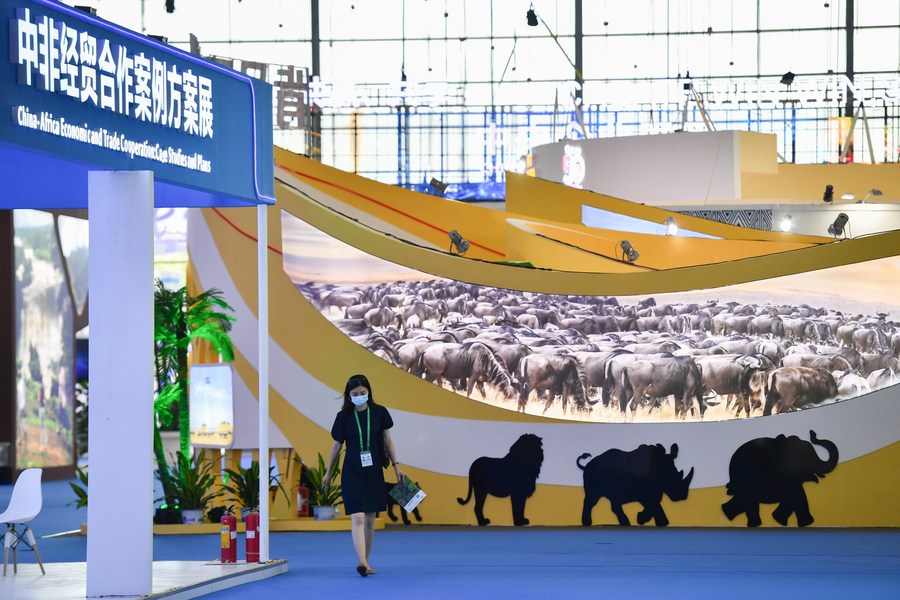 The outcome of the China-Africa Think Tanks Forum, which was held in October in Hangzhou, Zhejiang province, contributed to the consolidation and promotion of enhanced Africa-China cooperation, friendship and better mutual understanding.
The forum also helped to lay a firm foundation and set the tone for the productive outcome of the Eighth Ministerial Conference of the Forum on China-Africa Cooperation, which was held in November in Senegal, and which lifted Africa-China cooperation to a higher strategic, more diversified level.
In January, President Xi Jinping sent a message to the 35th African Union Summit, extending his warm congratulations to the African countries on the 20th anniversary of the founding of the African Union. Xi reiterated that China would seek enhanced cooperation on the Belt and Road Initiative and the Global Development Initiative, in order to elevate China-Africa cooperation to a higher, more strategic level, and in so doing "to write a new chapter of China-Africa friendship".
As long-standing, trusted and reliable partners, Africa and China share a common vision and dream to build a community with a shared future for mankind between Africa and China.
This year's China and Africa Think Tanks Forum will again take place in a fast-changing and uncertain world that faces many problems and challenges. Among these are inadequate economic growth, unilateralism, protectionism, hegemonism, power politics and the fueling of geopolitical tensions that affect global peace and stability.
According to the 2022 African Economic Outlook report released by the African Development Bank in May, Africa will need about $432 billion to address the impacts of COVID-19 on its economies and on the lives of Africans. Furthermore, several million Africans could be pushed into extreme poverty as a result of the Russia-Ukraine conflict.
The pandemic continues to demonstrate the fragility of the world. These developments have all increasingly illustrated that we are living in a world in which global challenges are increasingly integrated and interlinked. What is sad and discouraging is the fact that the responses by the international community to these global challenges have been inadequate and fragmented.
It is against this worrisome background that President Xi's commendable concept of building a community with a shared future for mankind has resonated with the international community. In addition, Xi has put forward the Global Development Initiative and the Global Security Initiative with a view to building a community with a shared future for mankind. These initiatives offer China's solution to make the global governance system more equitable and fair. They also outline the road map for actions to promote common development and common security.
The view has been predominantly expressed by the international community, including in Africa, that these constructive Chinese initiatives represent an exciting new perspective for international cooperation in a multipolar international order, with encouraging new concepts for development, security and governance.
United Nations Secretary-General Antonio Guterres said that discussions on the Global Development Initiative can help move the needle on development progress across all countries.
All parties agree that amid the ongoing pandemic, geopolitical conflict and complex and evolving international situation, the initiative will push the international community to refocus on development and accelerate the implementation of the UN's 2030 Agenda for Sustainable Development.
The Global Development Initiative has received broad support from 53 African countries and the African Union. The Dakar Declaration of the Eighth Ministerial Conference of the Forum on China-Africa Cooperation and the Dakar Action Plan of FOCAC, issued in November 2021, both stated that African countries welcome and support the initiative. Africa is ready to work with China to uphold multilateralism, strengthen international coordination, safeguard the common interests of developing countries and promote the building of a community with a shared future for mankind.
Africa's development is impeded by its lack of infrastructure, funding and qualified skilled workers. China is helping African countries break these bottlenecks.
First, China is helping Africa build infrastructure. Second, China is providing funds within its capability. Third, China is helping Africa strengthen its capacity building. Over the past 20-odd years, China-Africa trade has increased over twenty-fold, and Chinese investment in Africa has increased over 100-fold. Africa is a continent with huge potential and bright prospects, and the Chinese government is encouraging Chinese enterprises to invest more in Africa.
Africa therefore remains ready to work with China and all countries that seek peace and development, to actively implement the Global Development Initiative and the Global Security Initiative, thereby strengthening global solidarity and cooperation, jointly meeting challenges and creating a better future for the world.
The author is a senior research fellow at the Institute of African Studies at Zhejiang Normal University and a former senior diplomat in the South African Department of International Relations and Cooperation.