Cafe's specialty to perk up hopes in hard times
Share - WeChat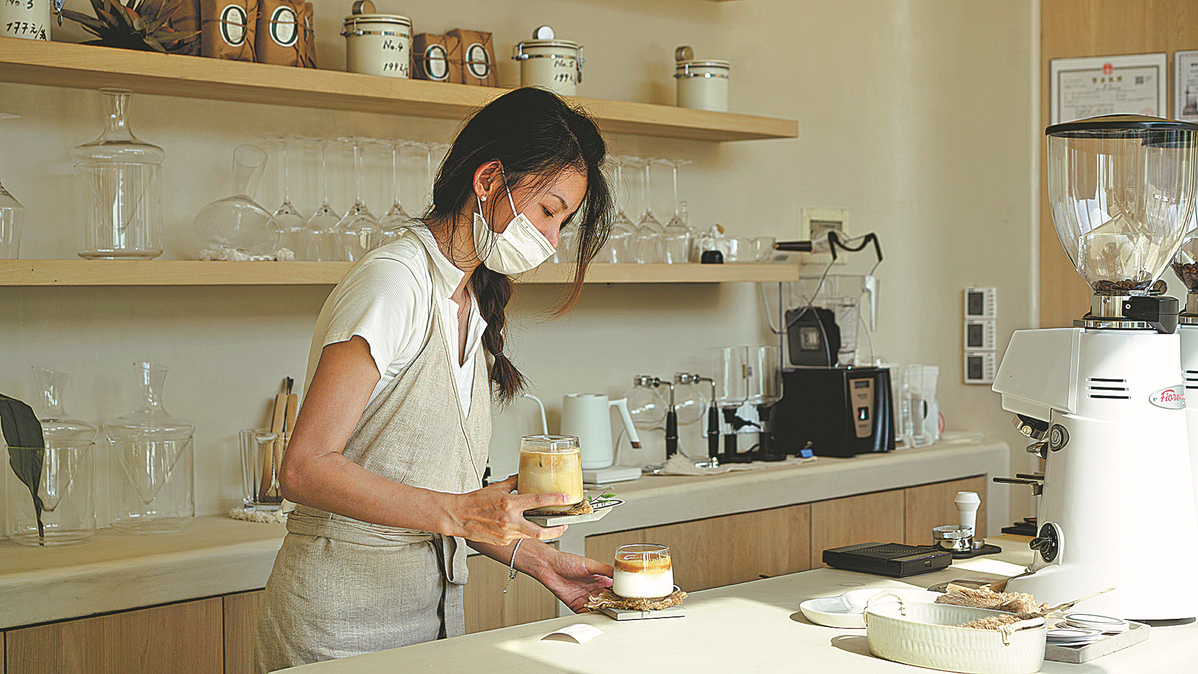 Zhang Lili, owner of the Shanghai coffee house Lili Time, has named her latest specialty range of drip coffee "The Ray of Hope", in the hope it will attract more customers and rescue her business from the unprecedented plight caused by the COVID-19 outbreak in the city.
The collection might be the last chance for her store, which has relied on savings to stay afloat during the past two-month closure. Since she resumed business operations on June 1, her coffee house has barely made a profit.
Among more than 7,000 coffee shops in Shanghai, what makes Lili Time so special is that it is the first and only authorized social enterprise of its kind in Shanghai, as over half of its staff are hearing-impaired. According to official data, there were 80,000 people in the city with hearing impairment in 2021.
"I was ready to shut down the store. The new products posted on our WeChat account, where the challenges we faced were also elaborated, were deemed as my final effort to save the business," Zhang said.
The collection's packaging is decorated with sketches depicting special memories like neighbors helping each other during the lockdown, medical workers, and office workers working from home. The drip coffee costs 61 yuan ($9.10) per pack.
"We named it 'The Ray of Hope', indicating people should believe in a silver lining to save them from the darkest time in life," she said.
Zhang didn't have high expectations but she did see a ray of hope. Her WeChat post was read more than 100,000 times. Some enterprises contacted her for business collaboration, and the number of customers instore surged.
To date, over 20,000 boxes have been ordered and the store has gradually recovered from financial distress.
To enhance work efficiency, 11 new employees with hearing loss have joined the staff. The store also received help in packing from logistics teams from Shanghai and Yiwu of Zhejiang province, as well as from teachers at local training institutions that have suspended business since March.
"The manufacturing factories in partnership with us are in full swing now, producing around 1,600 packs every day. We've also seen a surge in the sale of coffee beans from farms in Yunnan province we've cooperated with," she said.
Recalling the recent tough times, Zhang is grateful that the store has survived.
"I ran the store in a traditional way, with offline purchasing and face-to-face communication, rather than digitizing everything, hoping that the hearing-impaired employees could better fit themselves into society," she said.
Many customers had been attracted by the community-building activities and coffee courses organized regularly by the store.
However, all these advantages took a serious hit with the suspension of dine-in services.
Zhang didn't risk starting live broadcasts or delivery services, given the concerns that the workers didn't have the livestreaming skills to attract enough online traffic to cover the costs. Also, it is hard for employees with disabilities to deal with couriers and hear alerts for orders.
Wearing face masks has made things even more difficult, as workers have trouble reading lips or hearing customers clearly from a social distance.
"I can't hold my tears when seeing a picture of an employee making coffee and a customer standing far away from him waiting. I know his anxiety under such circumstances," she said.
"I'm also determined to overcome the obstacle and safeguard their work."
Zhang didn't lay off any employees despite the situation, and has instead been caring for their mental health during the lockdown.
"Many employees said they would work without salary when they learned about the difficulties. But I insisted on paying them social security on time and basic salary," she added.
"The store became a place for the hearing-impaired to thrive in work in 2019 and has since been where they sharpen their coffee-making and bartending skills. We are a family and solving social problems is at the heart of the store, providing employment for those in need."
Zhang plans to utilize online platforms to promote her shop and go digital.
"I'll continue training deaf people, maybe also teens with autism, to expand their careers as baristas, florists and manicurists," she said. "I respect their excellence and infinite possibilities in work."
In Shanghai, there are a few other places that are as mesmerizing as Lili Time. The Forget Me Not Cafe is where elderly people who have Alzheimer's disease or other cognitive impairments work for a living. The cafe Hinichijou, known locally as Bear Paw Cafe, on Yongkang Road, offers jobs for baristas with hearing and speaking disabilities. Its storefront is just a gray wall with a hole through which a furry bear paw interacts with customers by serving them coffee, giving them friendly pats or posing for photos.
According to its co-founder Wang Tian, his employees had been active in voluntary work and polishing their professional skills at home during the latest outbreak.
Although some stores were shut down due to the epidemic, the team took time to share their care and love with other people and are grateful for living through the tough time.