Xi: Large-scale agriculture to play key role
Share - WeChat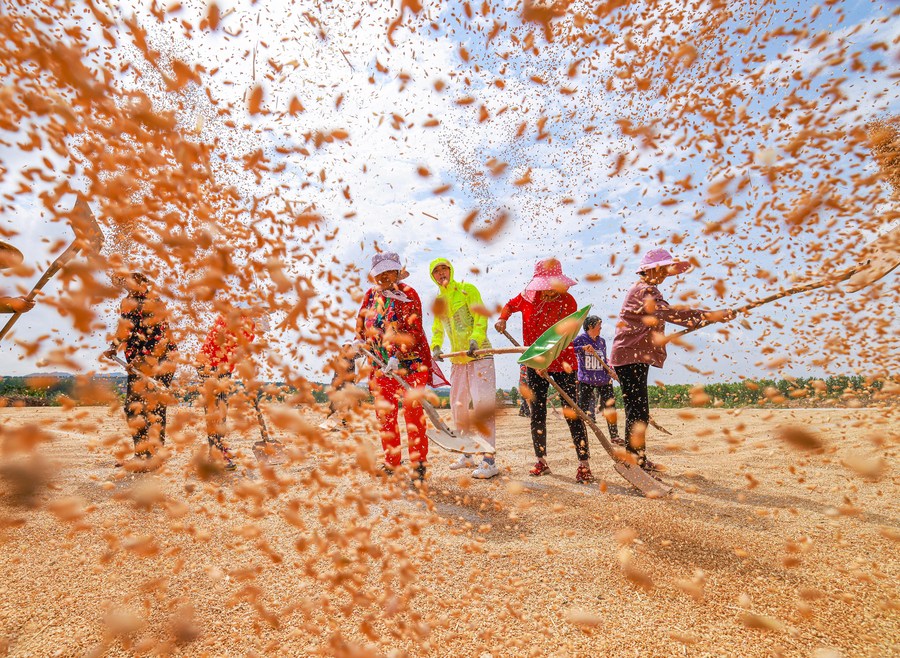 President says that he always pays close attention to grain production, food security
President Xi Jinping has highlighted the important role of the nation's large-scale grain growers, calling on them to boost their operations, make greater and more effective use of modern agricultural technology and contribute to ensuring China's food security.
Xi, who is also general secretary of the Communist Party of China Central Committee, made the remark on Monday in a letter of reply to Xu Congxiang, a veteran grain farmer in Taihe county, Anhui province.
In his letter to Xu, a large-scale grain farmer who won several national honors after setting up an agricultural cooperative in 2010, the president expressed his hope that large-scale grain growers can leverage the advantages of scale operation, actively apply modern agricultural technologies and encourage small-scale farmers to contribute to the country's food security by expanding grain production and improving grain quality.
Xi, who met the veteran grain farmer on a fact-finding trip to the county in April 2011 while serving as China's vice-president, said he was delighted to know that Xu has reaped a bumper wheat harvest this year and his children and grandchildren are carrying on his work.
Noting that people feel assured when they have an ample supply of food, Xi said he always pays close attention to grain production.
The CPC Central Committee, with a host of policy measures to support grain production in recent years, aims to ensure China's self-sufficiency and to enable farmers to earn tangible benefits and make their lives better, he said.
Since leading the establishment of the agricultural cooperative in his county, Xu has been devoted to large-scale farming and the research of agricultural technology, and has won several national honors, including National Model Worker.
He recently wrote to Xi to report his experience of growing grain and helping fellow villagers shake off poverty, and he expressed his resolve to lead more farmers to increase their crop yields and quality.
According to the Ministry of Agriculture and Rural Affairs, the nation has about 3.9 million large family farms and over 2.2 million agricultural cooperatives.
Meanwhile, small-scale farms account for over 90 percent of China's agricultural production, according to the latest national agricultural census, which was published in 2017.
About 210 million rural households operate farms smaller than 0.67 hectare, according to the census.
Tang Lixia, a professor and deputy dean at the College of International Development and Global Agriculture of China Agricultural University, said that, in the letter, Xi reaffirmed the role of large-scale farms in ensuring China's food security.
"Compared with small-scale farms, it is easier to promote the use of agricultural machinery and scale up input in science and technology at large-scale farms, which can increase the yield of crops and farmers' incomes," she said.
She said Xi's letter came at an opportune time as the nation was wrapping up its summer harvests and preparing for the planting of its autumn crops.
Xi's underscoring of China's food security was even more significant, as the Ukraine crisis and the COVID-19 pandemic have led to higher global commodity prices, especially among staple foodstuffs, she said.
The nation's per capita share of grain reached 483 kilograms in 2021, higher than the internationally recognized security line of 400 kg, Vice-Minister of Agriculture and Rural Affairs Deng Xiaogang said at a news briefing on Tuesday.