BRICS makes partnership its focal point
Share - WeChat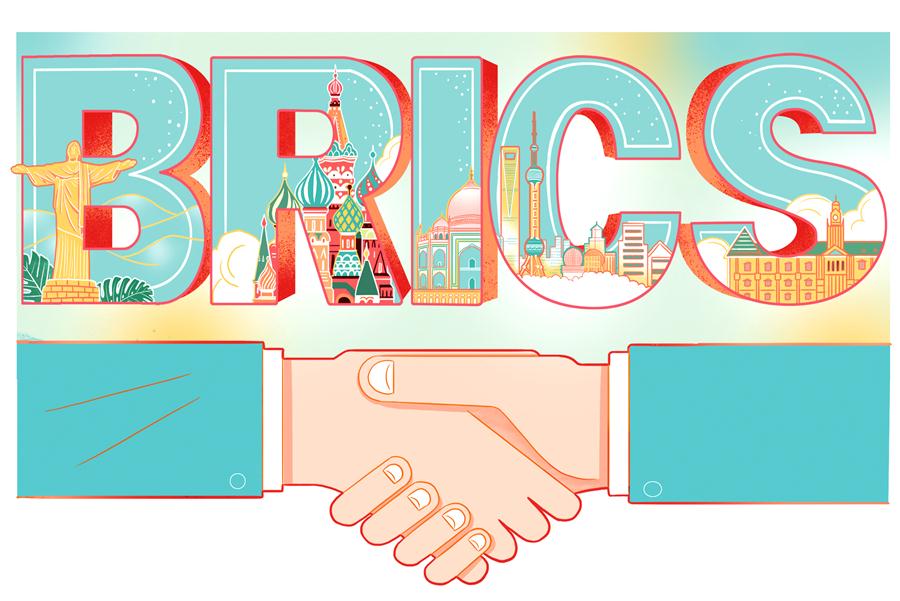 Diplomats stress unity, coordination among nations against threat of inflation
Senior diplomats from China and South Africa have emphasized the partnership nature of BRICS countries, saying that the grouping is "not a bloc" that works on geopolitical and economic confrontation.
The diplomats made the remarks at a news briefing in Beijing on Monday regarding the just concluded 14th BRICS Summit and the High-level Dialogue on Global Development.
"Blocs block" and BRICS is about partnership rather than big muscle, the South African ambassador to China, Siyabonga Cyprian Cwele, said alongside Li Kexin, director-general of the Chinese Foreign Ministry's Department of International Economic Affairs.
The two diplomats spoke to reporters at a time when China is the rotating chairman of BRICS this year, while South Africa will take the chair next year.
Li said the idea "is not to create a new bloc", when answering a question about the potential expansion of BRICS and its interactions with other groupings such as the Group of 7, which is also known as the G7.
The five BRICS nations-Brazil, Russia, India, China and South Africa-work for solidarity and common endeavor, and it is "not right to have a new bloc" against a certain bloc, he said. Countries should contribute more "building blocks for the world", not a bloc against each other.
In terms of the relations between BRICS and the G7, Li said there should be "good interactions among these groupings", and inclusiveness should be the key word.
When asked about discussions by the BRICS leaders about handling inflation, Li said the leaders did talk about coordination of macroeconomic policies. He said the current inflation is systemic, there is no single reason for it, and people need to look at previous occasions when inflation ravaged economies.
Li said the current round of inflation started one or two years ago due to monetary easing policies in major economies, resulting in an excessive money supply in the market. In addition, unilateral sanctions imposed after the Ukraine crisis broke out caused commodity prices to soar, causing inflation to spike further.
Without naming the United States, Li said another element that gave a strong impetus to inflation is the high tariffs imposed on China by a major economy. This major economy should change its current policies geopolitically and economically, he said.
Both diplomats spoke highly of the outcomes from the 14th BRICS Summit on Thursday and the High-level Dialogue on Global Development on Friday, both chaired by President Xi Jinping.
Li, the Chinese director-general, noted the two major events last week were held amid the COVID-19 pandemic, the Ukraine crisis and a global economic downturn. He said "there is a strong force" in the world to address these challenges, finding out how to uphold justice and advance recovery.
Both diplomats spoke about the high-level dialogue on Friday that brought together 13 other developing countries alongside the five BRICS nations.
Beijing has adopted an "outreach strategy" to advance the "BRICS Plus "model that engages more countries in BRICS events and its agenda at both the summit and working level, said Li.
The South African ambassador said Friday's event "opened access", which brings hope to African countries and developing countries in other regions.
He warned over impulses to "think local rather than global" as well as nontraditional threats to humanity, and countries should assist each other in an uncertain time.
The issue of solidarity becomes important, and countries need global cooperation and technologies to deal faster and smarter with threats like pandemic viruses, he added.