Revamp revives fortunes of old town in Yarkant
Share - WeChat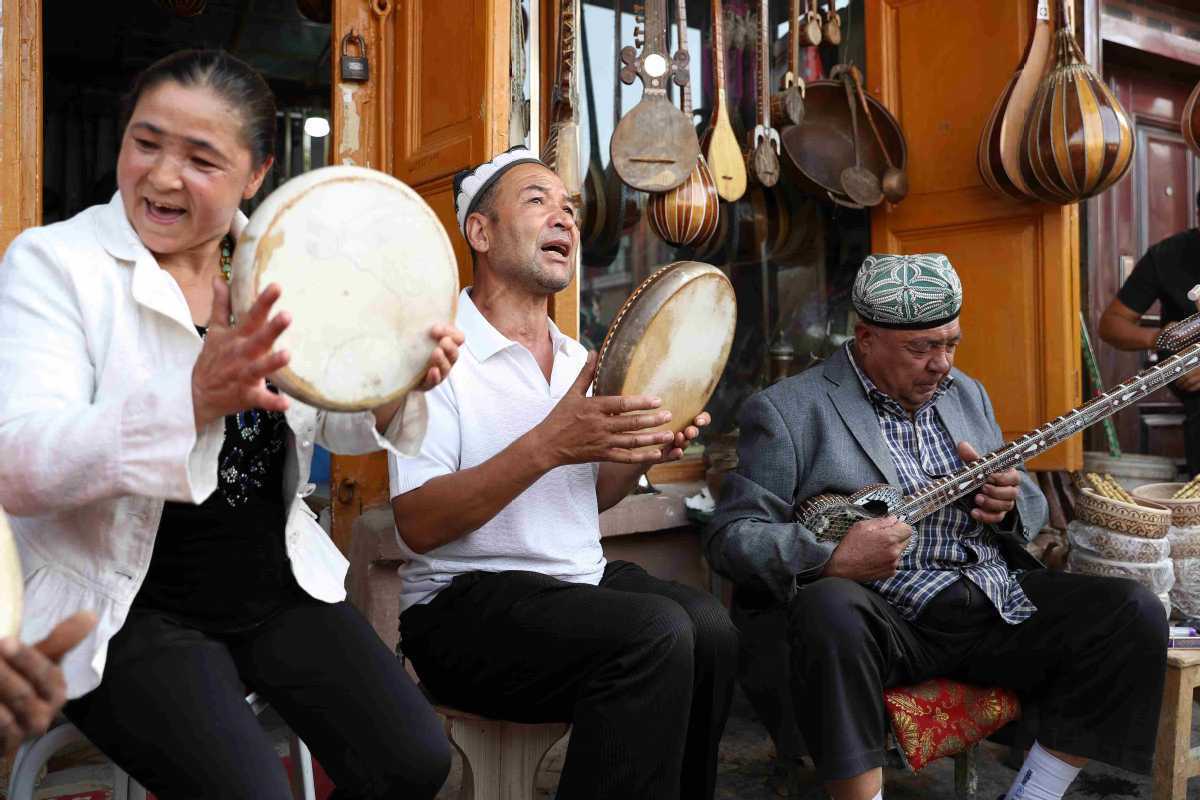 Yarkant, a centuries-old county in Northwest China's Xinjiang Uygur autonomous region, has undergone a two-year renovation project that has seen its roads widened, public facilities improved and expanded, and residential accommodations equipped with better facilities, according to the local government.
Memetursun Abdul Rishiti, director of the management committee of the county's old town area, said that the roads used to be bumpy and too narrow for garbage trucks or fire engines to move through.
Residents had to use tricycles to transport their rubbish out to the central garbage station.
The 5.16-square-kilometer old town area has 48,669 households. So far, 95 percent of the renovation project has been finished, according to Memetursun.
Sewage and natural gas facilities have been improved, and trucks can now pass through the roads, he said.
"Some who'd moved out of the area in the past because of the inconvenience have returned. And property value has increased from thousands of yuan per square meter to more than 10,000 yuan ($1,500) per sq m due to the improved neighborhood environment," he said.
Yarkant, in Kashgar prefecture, used to be a cultural and economic center of Xinjiang and even Central Asia, which is evidenced by its 12 muqam, an ancient Uygur musical form that still exists, and centuries-old mosques.
Over the years, the county developed into a center for road, air and rail transportation in southern Xinjiang.
"Yarkant is an urban center, so it attracts people from hundreds of kilometers away," Memetursun said. "People move here for their children's education and to do business, making the county's population denser and living areas more crowded.
In 2019, the Yarkant county government started the renovation project based on a principle of "one household, one design".
"The government tasked the design team to provide a renovation plan for residents. Each household, no matter its size, received a 30,000-yuan subsidy for renovation," he said.
Abu Salamu Abdusattar, an owner of a shop selling baked stuffed buns, said he expanded his shop to 700 square meters, 10 times its former size. The shop, handed down to the 27-year-old from his father, was renovated by the family at a cost of about 2 million yuan.
"Although we owned a large land area, we had never thought of expanding the shop. Because the roads were narrow for customers who drove here, and we didn't have natural gas or a sewage system," he said. "Now that we have been equipped with the facilities and the blocks have been renovated, we are confident about the business."
To expand the roads, the government needed to requisition parts of some of the houses, and Memetursun said there were some problems.
"We spent a long time convincing residents that it is actually not a bad deal for them to transfer some land for public roads. And our solution was to compensate them with money or land in other areas," he said.
The community in the old town area of Yarkant has already benefited from the renovation project. It received 1.23 million visits from January to April this year, an increase of 84 percent year-on-year, the director said.
Liu Xi contributed to this story.