Weeks later, medical workers' memories of Shanghai linger
Share - WeChat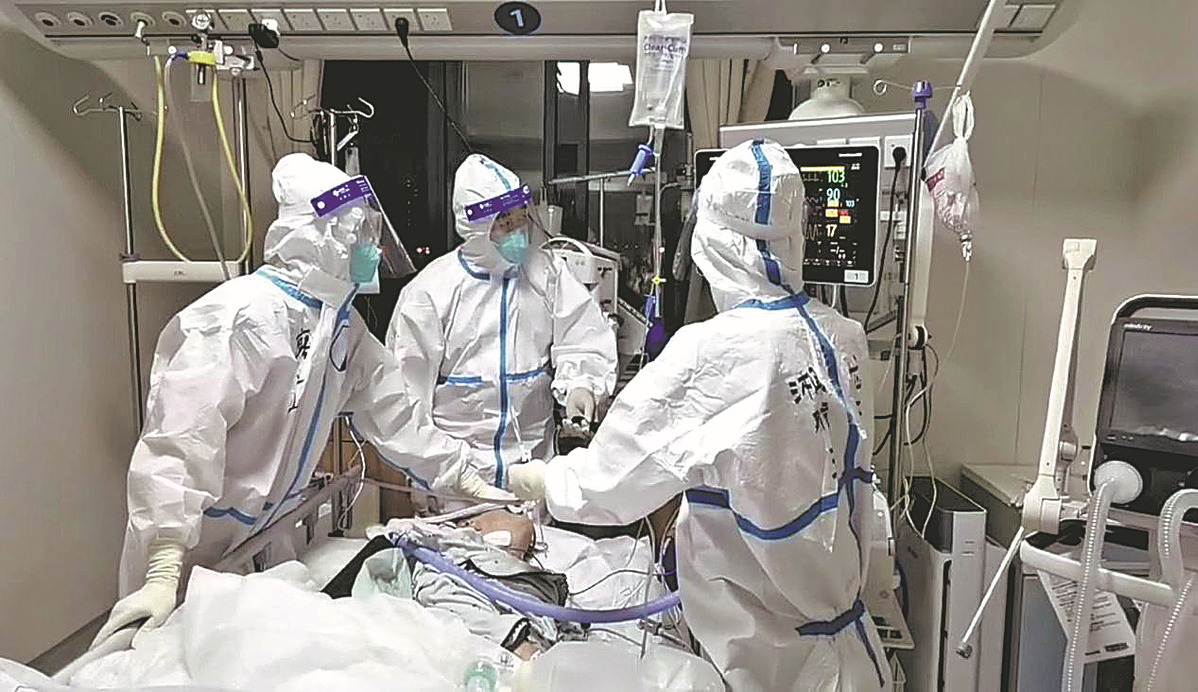 Experience leaves profound impression on helpers, many of whom are young
Weeks after returning home to Changsha, Hunan province, some medical workers' memories of their month-plus-long experience living and working in Shanghai remain vivid.
Working in the metropolis, far from his family, those days reminded Sun Yang of his initial desire to be a nurse.
As chief nurse in the critical care department at the Central South University's Xiangya Hospital in Hunan province, Sun works in the ICU and specializes in respiratory conditions.
"Help with breathing is essential to COVID-19 patients. Our job is to assist with ventilators and help patients breathe more easily and more comfortably," Sun said.
In mid-April, Sun began working at the Luwan branch of Shanghai Jiaotong University's Ruijin Hospital. For the 32-year-old, who worked in Wuhan and Tonghua during outbreaks, the situation in Shanghai had unique characteristics.
With only eight ICU beds, the Luwan branch had about 400 patients, over 50 percent of whom were aged above 80.
"When it came to elderly COVID-19 patients, we paid special attention to underlying diseases," said Zhang Lina, head of the critical care department of Xiangya Hospital.
To reduce critical cases and ease the burden on ICUs, Zhang and her team came up with new solutions.
They established a 24-hour hotline for medical inquiries, increased the frequency of medical rounds in ICUs and regular wards, and gave special attention to patients showing signs of being in critical condition. "We focused on their mental state, respiratory function, oxygen reserve capacity and cardiac circulatory function. We also monitored changes after physical activity in lung images and electrocardiogram results based on ultrasound screenings of the lungs and heart," Zhang said.
After daily rounds in the ICU at around 9 am, Sun evaluated patients using a special form, which allowed him to decide whether a patient needed special care and treatment.
Sun said the form covered consciousness, rhythm of breathing, blood pressure and blood oxygen saturation levels.
"In regular wards, patients do not have ventilators to help them breathe, but placing a patient who is awake in a prone position can help improve blood oxygenation and lung function," he said.
Among the 62 medical workers from Hunan that worked at the Luwan branch, over half were Generation Y, with the youngest aged only 25. Unlike Sun Yang, who had experience dealing with the epidemic in other cities, the trip to Shanghai was the first time Liao Jiangshan took care of COVID-19 patients.
"I received a phone call asking me to come to Shanghai to help. I was a little afraid at first since I had no experience with COVID, but after the training I was more relaxed," Liao said. "There were six shifts a day, and each lasted four hours, so I was not too tired after."
An elderly, visually impaired patient left a deep impression on the young nurse.
"When I fed him lunch, he would thank me and remind me to eat. As he was not able to see we were wearing protective suits, he thought we could easily have our meals," Liao said. "I see the value of my work each time I am needed by patients, and I feel a sense of pride once they have recovered."
Zhu Youfang in Changsha contributed to this story.